Year: 1989. Lenght: 390 m . Height: 243 m.
Alberto Lleras Dam is another touristic place of interest in Columbia. People usually call it "Alberto Lleras" as the principal software engineer. Nevertheless, the official name of the dam is Guavio Dam, in honour of the river. The dam was taken into use in 1989. Its height is 243 meters and length 390 meters. The artificial reservoir's volume is 4 200 cube meters.
This is an earth-fill barrage dam. It was built for giving the area a sufficient amount of electrical energy. The Guavio Dam is located in a very beautiful area which adores people with its marvellous mountain scenes. Nature didn't suffer from the building of the dam.
As earlier, today there you can meet some rare animals, plants and watch the birds. For them, these wonderful places are home for thousands of years. The dam itself doesn't look bad in the area, it fits into the local nature. At the first glance, it is quite hard to understand that dam is a man-made construction.
Next - Karun-4 Dam
Xiluodu Daba, China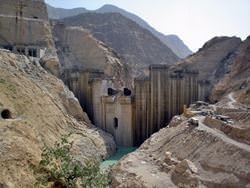 Karun-4 Dam, Iran
Back to the start "The Most Impressive Dams on Earth"
Useful staff nearby
ATM bankomat: 'Cajero ATH Oficina Labranzas Gacheta I - Banco de Bogotá' located in 19 km (
check the route on the map
).
Fuel station: 'Estacion Brio Gachala' in 1.12 km
Supermarket: 'supermercado paty.s' in 1.13 km
Apotheek: 'Drogueria Central' in 1.2 km
Police station: 'Policia Nacional Estación Gachalá' in 1.07 km
Cafe/restaurant: 'Restaurante Bar Gacha-Chios' in 1.05 km