White Pass & Yukon Route railroad connects the city of Whitehorse in Canada to Skagway, in the United States. The total length of the railway system is 175 kilometres, and the most dangerous part of it lies in Alaska. This specific section attracts thrill-seekers from all over the world.
The construction of the railroad took place in 1889 during the Gold Rush. The route of the entire railway line on the Canadian side is considered a construction and engineering attraction of global importance. For complexity and a unique character of its construction this line has no equal in the world. The route runs along the dangerous roughterrain area, the height of some cliffs reaches 3000 meters.
On the 32-km rail line several bridges passing over deep gorges and cliffs are found. Some bridge supports are still made of wood. The extended railway bridges are followed by narrow and dark tunnels, followed again by beautiful and at the same time frightening mountain scenery. If you're not scared away by the prospect of taking a ride on a train over the fragile and narrow wooden bridges, you should definitely discover the peculiarities of the railway White Pass & Yukon Route personally.
Next - Tren a las Nubes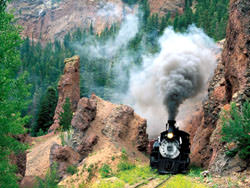 Cumbres & Toltec Scenic Railroad, USA
Tren a las Nubes, Argentina
Back to the start "The most dangerous railroads in the world"