Cuisine of Dominica Island for gourmets. Places for dinner - best restaurants
Dominican cuisine combines the traditions of French, African, and American Indian's cuisines. Remember that most of the local dishes are very spicy. The restaurants are located only in Roseau and Portsmouth, in other cities the best you can count on is cooked food in the supermarkets and really modest cafes. If you miss fast food or you are not fond of the local cuisine, there is Kentucky Fried Chicken in the capital, an American fast food chain restaurant.
Enthusiasts who are fond of different sports should have no difficulty in finding a suitable beach on the island. For water sports there are some superb parts of the coast. One can also find …
Open
Bananas play a major part in the culinary of the island. Manioc used to be popular here before but now you can buy bread in any store, so they stopped cultivating it. Besides traditional chicken, pork, and beef meat, local people also consume agouti and possums. A course called "mountain chicken", made from a whistling frog is a real national symbol here. Fish and seafood courses also play a big role in the ration of the Dominicans. You should buy them in the places, which are located close to the seashore – this way you will be sure to get the freshest haul.
Originally Creole course ti-ti-ti, which has fish spawn in it, has a peculiar taste. Manicou course is special not only because the way it is cooked but also because it is made of squab. A true delicacy is krebbeks – red and black crabs' bellies, stuffed with crab meat. Those, who like seafood, will like shellfish assortment called lambi. At least once you should try fried agouti – they don't cook the meat of this rodent so good in other countries in the world. The products of breadfruit are good with salt cod, pepper, and onion. Copyright www.orangesmile.com
One of the most attractive features of Dominica's hotels is a reasonable price, and the level of services will satisfy even the most demanding guests. The hotel Fort Young is among the …
Open
When you order a meal, remember that almost all local food is served with hot pepper sauce Bello. The soups are thick, nourishing, the most popular ones are with meat. An interesting local finding is a meat, backed in banana leaves, which add an interesting flavor to the dish. If you want a little bit more exotic, try fried bananas. In the menu of any restaurant, besides meat courses, there are a lot of courses from vegetable, roots, yam, and rapeseed. Beans are also popular – as a side dish with meat and as a separate meal.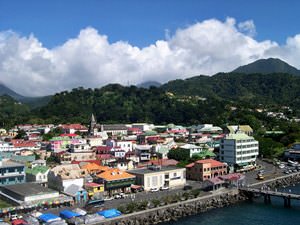 If you like sweets, certainly try local pastries. Usually, fried cakes or puff pastries with different stuffing are sold on the street by the women, who backed them at home. Candies are usually also home-made. However, if you don't want to buy food on the street, you can always look for the local products in the supermarkets. Although, you need to remember that the products there are mostly imported. The locals mostly sell their products at the markets.
If you want to bring brand clothes, shoes, and accessories from the trip, you will definitely not find it Dominica. There is not a single shopping center, there are no boutiques or Duty-free …
Open
Among soft drinks, the most popular ones are fruit juices, tea, and coffee. You can also try coconut water. Seamoss, a non-alcohol cocktail with mint and seagrass taste also has an original taste. Among alcohol, you should try local rum and beer. Wine and other drinks are not produced in Dominica, so the price for them is quite high. Different cocktails with rum, vanilla, bitter herbs, and coconut milk are very popular here.

This guide to cuisine and restauraunt in Dominica Island is protected by the copyright law. You can re-publish this content with mandatory attribution: direct and active hyperlink to
www.orangesmile.com
.
City tours, excursions and tickets in Dominica Island and surroundings
Unique sights around Dominica Island
Mount Pelee Volcano
From the series
"Volcanoes and Traps That Changed the Face of the Planet"
Check on the map:
Distance from Dominica Island center - 78.9 km.
Today, the island of Martinique is incredibly popular among travelers largely due to its unique natural attractions. The most unusual cultural attraction of the island is the Volcanology Museum, where visitors can see many incredible artifacts and learn how the world's greatest volcanoes have shaped the Earth. …
Read further

Dominica Island in photo set
Searching where to eat - restaurants and cafe on Dominica Island map
Cuisine and restaurants in the neighbours of Dominica Island
Travel notes on best cuisine and restaurants of Dominica Island (Dominica) on OrangeSmile.com. Famous recipes and traditional dishes and courses in Dominica Island restaurants. Where to eat - our recommendations on popular places in Dominica Island, where you can taste delicious meal and also spend a good time with your friends.