Vacation on Dominica Island beaches - hidden bays, top resorts and recreation areas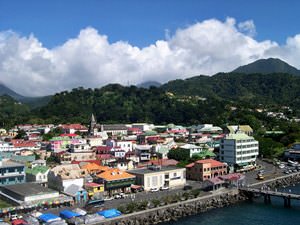 Enthusiasts who are fond of different sports should have no difficulty in finding a suitable beach on the island. For water sports there are some superb parts of the coast. One can also find separate beaches with unspoilt nature. Almost all the local beaches are sandy, covered with sand of various colour.
Dominica is known as the Nature Island of the Caribbean and is home of the state with the same name. Among the Windword Islands, Dominika is the largest one. A significant part of its …
Open
To the south of Dominica you can find gravel Champagne Beach, one of the most picturesque and popular. According to the experienced divers, this beach is by right included in the list of the world's top beaches. The coastline has also plenty of space for other sports. The main sight of this part of Dominica is a wonderful coral reef, visited by fans of diving and snorkelling on a day-to-day basis. Shallow water area here is perfectly suitable for a holiday with children and those who like wellness tourism. The case is that in such an area thermal springs release their mineral water, so the sea here is always warm and abundant in microelements.
Another attractive place for tourists is an extraordinary named Purple Turtle Beach. Located in the northern part of the island and being shallow it is convenient for a family vacation. Thickets of palm trees come up to the coast closely, the sand being bleached. A lot of people come here for a picnic or to have a hilarious family party. The space is enough for everyone who wants to take some relaxation. What makes this beach a very specific place is its exhilarating atmosphere. Within easy reach there are rental centres of sports equipment and a restaurant. Exciting entertainment shows are often performed here for holidayers. Attractive sights are located just a step away from the beach. Copyright www.orangesmile.com
Vacation in Dominica will be great for children, who are ready to learn something new and leave traditional activities for some time. The thing is, there are no specialized places for kids …
Open
One more fascinating place for relaxation is Coconut Beach with one of the island's most monumental resorts nearby. Those who cannot imagine their holiday without comfort and blessings of civilization will surely enjoy here. The most popular beach among the indigenous people is Mero Beach
. What really distinguishes it is its marvellous scenery and cosy atmosphere. Many travellers, being attracted by fabulous landscape and an opportunity to take beautiful pictures have a holiday in this place.
For those who enjoy complete solitude it is worthwhile to visit Napiers's Beach. This wild beach is perfectly suitable for contemplating the nature and divine sunbathing. Fine golden sand is everywhere, contrasting celestial-blue water of the sea and thick bushes of exotic plants. This picturesque part of the coastline is superb for hydrotherapeutic procedures as well as hiking. A short distance away, in Calibishie
district, one can find a beach that will surely impress those addicted to exotica. Covered with black volcanic sand, this is one of the parts of the coast. Experienced travellers say that time spent on that beach can fairly replace your visit to spa due to unique cosmetological effect of the volcanic sand. Surrounding beautiful landscape and a perfect location near mineral rivers will be a nice option to your holiday.

This guide to top beaches in Dominica Island is protected by the copyright law. You can re-publish this content with mandatory attribution: direct and active hyperlink to
www.orangesmile.com
.
City tours, excursions and tickets in Dominica Island and surroundings
Photogallery of sunny landscape of Dominica Island
Search for useful vacation services on the Dominica Island map
Top beaches and recreation areas in the region of Dominica Island
Travel guide to best natural recreation areas in Dominica Island for a quiet and secluded summer vacation. Fascinating hidden beaches, amazing bay and coves to sunbathe and swim in the gentle waters of the resorts of Dominica Island.