The most famous and impressive delicacy in Iceland is hakarl, rotten shark meat. This delicacy is able to strike with its odor and appearance rather than taste. Rough viking meal is cooked the same way as long time ago. Greenland shark meat is cut and then hung on special wooden supports. Chefs have to wait patiently until it reaches the desired stage of decay. It is important to note that hakarl may be cooked of shark fillet or shark stomach. Experts claim that these two types of meat are very different in taste.
The smell of rotting shark meat is terrible. Farms specializing in its production smell like a dirty public toilet. After cutting and packing, the shark meat becomes more attractive. It is cut into small cubes and packed in bags under vacuum. You can buy local delicacy in many grocery stores. For locals, hakarl has long become an important national symbol. The festive table can't be complete without it. The shark meat is especially popular in Christmas period.
Locals believe that if on Christmas Eve you will eat a few slices of smelly meat, the whole year you will remain steadfast and strong, like a true Viking. This unusual method of cooking shark meat is not accidental. Eating this meat fresh is very dangerous due to the high content of urea. After proper exposure, the meat becomes safe. Gourmets will like visiting Iceland in January, during Thorrablot annual gastronomic festival. Its guests can enjoy not only hakarl, but other popular dishes of the rugged Vikings.
Next - Dog Meat in Hanoi Restaurants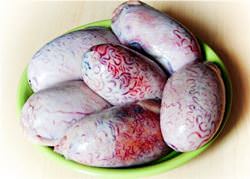 Bull Eggs in Sim-Sim Restaurant, China
Dog Meat in Hanoi Restaurants, Vietnam
Back to the start "The Most Disgusting Dishes in the World"
Useful staff nearby
ATM bankomat: 'Íslandsbanki' located in 0.62 km (
check the route on the map
).
Car rental office: 'RED Car Rental' is located in 0.63 km (
on the map
).
Fuel station: 'ÓB Egilsgötu' in 0.48 km
Supermarket: 'Krambúð' in 0.05 km
Parking: 'Stjörnuport' in 0.53 km
Apotheek: 'Apotek Reykavik' in 0.39 km
Police station: 'Metropolitan Police' in 0.7 km
Cafe/restaurant: 'Café Loki' in 0.01 km