Year: 2005. Height: 108 meters.
Chinese city of Sanya features the gracious statue of the goddess Guanyin. The height of the sculpture is 108 meters. The official opening of the Guanyin of the South Sea of Sanya took place in 2005. The landmark is located close to another prominent religious shrine, Nanshan Temple. The appearance of the statue may seem rather unusual for the people, who are far from intricacies of the Buddhist culture. The fact is that the sculpture of the goddess depicts three persons.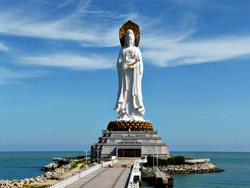 One of them is drawn deeper into the island of Hainan, while the other two face the sea. The hands of the goddess are also stacked in three different positions, so that the sculpture symbolizes the full protection of the country through the ritual sign language. The Guanyin of the South Sea of Sanya is among the five highest in the world. It was the great event for China, when the sculpture was opened. The ceremony was attended by 108 top monks who came to the event from Macau, Hong Kong, Taiwan and other regions of mainland China. In addition, the opening of the monument was attended by tens of thousands of pilgrims. For locals, who practice Buddhism, the statue is of the great religious and spiritual significance.
The sculpture has another important feature. Its height was determined not by accident. The number 108 in the Buddhist culture is considered to be very auspicious and fraught with the important sacred meaning. Goddess Guanyin or Quan Yin in China is considered to be the patron of children, so locals refer to it with prayers for health and well-being. Ordinary travelers who want to visit the monument could participate in the amazing ritual. Next to the statue, there is a special place where you can put three incense sticks and make a wish. It will certainly come true.
Next - Santuario de Cristo Rei
Daibutsu Ushiku, Japan
Santuario de Cristo Rei, Portugal
Back to the start "The Most Grandiose Statues and Monuments"
Useful staff nearby
ATM bankomat: '工行友谊支行' located in 30 km (
check the route on the map
).
Car rental office: '骏骊汽车租赁' is located in 30 km (
on the map
).
Fuel station: 'Filling Station' in 7 km
Supermarket: '万家超市' in 6 km
Parking: 'Parking Lot' in 17 km
Apotheek: '南滨南亚药店' in 8 km
Police station: 'Nanshangang Police Station' in 6 km
Cafe/restaurant: '好地方农家乐饭庄' in 1.93 km
Railway station: '崖城火车站' in 10 km