Year: 1202. Height: 123 meters.
In Slovenia there is a strange castle, one of the most impregnable defense systems in the world. It is the Predjamski Grad (Cave Castle Lueg), built on the rock wall, whose height is 123 meters. The age of the castle is more than 700 years. The first official mention of the castle date back to 1202. In the course of a long history, the castle belonged to various knights 'orders, during which the knights' tournaments and the mediaeval banquets were held.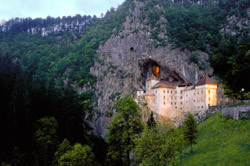 Despite the complicated situation, the clever robbers in the 17th century managed to get into the castle. They stole many valuable things. After that, the castle owner had the secret Vipavsky gang built. For years, only a few people knew the way to the castle. Unfortunately, the secret passage to the present has not been preserved. The modern visitors enter the castle dungeon through the upper corridor, which begins high in the mountains and is laid out through the forest.
For many years, the castle has served as a place of introduction for many interesting historical holidays. The tournaments and banquets are held here. One of the main festivals is devoted to Erasim Yamsky, one of the Burgherren. The castle can only be visited in the period from May to September. All excursions are accompanied by speleologists. The upper course consists of a series of impenetrable groves and mountain caves, which serve as a habitat for colony of bats. Because of these small inhabitants, the castle remains closed for visitors in the winter. When it gets cold, the bats go into winter sleep and it is forbidden to walk in the caves and disturb them.
Next - Monastery of George Khozevita
Phuktal Gompa, India
Monastery of George Khozevita, Israel
Back to the start "The Most Inaccessible Buildings in the World"
Useful staff nearby
ATM bankomat: 'Banca Popolare Friuladria S.P.A.' located in 29 km (
check the route on the map
).
Car rental office: 'Avtovleka Čepon Čepon Stanislav s.p.' is located in 26 km (
on the map
).
Fuel station: 'Petrol' in 13 km
Supermarket: 'Trgopromet-Eniko d.o.o.' in 23 km
Parking: 'Parkirišče' in 7.03 km
Apotheek: 'Farmacia Al Carso Del Dott. Marcello Milani' in 28 km
Police station: 'Polizia Di Stato' in 30 km
Cafe/restaurant: 'Gostilna Požar, Matej Požar, s.p.' in 0.12 km
Railway station: 'Logatec' in 14 km