Year: 2009. Height: 250 meters.
In China, on the territory of Kingai province is Lasiva Dam, whose height is 250 meters. The huge dam on the Yellow River was built for the generation of electric power. The hydroelectric power plant was relatively recently commissioned in 2009. With a view to the fact that Lasiva dam is one of the largest on the planet, the shortest time for the construction work seems unbelievable.
The construction started in April 2006, and as early as May 2009 two first generators of the power plant had started. The construction project called for the basic work of the colossal scale. In total, the construction workers had to extract more than 80 million cubic meters of rock from the construction site for a few years. Thanks to their work, today you see the real masterpiece of modern architecture instead of the narrow rocky ravine.
The construction work on the hydropower plant lasted a few years after the first start. In 2010, a few energy blocks were still in operation. The tourists visit one of the most picturesque regions of China to hike through the rocky landscapes. And the most curious guests can walk along the dam and watch the calm Yellow River from the heights.
Next - Cleuson-Dixence
Nurek Dam, Tajikistan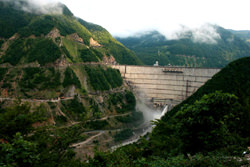 Cleuson-Dixence, Switzerland
Back to the start "The Greatest Dams in the World"
Useful staff nearby
Fuel station: 'Filling Station' in 7 km
Supermarket: 'Lingyun Supermarket' in 22 km
Parking: 'Parking Lot' in 20 km
Apotheek: 'Fukang Medicine' in 3 km
Police station: 'Laxiwa Police Station Zuona Police Affairs Office' in 3 km
Cafe/restaurant: 'Qinghai Guide Hot Spring Hotel' in 20 km