The Greek island of Lesvos can boast the charming old town of Molyvos. Its central street is one of the most beautiful places not only in the country but in the world. The main decoration of this ancient cobbled street are wisterias. Because of them, the street shines with dozens of purple shades. When wisteria is in bloom, its magnificent trusses with flowers give pleasant shade. The cobbled street looks like a real fairytale tunnel.
Even on the hottest days, it's nice to walk along this street. There you can see many beautiful old buildings. Amazing shops and restaurants are on the first floors of some houses. They make a trip even more exciting. Molyvos is considered one of the most beautiful and picturesque cities of Lesvos. There, the old architecture was preserved as much as possible. It seems that the way of life hasn't changed over the last hundred years. An ambience here is always very calm and peaceful. There is never any hustle and bustle even on the main street.
Many of the streets of Molyvos, including a beautiful central road, are paved with large stones. Thus, it is advisable to have comfortable shoes for walking. It is also worth noting that the small town streets are quite confusing, so before taking a stroll inexperienced tourists should definitely stock up a couple of maps. Besides marvelous wisteria, the main street is adorned with priceless architectural monuments. Those are very unusual colorful houses in Turkish style that were built over a hundred years ago.
Next - Hershtrasse in Bonn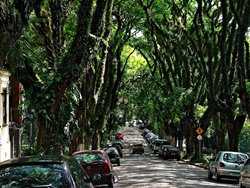 Goncalo de Carvalho Street, Brazil
Hershtrasse in Bonn, Germany
Back to the start "Top 13 Most Fantastic and Colorful Streets and Quarters"
Useful staff nearby
ATM bankomat: 'Alphabank ATM' located in 0.19 km (
check the route on the map
).
Car rental office: 'Sixt rent a car' is located in 0.28 km (
on the map
).
Fuel station: 'EKO' in 1.04 km
Supermarket: 'Minas Market' in 4.37 km
Parking: 'Parking' in 15 km
Police station: 'Mithymna's Police Station' in 0.66 km
Cafe/restaurant: 'Majoran Restaurant' in 0.2 km