One of the most famous streets in the world, Lombard Street is located in San Francisco. This street is officially considered the most crooked place in the world. It features a complicated zigzag shape. This unusual form of the street, where riding vehicles is allowed, is not accidental. The street goes down the hill, so to make this stretch of road safer for motorists, it was decided to cut eight sharp turns.
The zigzag street is decorated with chic flower beds and floral installations. Both sides of the street have walkways, stairs, and benches for pedestrians. Lombard Street is one of the favorite attractions among tourists, as there they can make a lot of spectacular pictures. Landscape decoration changes several times a year, so Lombard Street always looks special.
Drivers should remember that the speed on the curved street should not exceed 8 km/h. Many traffic signs remind about that. The street length is 400 meters, and the inclination angle is about 27 degrees. You won't find the more unique road structure in the world. Modern designers have turned an unremarkable and sloping street, which was not the most pleasant for walking, into a real masterpiece of landscape art. The space is supplemented by beautiful ornamental plants, sculpted shrubs and flower beds. Motorists from the local community have less positive experience than tourists, because there are traffic jams every day due to speed limits.
Next - Goncalo de Carvalho Street
Roombeek Street, Netherlands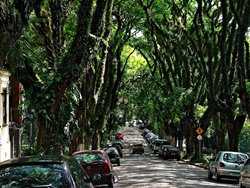 Goncalo de Carvalho Street, Brazil
Back to the start "Top 13 Most Fantastic and Colorful Streets and Quarters"
Useful staff nearby
ATM bankomat: 'ATM (Chase)' located in 0.31 km (
check the route on the map
).
Car rental office: 'GoCar Rentals Inc' is located in 0.5 km (
on the map
).
Fuel station: '76' in 0.65 km
Supermarket: 'Grocery store' in 0.3 km
Parking: 'Ghirardelli Square - Lot #347' in 0.41 km
Apotheek: 'Walgreens Pharmacy' in 0.44 km
Police station: 'Cpop Central Station' in 1.04 km
Cafe/restaurant: 'Robert Vannucci Culinary Arts' in 0.28 km
Railway station: 'San Francisco @ 4th & King St' in 3.64 km