Cuisine of Monte Carlo for gourmets. Places for dinner - best restaurants
Gourmet travellers will never be bored in Monte Carlo as the choice of gastronomic facilities here is truly very diverse. Le Pistou restaurant serves to its guests popular Mediterranean cuisine. Large choice of appetizers and an amazing selection of wines and desserts - Le Pistou is a great place for rest. Le Cafe De Paris restaurant cooks French cuisine. The elegant interior gives this restaurant its own unique charm. The opening of the restaurant took place in 1962. It is considered one of the oldest and most prestigious restaurants in the city.
Millions of tourists from all over the world travel to Monaco to discover the fabulous Principality, located between the majestic Alps and the azure of the Mediterranean Sea. Monaco is one …
Open
Continue your exploration of culinary delights of French cuisine available in the restaurant named Le Louis XV. A glass of rare sparkling wine will become a perfect complement to seafood specialties of the restaurant. Fans of Asian cuisine will surely enjoy the meals that are served in Le Fuji restaurant. Soups with seafood, noodles with spicy sauce, sushi and, of course, the traditional sake – the restaurant's chefs always try to impress visitors with new and original dishes. Don't forget to try the original author's dishes that are available in Le Grill restaurant. Dishes of French cuisine make up the basis of the restaurant's menu, but they are prepared in accordance with special recipes. Fried sea fish and meat dishes are the most popular choices among visitors.
Le Vistamar restaurant specializes in seafood. Among the dishes present in its menu you can find rarest delicacies. Stuffed seahorses, lobsters, shrimp skewers with vegetables and spices – the food here is a true delight for fans of culinary. Blue Bay is an elegant restaurant that offers to its guests widest choice of international cuisine dishes. Blue Bay has its own wine cellar, so the connoisseurs of this drink have an opportunity to try rare and collectible varieties of wine. Copyright www.orangesmile.com
The beautiful Palace Square and the princely palace located on it remain one of the main attractions of Monte Carlo. Every day thousands of tourists gather on the square to watch the …
Open
Gastronomic traditions of France and Italy have pretty much shaped the formation of the regional cuisine. For many years, Bouillabaisse soup has been the most popular first-course dish in the region. The recipe of this soup has French roots. Bouillabaisse can contain different varieties of fish, but it always comes with garlic sauce. Saffron remains the key spice of the soup. Local restaurants usually serve Bouillabaisse with crispy croutons.
In Monte Carlo, all fans of seafood will be delighted with the choice of interesting dishes. For example, Anchoyade – an unusual puree made of anchovies and capers, which has a very distinctive and original taste. The most popular dish with cod is called Stockfish. The fish is usually served with a special sauce that contains tomato paste and white wine. Travelers interested in savory meat dishes should consider ordering Porchetta in one of the restaurants specializing in the national cuisine. Porchetta is a stuffed suckling pig that is cooked in accordance with historical culinary traditions. It always has a very eye-catching serving.
Perhaps, the legendary Casino of Monte Carlo remains the main entertainment center of the city. However, in addition to the grand gambling facility there are many other attractive places …
Open
Local chefs also cook many delicious lamb dishes. For example, the spicy lamb roll that usually contains numerous spices and herbs. Haven at Monte Carlo is the location of some of the best national cuisine restaurants. It is a great place to try various popular snacks and dishes that have won love and dedication of locals. Experienced foodies recommend visiting this part of Monte Carlo to try Barbajuan appetizer. The original dish will please travelers with its affordable price and unique taste. Barbajuan contains rice with cheese, spinach, and onion. Despite the fact that all the ingredients are simple and affordable, the appetizer is very delicious.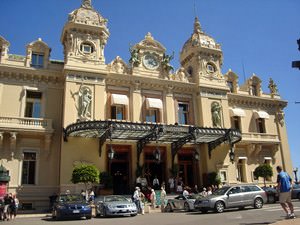 Socca pancakes are also a popular local snack. These fragrant pancakes are made of chickpea and flour. Local people also like Bruschetta, a traditional Italian snack. Bruschetta is a sandwich with crispy toast, cheese, olives, and tomatoes. Anchovies are one of the key ingredients of local Bruschetta. The choice of desserts is also amazing. Many local desserts and pastries contain fruits. The national cuisine widely uses dried and pickled fruits. It is also possible to buy mouthwatering dried figs and dates at local markets, as well as various nuts.
1. Tourists are better not to travel in autumn. It's raining heavily on this time of a year, so weather can disrupt the excursion seriously. 2. The majority of tourists visit the …
Open
Almond cookies remain one of the most popular desserts in Monte Carlo. Travelers are also recommended to try delicious white and black nougat that can be made with different ingredients. When it comes to describing drinks that one is better to try exclusively in Monte Carlo, it is important to mention Pastis anise spirit. There are also several varieties of locally produced beer with La Segurane being the most famous one. Finally, do not neglect La Blanche de Nice. It is a very interesting drink that contains coriander and orange zest.

This guide to cuisine and restauraunt in Monte Carlo is protected by the copyright law. You can re-publish this content with mandatory attribution: direct and active hyperlink to
www.orangesmile.com
.
City tours, excursions and tickets in Monte Carlo and surroundings
Reference information
Michelin-starred restaurants in Monte Carlo
♥ Restaurant 'La Montgolfière-Henri Geraci' Monaco. Type - Modern cuisine. 0.5 km from the center.
On the map
Photo
♥ Restaurant 'Beefbar' Fontvieille. Type - Grills. 0.7 km from the center.
On the map
Photo
♥ Restaurant 'La Marée' Monte-Carlo. Type - Seafood. 0.8 km from the center.
On the map
Photo
♥ Restaurant 'Vistamar' Monte-Carlo. Type - Modern cuisine. 0.9 km from the center.
On the map
Photo
♥ Restaurant 'La Romantica' Monte-Carlo. Type - Italian. 1.1 km from the center.
On the map
Photo
♥ Restaurant 'Le Louis XV - Alain Ducasse à l'Hôtel de Paris' Monte-Carlo. Type - Mediterranean cuisine. 1.1 km from the center.
On the map
Photo
♥ Restaurant 'Café de Paris' Monte-Carlo. Type - Traditional cuisine. 1.1 km from the center.
On the map
Photo
♥ Restaurant 'Yoshi' Monte-Carlo. Type - Japanese. 1.2 km from the center.
On the map
Photo
♥ Restaurant 'Nobu' Monaco. Type - Fusion. 1.3 km from the center.
On the map
Photo
♥ Restaurant 'Eqvita' Monte-Carlo. Type - Vegan. 1.4 km from the center.
On the map
Photo
Monte Carlo in photo set
Searching where to eat - restaurants and cafe on Monte Carlo map
Cuisine and restaurants in the neighbours of Monte Carlo
Travel notes on best cuisine and restaurants of Monte Carlo (Monaco) on OrangeSmile.com. Famous recipes and traditional dishes and courses in Monte Carlo restaurants. Where to eat - our recommendations on popular places in Monte Carlo, where you can taste delicious meal and also spend a good time with your friends.