One of the most famous sanctuaries in Australia is the Uluru-Kata Tjuta National Park located in the northern part of Australia. It was founded in 1958. Each year, the park is visited by more than 200 000 tourists. Unique historical and natural attractions are concentrated in its territory. A significant part of the reserve is occupied by the desert. However, here you can find almost the full range of plants that are documented in Central Australia.
The national parks has numerous geological features. Researchers found out that about 500 million years ago there has been a sea in those places. Sandstone, which now covers more than half of the reserve's territory, is nothing but the bottom of a prehistoric sea. One of the main landmarks of the reserve is the Mount Uluru known all over the world. It has been formed over 680 million years ago. The mount is characterized by an unusual oval shape and a rich orange-brown color. The rock looks particularly impressive at sunrise and sunset.
While walking around the reserve, travelers will be offered to look into the ancient caves that served as home to the first settlers tens of thousands of years ago. Cave paintings, as well as other amazing artifacts, have been saved there. Aboriginal tribes still live in the reserve, many of their representatives are employed as guides. While visiting the reserve, tourists should obey many important rules. Still, memorable trips are guaranteed.
Next - Wet Tropics of Queensland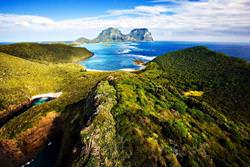 Lord Howe Island Group, Australia
Wet Tropics of Queensland, Australia
Back to the start "Famous Unesco Sites in Australia"
Useful staff nearby
ATM bankomat: 'ANZ ATM Yulara' located in 8 km (
check the route on the map
).
Car rental office: 'Hertz' is located in 8 km (
on the map
).
Fuel station: 'Shell' in 8 km
Supermarket: 'IGA supermarket' in 8 km
Parking: 'Ayres Rock Climb Carpark' in 3.44 km
Police station: 'Yulara Police Station' in 8 km
Cafe/restaurant: 'Walpa Lobby Bar' in 8 km