Kakadu National Park also has its own unique characteristics that allow it to be considered a landmark of world importance. The reserve was named after the eponymous tribe that lived on its territory. Today, the park has great etiologic, archaeological, and natural value. During the study of the local caves, scientists have found traces of the so-called rock art in X-ray style. The age of the oldest drawings is 18 000 years.
The reserve is famous for its fabulously beautiful landscape. About 1 700 species of plants are growing there; 280 species of birds, more than 110 species of reptiles, and 60 species of mammals live on the territory of the reserve. Another important feature of the park is a number of natural rocky ledges, which actually turned the site into a real natural reservation. For thousands of years, nature has been developing independently of tangible third-party factors and human impact. Since 1965, the park is considered a conservation area and one of the most interesting regions in the world to study flora and fauna.
The national park is still home to aboriginal tribes. The familiarity with cultural traditions and way of life is also of great interest to researchers. As scientists found out, the first settlements in the territory of the park were founded more than 40 000 years ago. Natives, who now reside in the national reserve, are the most direct descendants of the first settlers.
Next - Lord Howe Island Group
Purnululu National Park, Australia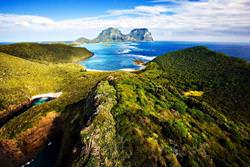 Lord Howe Island Group, Australia
Back to the start "Famous Unesco Sites in Australia"