Metro map of Panama City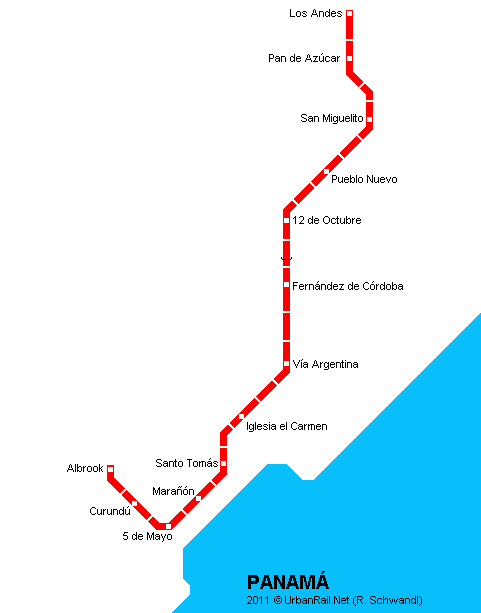 The actual dimensions of the Panama City map are 481 X 613 pixels, file size (in bytes) - 7110. You can open, download and print this detailed map of Panama City by clicking on the map itself or via this link:
Open the map
.
Detailed maps of Panama City
City tours, excursions and tickets in Panama City and surroundings
Car rental on OrangeSmile.com

The Demand for Travel with Bikes May Spike in Switzerland This Summer
Last summer, approximately 80,000 Bike Day Passes were sold in July, reaching an increase of 45% compared to 2019. For 2021, additional 15,000 bikes were brought to such popular routes as Bern to Brig and Zurich to Chur. The strong demand in 2021 is higher than supply which is still quite low. Moreover, bicycle traveling is a sustainable and eco-friendly way of exploring Switzerland, and this fact has brought the Swizz Transport and Environment Association together with Pro Velo on board.
Read this
10.05.2021
Metro, airports, railway and bus stations on Panama City map
Panama City in photostream
Our travel guides to Panama City
For most tourists, the favorite place for walking is the historic district of Casco Viejo, which, in addition to its old buildings, has one more interesting feature. Facades of many historic buildings are decorated with bright graffiti drawings. Searching for the most incredible artworks makes a walk in the historic district even more fascinating. Walking along this avenue, you can admire incredible modern …
Open
Here you can see the buildings that represent various architectural styles. The area named Casco Antiguo features more than eight hundred of beautiful buildings, with each one each unique and beautiful in its own way. The area named Casco Viejo is the location of one of the most important architectural places of interest - Las Bovedas Castle. It is located on the coast, and the area around the castle is considered …
Open
Metro maps of cities around Panama City