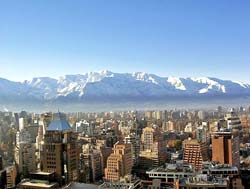 The northern part of the country is characterized by large deserts. Arica is the northmost city in Chile. The old city is full of buildings constructed during the colonial period, and Plaza de Armas Square is the location of the most famous sight of Arica – St. Marcus Cathedral. There is also an old Spanish fortress built in the middle of the 19th century in the city. Nowadays, the fortress is used to hold the exhibition of the Museum of History and Arms. Nearby mountains hide another landmark of the region – Fort Alacran that is built on the rock. There are also unusual cultural places of interest in the city, for example, the Museum of Mummies. Some exhibits of the museum are several thousand years old.
The city of La Serena is a popular tourist destination that never ceases to amaze guests. Tololo Observatory has become the symbol of the city. This is the largest observatory in the Southern Hemisphere. Besides that, there are several old wineries, gold mines and beautiful churches in La Serena. Visitors are usually charmed with St. Francisco Church that was built in 1844.
The amazing Rio Elqui Valley, which is completely used for fruit plantations, has become a true landmark of the country. The same applies to Atacama Desert that amazes tourists with its severe beauty. Archaeological excavations never stop in the desert. Guests are welcome to visit these sites, participate in jeep safari and various interesting excursions. Despite harsh weather conditions, there are more than 200 species of animals there. Of course, cacti are the most famous plant in Atacama – there are more than 150 types of them in the desert.
Many places of interest and historic landmarks have survived in San Pedro de Atacama. Most of the landmarks belong to the Incan civilization and chinchorro tribe. Naturally, the capital of the country, Santiago de Chile, is home to many places of interest. The best way to explore the capital is to start from Plaza de Armas. The square is surrounded by many beautiful buildings – the Municipality building, Governor House, the Royal Audiencia, the cathedral, Fernandez Concha Portal, the old Post office and La Moneda Palace.
Vina del Mar is a popular resort in Chile. Because of lush greenery, the city is often called "the garden city". Travellers will find here beautiful beaches, spacious parkways, banana tree groves and botanic gardens. There are also several museums in Vina del Mar, namely the Museum of Fine Arts, museums of history and culture.
Read further:
Cities and sights of Chile