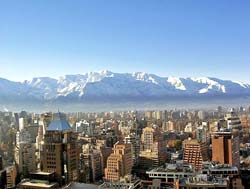 Chilean nature is amazing and diverse. It has Northern desert terrain, southern ice in the majestic Andes, serene lakes, rapid rivers, and endless waters of the Pacific Ocean. Magnificent Chilean pines and evergreen Andean shrubs, king penguins and black-necked swans, whales, and camels are found here. A large part of the country is a paradise for lovers of nature and animals, as civilized life is concentrated mainly in urban areas, leaving vast spaces intact.
What could feel better than walking among hundreds of clumsy and curious penguins? You can watch the friendly birds on Magdalena Island near Punta Arenas shore. This place is a natural refuge safe for marine animals and birds. In addition to penguins, here you can see gulls, cormorants, and other birds. The island has a lighthouse offering wonderful views. There are regularly organized Magdalena Island tours, and to reach the island, you have to cross the Strait of Magellan, which in itself is an exciting adventure.
Patagonia National Park is vast steppes, mountain peaks, crystal clear lakes, virgin forests, and beautiful lagoons. It is home to foxes and cougars, as well as to such endangered animals as the South African deer, the Geoffrey cat, the Andean condor, and many others. And if you're lucky enough, you can see some of them. Making noise, smoking, picking flowers and lighting fire are prohibited here. Nevertheless, this is a great place for hiking (with or without a guide), mountain biking, bird watching, overnight stays and just enjoying nature. The park has a tourist lodge and campgrounds for rest and recreation.
Read all...