French Polynesia sightseeing. Travel guide - attractions, sights, nature and touristic places
Volcanic islands, dense tropic forests, unforgettable underwater world and many secluded places away from noisy urban life that are perfect for relaxation – you will find all these and more in French Polynesia. The biggest island of the collectivity is known to everyone. It's Tahiti or, as locals like to call it, "the island of love". It is better to start exploration of French Polynesia from a visit to this beautiful island as it has sights and entertainment to fit even most discerning travellers.
The luxury hotels in French Polynesia, deserving attention of the most discerning traveler.
Read further
The capital of the island, Papeete, is a wonderful place that has both beautiful nature and interesting landmarks. Among spacious parkways and flowerbeds, you will see such magnificent buildings as Presidential Palace, Notre Dame Papeete Cathedral, the Bishop Residence and numerous monuments, most of which are built to celebrate an important event or a famous person. There are several national parks and reserves on the island. They are very popular with travellers, especially with alpinists who simply adore mountain slopes of Tahiti.
Moorea Island is no less beautiful than Tahiti. This island is famous for its numerous sanctuaries. There are more than a hundred churches and cathedrals on the island, but besides that Moorea is a great place to see the beauty of nature in its splendour. The most famous destinations there include the Dolphin Centre, Vairoro Falls and Opunohu Bay. The bay is also an important historic site as that is the place where Captain Cook landed in 1769. Copyright www.orangesmile.com
The luxury hotels in French Polynesia, deserving attention of the most discerning traveler.
Read further
Tetiaroa atoll is a wonderful place that attracts many travellers who come to see rich underwater life, fascinating reefs, exotic birds and white sand beaches.
Probably, only Bora Bora can conquer with Tahiti in terms of beauty and unforgettable exotic nature. The main place of interest of the island is also very unusual – the Coral Garden underwater park. Every year many tourists come to Bora Bora to see this park with their own eyes. In Coral Garden, they can see many exotic fishes, shellfish, sharks and dolphins. Besides that, there are more than 40 interesting historic landmarks on the island. The villages of Vaiotaha, Farerua, Poovai and Marotetini hide many interesting sights, such as ancient ritual stones, old buildings and hidden caves. The island of Huahine is known as one of most mystic places in French Polynesia. Here tourists can see ruins of buildings that once belonged to the ancient Maui civilization. The remains of their sanctuaries can be found in Vaitotia and Fahia villages. Archaeologists keep working almost everywhere on the island, finding more and more buildings and new facts about life many centuries ago.
History and Entertainment
Many tourists come to the islands for beach entertainments. There are perfect conditions for diving and other water sports. However, you certainly shouldn't limit your vacation to beach entertainments and viewing nature attractions. You should also pay your attention to local shops where you can buy a lot of interesting souvenirs. The most popular gifts are items of shells. Prosperous tourists have a wide choice of jewels with pearls of the local production.
The luxury hotels in French Polynesia, deserving attention of the most discerning traveler.
Read further
Many shops sell beautiful bottles with fruit liqueurs that have been produced in the islands for many hundred years. The very interesting and symbolic souvenir is a piece of hardened volcanic lava. Artisanal workshops sell interesting wooden items and hand-made accessories.
Fans of the food tourism will not be bored too, as the Polynesian cuisine has a lot of interesting features. At local restaurants, visitors can taste a lot of fish dishes and rare seafood delicacies they will not find anywhere else. One of the most famous national delicacies is fish a la tahitienne, the fillet of which is served raw. Before serving, it is marinated in coconut milk and lemon juice.
The luxury hotels in French Polynesia, deserving attention of the most discerning traveler.
Read further
Those who prefer more traditional dishes should taste roasted suckling pig and breadfruit cooked by different recipes. Gourmets shouldn't limit themselves to visiting only national restaurants. Local markets are very interesting too. Market stalls impress with the diversity of exotic fruit. Some vegetables are grown only here. As markets are visited by many foreign guests, sellers set up explanatory plates with the names of fruit and vegetables on their stalls.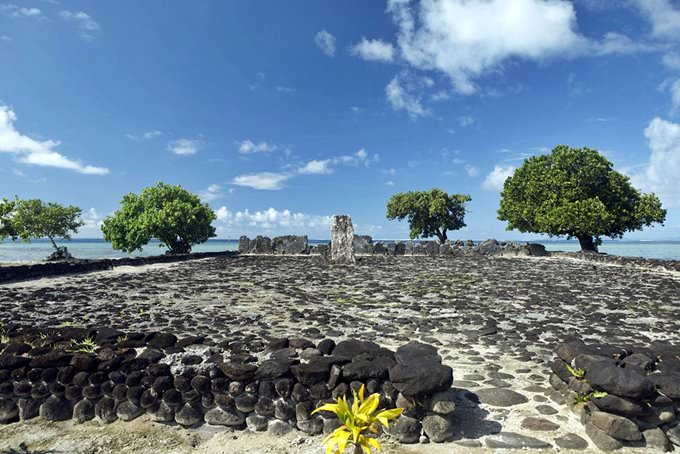 One of the most important crafts for local residents is the pearl fishery. This process is also a popular tourist attraction. Travelers are offered to visit pearl farms and watch professional divers working. The main attribute of such themed excursions is the visiting of local jewelry shops.
This article about iconic landmarks and sights of French Polynesia is protected by the copyright law. You can re-use the content, but only under the condition of placement of an active link to
www.orangesmile.com
.
Fantastic City Tours and Excursions in French Polynesia
Famous and uniques places in French Polynesia from our review series
Moorea
From the series
"The most beautiful islands on the planet"
Among the islands of French Polynesia you must mention the romantic island of Moorea. When you look at this wonderful island from the height, their outlines remind of the heart. The exotic island is as found for the romantic recreation. Many couples choose it for honeymoon and wedding ceremony. For the couples, the incredibly beautiful ceremonial ceremonies are carried out on the island, and even the documents on the palm cortex are given. Although these papers do not have legal force, they are very popular among the romantic people.
The island of Moorea is an excellent place to relax and enjoy the water sports. Temae Beach is one of the most comfortable and popular beaches. The picturesque island is more than 133 square kilometers, so every holidaymaker can find a place where he can …
Read all
Bora-Bora
From the series
"The most beautiful islands on the planet"
The island of Bora-Bora, whose area is no more than 38 square kilometers, has long been associated with elite recreation in the romantic atmosphere. The length of the island is about 9 km, and the width reaches 5 km. The island is surrounded by fairytale beautiful coral reefs. Not far from the coast are some tiny villages. Around 9,000 people live on Bora-Bora Island. The central part of the island has remained unchanged for thousands of years and is covered by impenetrable tropical forests.
The most remarkable natural attraction of the island is the picturesque lagoon that the divers from all over the world can see. The lagoon is quite deep so you can see in it besides thousands of colorful fish also quite large underwater inhabitants, including the rare shark species and barracudas. A …
Read all
Sightseeing in popular cities of French Polynesia
Map of travel guides to French Polynesia cities