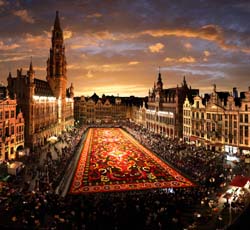 You will find many interesting places in Belgium. Nearly every town of the country is home to beautiful castles, churches and cathedrals, medieval buildings and museums. The best way to start your acquaintance with Belgium is to visit Brussels.
The old part of the city is the most interesting place for tourists. Locals call old town in a very unusual way – Pentagon. The district was called this way because of numerous circle shaped boulevards that were built instead of former protective facilities. Grand Place Square is a must visit place for all tourists. The building of City Hall is also located on the square. The Museum of Brussels is located on the opposite side, and the historic district of the city starts right after the square. That place is a must visit one for tourists, as the majority of centuries old buildings, churches and squares are located there. The Royal Galleries of Saint-Hubert are one of the most famous landmarks of Brussels. This is an architectural complex that combines theatres, art galleries and museums. There are several dozen of public places there.
Continue your travel in Belgium by visiting the city of Anderlecht. The most important sights of the city include the Museum of Erasmus of Rotterdam, Astrid Park, Gaasbeek Castle and Constant Vanden Stock Stadium. The city of Antwerpen is famous for its numerous museums. There are more than 30 museums in total in the city. The most famous ones are the Royal Museum of Art, Plantin Moretus Museum, Mayer Van Den Bergh Museum, the Museum of Modern Art, the Museum of National Art and Ethnography, the Museum of Sculptures and Folklore Museum. There are also architectural places of interest in Belgium, the most famous ones being Bodenbond Tower and Royal Palace built back the 18th century.
The town of Lier is also worth closest attention. The most famous sights of the town are Zimmer Tower and old astronomy clock. Continue your travel, and you will reach Kalmthout Nature Reserve that is located nearby. The reserve features simply unforgettable combination of sand dunes and dense forests. Tourists, who wish to see more historic places, are welcome to visit Gent, the central part of which is a true open-air museum. Such magnificent sights as St. Bavo's Cathedral, St. Peter's Abbey, Van Der Meer Palace, St. Jacob Church and Royal Palace on Breydelstraat Street are definitely worth closest attention. Travellers, who enjoy going to museums, will be pleased as well as there are more than ten large museums in Gent.
Read further:
Cities and sights of Belgium