Family holidays with children in Tajikistan - attractions and entertainment
Tourists who plan to visit Tajikistan with children usually ask the following two questions: 1 – is there suitable infrastructure to stay and have fun with children: 2 – is it safe to visit Tajikistan with children. Infrastructure. The capital of the country – Dushanbe – offers standard accommodation, just like many other big cities in the world. There are hotels of different categories from budget to luxury here. The same applies to the second-largest city in Tajikistan – Khujand. There are sanatoriums that offer all-inclusive tours. For example, the balneological sanatorium Garm Chashma (42km from Khorog) always has many guests from Europe and CIS countries. Sabob, a sanatorium with a unique radon source, is also popular. Tourists with older children might want to stay at the Artuch mountain camp and explore the simplest trails in the Fann Mountains.
One of the smallest countries in Central Asia that is famous for its rich history and culture – Tajikistan really has much to impress its guests. …
Read further
Many excursions and attractions are connected with the ancient history and equally fascinate both adults and children of any school age. Local entertainment centers and water parks are also great for kids. Now let's move to such an important aspect as safety. Some basic safety rules as "do not show large sums of cash in public areas" or "do not walk alone outside the city center at night" are certainly valid in Tajikistan. That being said, the country is safer than many European countries today. Locals are friendly with tourists. Foreigners are safe in public areas, public transport, parks, etc. Food is available in hotel restaurants, small street cafes, tea houses – the prices are different but local food is delicious.
Sanatorium Puli Sangin (Nurek, Alizoda Street 30) on the River Vakhsh offers interesting activities for both children and adults. The sanatorium tries to entertain its guests and keep them excited. There are activities for children of different ages. Puli Sangin has a hippodrome and horse stables – visitors can try horseback riding or learn how to do it, watch horses, or take a memorable ride in a horse-driven cart. Besides that, there are basketball and beach volleyball areas, tennis courts, table tennis and billiards infrastructure. Copyright www.orangesmile.com
Tajikistan is a mountain country in Central Asia. It borders with Kirgizstan, Uzbekistan, China, and Afghanistan. Tajik is the national language but …
Read further
It is unusual to see beach recreation offers in a mountain area, but there are beaches on the mountain Vakhsh River. Beaches have sand, sun loungers and umbrellas, and swimming is possible in the heated pools. The distance to the sanatorium from the capital is approximately 50 kilometers. It takes 40-50 minutes to reach Puli Sangin from Dushanbe. Thanks to this, tourists can arrive in the morning, spend the entire day in the sanatorium, and return to the hotel in the evening. Puli Sangin has its own transport and offers transfer services. If you want to stay longer, you can always book a room at Puli Sangin. There are rooms of different categories – apartments, luxury rooms, and affordable hostel rooms.
Nurek Dam is located close to the city of Nurek. There is a resort hotel, Aqua Club, built on the shore of the water reservoir. The resort offers various water activities such as water scooter riding, banana boat rides, and free catamarans. Guests are eligible for three meals daily. The resort has one more peculiarity – it has accommodation in floating houses that can be accessed by water only. For parents with elementary to high school kids, several days spend at the mountain water reservoir resort can be an interesting and educational journey. If you want to buy a tour at Aqua Club, visit their office in Dushanbe, Druzhby Narodov Street 62.
Tajiks are people with ancient history. They cherish their centuries-oil traditions, some of which might not be obvious because people, especially …
Read further
Vacationers with teenagers can relax at the Iskanderkul resort that is open on the shore of the namesake lake. The lake is famous for its crystal blue water, silence, beautiful nature, and spectacular peaks of the Gissar Mountains. The resort has cottages similar to hotel rooms and tents. Tourists can bring their tents and install them in the camping area, but the tent sites are paid. There is a car road near the resort, so it is easy to reach it in a taxi or a rented car. The distance to Dushanbe is 160 kilometers.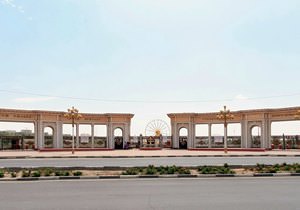 Khujand is also not deprived of interesting places for children. There is a water park on Ismail Samani Avenue where both adults and children can have fun. It is called Limpopo (50 Years USSR Street). The trampoline center "no GRAVITY" (Gagarina Street 147a) is great for children of any age. Local parks, such as Khujand City, Victory Park, Toy Park, K. Khujandi Park, and Rudaki Park offer serenity and refreshing shade on hot days. School-age children can attend excursions with their parents. Consider visiting the Historical Museum of Sughd that is open in Khujand Fortress. By the way, the first fortress on this site was built by Alexander the Great, a famous conqueror who is familiar to every schoolchild.
Tajikistan is a country in Central Asia. Its capital – Dushanbe – is situated in Gissar Valley on the Varzob River. Start your acquaintance with …
Read further
Here are some places worth visiting in the capital. Obshoron is a popular water park that is open in the heart of Dushanbe, on Ismail Somoni Avenue. This is an attractive water park with various swimming pools, slides, and fountains that are twice more pleasant on hot days. This water park is popular with both adults and children. Dolphin is one more water park in the capital. It is more expensive but children under 2 years old do not require a ticket. Besides water amusements and swimming pools, there are loungers and umbrellas, a bar, and a café. Dolphin is located on Bogoutdinova Street 7/2. How to get to the water park: trolley #12 or bus A. Water parks are quite expensive for local people but tourists usually label them as affordable.

This article about vactions in Tajikistan with children is protected by the copyright law. You can re-use the content, but only under the condition of placement of an active link to
www.orangesmile.com
.
Fantastic City Tours and Excursions in Tajikistan
Tajikistan by photographers