Culture of Cordoba. Places to visit - old town, temples, theaters, museums and palaces
Cordoba is a city with unique cultural traditions that are embodied in architectural monuments, works of art and beautiful national folkways. The famous Great Mosque is one of the most beautiful architectural monuments of the country. It has been built in 785 and has repeatedly changed shape and status during its long history. Only one thing remained constant - the unique interior of the mosque, which was completed in the best traditions of Arab style. Tall columns decorated with carvings, mosaics and an abundance of clever religious artifacts give the hall of the mosque the truly fantastic beauty.
Tourists with children in Cordoba are very popular with the entertainment center Pekeplanet. It is designed for young children. In this center, there are remarkable attractions and …
Open
Next to the mosque there is a beautiful orange garden, where travelers and locals love to relax during hot days. Among the other Muslim attractions it's worth to mention Caliph towers built in the 10th century that were part of the southern fortifications of the city. Among the surviving fortifications Calahorra Tower and Roman bridge situated next to it are notable.
Near the aforementioned mosque the Jewish Quarter begins; it is also of great interest for tourists. There are numerous historical monuments on its territory, among which is the largest Spanish synagogue. It was founded in the early 14th century and represents a unique architectural monument. Copyright www.orangesmile.com
In Cordoba, more than three hundred gastronomic venues are open; you can choose a place to stay that fits every taste and budget. One of the best restaurants in the city is Regadera; its …
Open
Among sacred places of Christian culture the Alcazar Palace built on the site of an old Moorish fortress is noteworthy. The palace has witnessed important historical events and celebrated persons. There Columbus had reported before traveling to India. No less remarkable is Viana Palace, which was recently converted into a museum. Among its exhibits there are historical artifacts, antiques and the collection of old paintings.
In the immediate vicinity of Cordoba there is a beautiful palace complex, Medina Al-Sahara, which was built in the 10th century by orders of a local caliph. Beautiful city palace lasted only 70 years and was completely destroyed during the next Berber attack. The imperial palace is legendary. In the territory of the ancient complex archaeological works are held. Scientists never cease to find unique artifacts and jewelry. You can see those findings of archaeologists at one of the local museums.
Cordoba is a wonderful city with an abundance of interesting traditions and indescribable national flavour. In summer, an unusual holiday is held here, and there are no others resembling it …
Open
Most of them can be found in the Museo Arqueologico de Cordoba. The museum is divided into thematic sections: religion, daily life, military history, presenting the history of Cordoba from the beginning of the Roman reign to Spanish rule. In the city, you can also visit a great museum dedicated to the most famous dance of Andalusia (of course, this is about flamenco). It is called the Centro Flamenco Fosforito, here you can learn everything about the national Spanish dance - for example, the fact that there are several styles in flamenco, which are strikingly different from each other. The current building of the museum is located in the territory of a medieval hotel.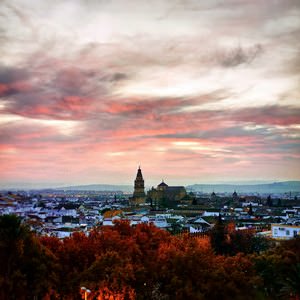 Another cultural institution, Museo Municipal de Arte Taurino, is dedicated to another traditional symbol of Spain. The museum tells about the life of the great bullfighters and demonstrates related exhibits such as costumes, posters, bulls' heads. Be sure to visit this place if you want to plunge deeper into the multifaceted local culture. For connoisseurs of Spanish fine art, a must-have is the Museo de Bellas Artes de Córdoba where a collection of paintings by many famous local artists of the 15th and 19th centuries is gathered. Another interesting place in Cordoba - Gran Teatro de Cordoba - is an excellent option for those who want to watch a great theatrical performance. And it must be said that any show is equal to a full-fledged holiday in Cordoba.
Cordoba has won recognition among travelers not only because of an abundance of cultural attractions, but also because of a huge selection of entertainment options. Some travelers prefer to …
Open
Palacio de Viana is a nice place for those who wish to enjoy some magnificent works of art. It displays Francisco Goya's paintings, wonderful mosaics and frescoes of various authorship collected from all over the world, as well as leather products, which are rightly considered pieces of art. Of great interest is the building itself with its magnificent exterior and rich interior decoration. The palace has preserved its original interior dating back to the 14th century, thereby creating a unique atmosphere of touching the history. To plunge into the atmosphere of Cordoba that was ruled by the Arabs, be sure to explore the Museo Vivo de Al Andalus - here the daily life of local residents' ancestors is presented in miniature. It is worth noting that models of local attractions are made with the greatest precision.
However, in Casa Árabe, one can feel the same atmosphere of old Arabian Cordoba. The mansion consists of five buildings connected by galleries and staircases. Its construction belongs to the 14th century, the house is listed as a UNESCO World Heritage site. For those who wish to stroll through the picturesque places, there is no better place than the mansion's courtyard. Well, tourists who have always been interested in magic and alchemy (which was at the peak of its development during the Arabian era in Cordoba) can head to Al-Iksir Museo de la Alquimia where this will be described in detail. After visiting the museum, tourists get the feeling that reality is slipping from under their feet, giving way to mysticism.

In the section below, you can get one of our excursion, activities or city discovery tours over Cordoba and surroundings. Our website offers 10-30% lower ticket prices, when compared to the offline purchase on the spot.
City tours, excursions and tickets in Cordoba and surroundings
This guide to cultural sights Cordoba is protected by the copyright law. You can re-publish this content with mandatory attribution: direct and active hyperlink to
www.orangesmile.com
.
Reference information
Art galleries in Cordoba and around
♥ Art museum 'Museo Arqueológico y Etnológico de Córdoba' Córdoba, Spain, 1 km from the center.
On the map
Photo
Photogallery of cultural heritage of Cordoba
Landmarks of culture on Cordoba map: art-galleries, monuments, palaces, etc
Excursions over cultural sights of neighbours of Cordoba
Culture guide to Cordoba. Which fascinating sights to visit once you are in Cordoba: temples, churches, museums, theaters and castles. Recommendations (with addresses, phone numbers and links) on the places 'must visit' in Cordoba. Plan your own city excursion by using this page info!