Culture of Alsace. Places to visit - old town, temples, theaters, museums and palaces
Alsace is one of the richest provinces of France from a cultural point of view. Strasbourg is the capital of the region; it's worth to start exploring its attractions with a visit to the central square. Here there is a beautiful cathedral; one of its towers is equipped with an excellent viewing platform. Near the Cathedral Square there is Kammerzell maison, the unique half-timbered building. Its first floor was built in the 15th century.
This picturesque province never ceases to attract connoisseurs of fine French wine. There is a tremendous amount of old wineries in Alsace. Ribeauville town surrounded by beautiful vineyards …
Open
Another landmark is so-called Pharmacie du Cerf; this half-timbered building was erected at the turn of the 15-16th centuries. Palais Rohan would be interesting too, as nowadays it houses three museums. One of them is devoted to painting, the other represents unique archaeological findings, and the third is home to works of decorative art.
Old town of Colmar will appeal to fans of excursions; there are several historical buildings of different eras on its territory. Most visited monuments are maison Adolph built in the mid14th century, and the old customs building, Ancienne Douane, constructed during the second half of the 15th century. Copyright www.orangesmile.com
1.It's convenient to travel the province on high-speed TGV trains; they can be an alternative to quite comfortable buses. Tourists always have an option to rent a car; it is worth …
Open
Among the religious monuments of Colmar, Church of St. Martin is notable; it is a true example of 13th century architecture. Petite Venise is an ideal hiking area. Alsace is famous for its beautiful castles and ancient monasteries, which can be found in various regions of the province.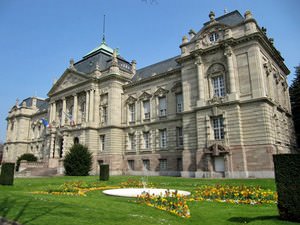 In the immediate vicinity of Celeste there is world-famous Haut Koenigsbourg Castle. According to historical records, the first fortification in its place has appeared in the 12th century. Of course, the old building hasn't survived to this day in its original form. The fortress was almost completely restored; the reconstruction of some of its parts is still continuing. Castle features an impressive appearance and excellent interior; spacious rooms are furnished with antique furniture and artwork. Near the castle there is an ancient monastery Le Mont-Sainte-Odile housing priceless religious relics. It was built on a high hill and named after the blind girl - a local resident, who has miraculously healed and found herself to cure people of any disease.

In the section below, you can get one of our excursion, activities or city discovery tours over Alsace and surroundings. Our website offers 10-30% lower ticket prices, when compared to the offline purchase on the spot.
City tours, excursions and tickets in Alsace and surroundings
This guide to cultural sights Alsace is protected by the copyright law. You can re-publish this content with mandatory attribution: direct and active hyperlink to
www.orangesmile.com
.
Reference information
Art galleries in Alsace and around
♥ Art museum 'Unterlinden Museum' Colmar, 27.3 km from the center.
On the map
Photo
♥ Art museum 'Musée d art moderne et contemporain' Strasbourg, 36.2 km from the center.
On the map
Photo
Cathedrals and basilicas near Alsace
♥ Münster Unserer Lieben Frau, Freiburg, 47.1 km from the center.
On the map
Photo
♥ Basilique Notre-Dame de Thierenbach, Jungholtz, 52 km from the center.
On the map
Photo
♥ Basilique Notre-Dame, Marienthal, 58.2 km from the center.
On the map
Photo
♥ Basilique du Sacré-Cœur, Lutterbach, 63.1 km from the center.
On the map
Photo
♥ Église Sainte-Marie, Arlesheim, 63.9 km from the center.
On the map
Photo
♥ Basilique-Cathédrale Saint-Christophe, Belfort, 86.9 km from the center.
On the map
Photo
Unique spots in Alsace and near
Riquewihr
From the series
"Fabulous Nooks of the World with Striking Colorful Shades"
Check on the map:
Distance from Alsace center - 23.7 km.
Riquewihr is ideal for hiking, as important landmarks can be found here at every step. During the walk, you can see a lot of old houses with amazing signs. For example, a plate with an image of scissors may mean that a tailor once lived in this house. In the heart of the city, there's a City Hall that is a vivid example of neoclassical style. One of the most unusual architectural landmarks is Maison Schickhardt house with its original angular bay windows. …
Read further

Colmar
From the series
"Nooks and Villages That Are More Colorful Than Top Touristic Destinations"
Check on the map:
Distance from Alsace center - 27.1 km.
Besides exploring the lovely old streets, tourists can diversify their leisure with visits to museums, theaters, and concert halls. The world famous museum of sacred art, Unterlinden, is situated there. The area of ​​the charming town of only 66.5 square km, and the population is about 67 000 people. The first mention of the town dates back to the 9th century. Since its inception, the place had great strategic importance. …
Read further

Photogallery of cultural heritage of Alsace
Landmarks of culture on Alsace map: art-galleries, monuments, palaces, etc
Excursions over cultural sights of neighbours of Alsace
Culture guide to Alsace. Which fascinating sights to visit once you are in Alsace: temples, churches, museums, theaters and castles. Recommendations (with addresses, phone numbers and links) on the places 'must visit' in Alsace. Plan your own city excursion by using this page info!