Preparing your trip to Utrecht: advices & hints - things to do and to obey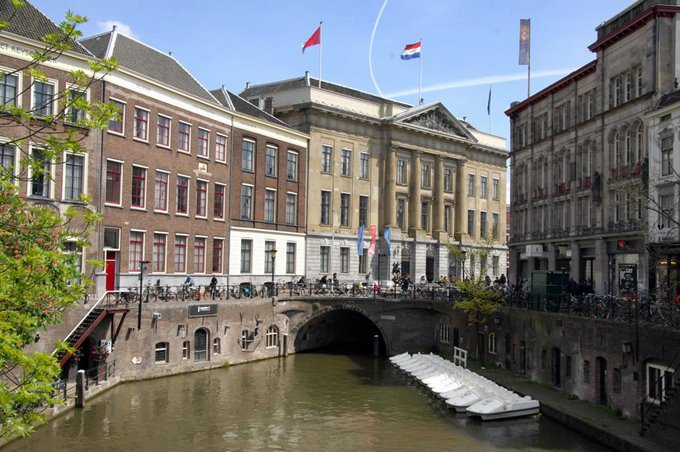 1.Most shops are open from 9:00 am to 6:00 pm; Sunday is a common day-off. Saturday and Monday are half-days, so the timetable of places of interest should be specified in advance.
2. Mains voltage is 220 V; however, many modern hotels provide additional outlets for 110 V and 120 V. Tourists are advised to bring necessary adapters for electrical devices with them.
3. Despite the fact that telephone booths begin to disappear from city streets, they can still be found in busy tourist areas, close to major supermarkets and entertainment places. Street pay phones are the best option for long-distance and international calls; they accept special plastic cards.
4. You should pay for goods and services exclusively in euros; other currency is not accepted. Travelers are advised to exchange money at home before the trip, as in this case terms would be the most profitable. It's also worth noting that small shops and supermarkets are reluctant to accept banknotes in denominations above 50 euros, so it's better to take enough of small bills.
5. Dinner at a local restaurant starts early, at 6:00-7:00 pm. You can leave a tip for a good service; it is generally between 10-15% of the total order. Copyright www.orangesmile.com
6. The main mode of urban transport is a bus. A two-wheeled transport is also in demand of locals and tourists. Those who expect to visit nearby towns are recommended to travel by high-speed trains, as it would be much faster and more convenient than by buses.
7. Opposite the Dome Cathedral there is an excellent tourist office where you can get all the information you need. Here you can book a guided tour, take a map of the city and booklets describing local attractions, as well as purchase phone cards and a lot of other useful items.
Travelers going to Utrecht in search of new experiences and exciting entertainment won't be disappointed. The most amazing and unusual entertainment center of the city is a miniature …
Open
8. Most museums and cultural institutions provide favorable discounts for younger guests. Fans of excursions have to consider that many cultural centers are closed on Mondays.
Preparing your trip to Utrecht: advices & hints - things to do and to obey You can re-publish this content with mandatory attribution: direct and active hyperlink to
www.orangesmile.com
.
What to visit being in Utrecht - unique sights
Pythonbrug
From the series
"The Most Unusual and Strange Bridges on Earth"
Check on the map:
Distance from Utrecht center - 34.6 km.
The bridge connecting Borneo Island with the Sporenburg Peninsula was opened in 2001. The bridge is located in the center of Amsterdam, next to the striking historical monuments. The workers of the architectural office West 8 decided a few years ago to refresh the center of the city and built this strange high-tech bridge, which reminds of the huge winding python. …
Read further
Hash Marihuana Hemp Museum
From the series
"Strange, Weird and Unusual Museums Amusing its Visitors"
Check on the map:
Distance from Utrecht center - 35.9 km.
The hemp was used for cooking, from this grass the remedies were made of many diseases and even fabric and paper. The large collection of exhibits illustrates this remarkable fact: in the museum one can see the old medical books and recipes, the beautiful clothes and even the old Heupräparate. Part of the exposure is dedicated to 'the smoke side of the question'. Here is a rich collection of old pipes, shisha and other smoking accessories presented. …
Read further
Electric Ladyland Fluorescent Museum
From the series
"15 Unofficial Man-Made Wonders of the World"
Check on the map:
Distance from Utrecht center - 36.8 km.
In Amsterdam, travelers will have an opportunity to visit the surreal Electric Ladyland Museum, the world's only museum of the fluorescence, which strikes with colors and incredible exhibits. The founder of the museum is the unusual local resident Nick Padalino. He decided to name his museum after the last album of Jimi Hendrix. The museum is a wonderful gallery with a collection of rocks and minerals of the most incredible shapes and sizes. Artistic lighting makes forms really unusual. Thanks to light common gray stones are painted in a rainbow of colors. …
Read further
City tours, excursions and tickets in Utrecht and surroundings
Photos of Utrecht
Services search (pharmacy, police, parking, banks) on Utrecht map
Tips for the cities around Utrecht
Travelling to Utrecht - advices and tips. What should be provisioned in advance, the rules you might want to follow, and the things you better avoid doing in Utrecht. We help you to make your trip smooth and easy, with no unexpected surprises.