Preparing your trip to Ticino: advices & hints - things to do and to obey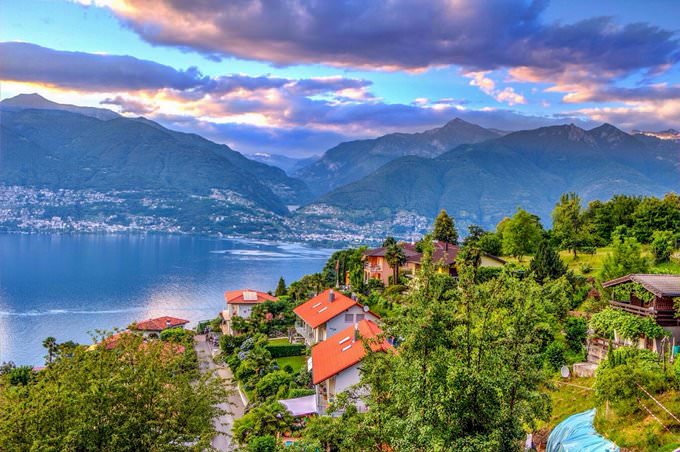 1. Those who expect to travel through the territory of the canton by car have to consider that there are pedestrian areas in many towns. Be careful while moving around mountain areas, as roads are mostly very narrow and winding.
2. The main form of public transport in Ticino is bus. The fare around the town is usually little more than 1 Swiss franc; the fare of intercity buses depends on the distance traveled. In general, traveling with public transport is quite profitable and comfortable.
3. Travelers who arrive at the train station of Lugano have to consider several important features. The station is located on a high hill; the top of it is connected with the base with funicular. It won't be difficult to get to the foot of the hill, but climbing back to the train station is quite hard; you can comfortably lift using funicular for just 1.1 franc.
4. Foreign visitors are recommended to pay for goods and services in Swiss francs. Some hotels, restaurants and shops accept euros, but such services aren't provided by all organizations. You can exchange money at any bank or private exchange office.
5. Travelers could buy a special tourist card in the capital; the card entitles you to discounted travel by public transport and discounts at some cultural venues. The price of the card is quite high, so it would be useful to those who expect to spend much time in Lugano and take various excursions. Copyright www.orangesmile.com
6. Take into account that a significant part of public places and banks don't work on Saturday and Sunday. If you need to exchange currency urgently, you can use services of private exchange offices. They work seven days a week and can be found literally at all stations.
7. The tourist information office in Ticino deserves the highest praise. You can find tourist offices in almost all cities; the main office is located on the waterfront of Lugano. There are city maps and brochures describing attractions of different languages in tourist centers.
The mild climate makes Ticino attractive for recreation literally all year round. Fans of water sports, which have long chosen local lakes, arrive to this canton in summer months. It is a …
Open
8. Fans of excursions shouldn't limit themselves to historical sites only. Buildings of local banks can be called real masterpieces of modern architecture, each of which is unique. It should be noted that there are numerous banks in Ticino, as well as in other cantons of the country.
Preparing your trip to Ticino: advices & hints - things to do and to obey You can re-publish this content with mandatory attribution: direct and active hyperlink to
www.orangesmile.com
.
What to visit being in Ticino - unique sights
Gotthard-Strassen tunnel
From the series
"The Greatest Tunnels in the World"
Check on the map:
Distance from Ticino center - 35.2 km.
Those motorists who wish to go for a ride through the longest tunnel in Switzerland should definitely pay attention to the observance of the speed mode. The maximum tunnel's speed limit is 80 km/h. Besides, a distance of 150 metres between the vehicles is advised. Fright transport is the major hazard in the tunnel, as traffic flows are very intense. The last major accident, which led to the death of 11 people, occurred in 2001 due to a collision of two trucks. Considering that the tunnel allocate only one lane in each direction, the above mentioned limitations of speed and distance does not seem to be a formality. …
Read further
Contra Dam
From the series
"The Greatest Dams in the World"
Check on the map:
Distance from Ticino center - 15.5 km.
'The role' of the dam in the film was quite impressive. The agent 007 jumped from Contra Dam, when hundreds of thousands of fans came to this area. Since then, thousands of people strive to repeat the leap of the agent. The dam serves as a place for Bunjee Jumping. Contra Dam is also known among the fans of the other film - Dhoom 3. This was one of the most exciting moments of culminating. The tourists, who are not ready for such breathtaking entertainments, have a wide range of excursions. During the hike through the most beautiful places, you can learn about the history of the dam building and its peculiarities. …
Read further
City tours, excursions and tickets in Ticino and surroundings
Photos of Ticino
Services search (pharmacy, police, parking, banks) on Ticino map
Tips for the cities around Ticino
Travelling to Ticino - advices and tips. What should be provisioned in advance, the rules you might want to follow, and the things you better avoid doing in Ticino. We help you to make your trip smooth and easy, with no unexpected surprises.