City break in Sharjah. Active leisure ideas for Sharjah - attractions, recreation and nightlife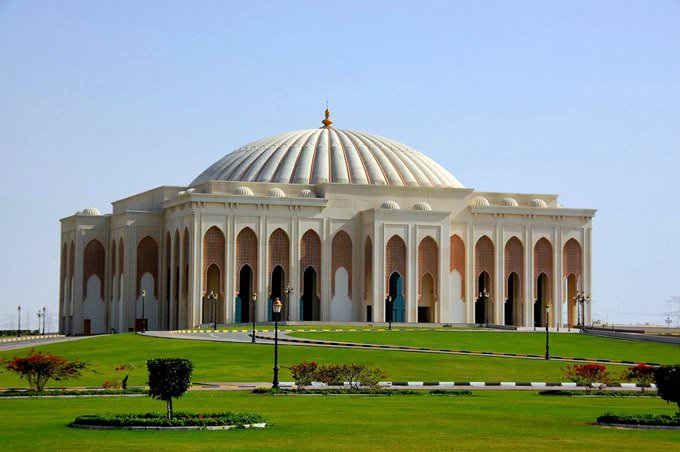 Sharjah is an attractive holiday destination for those who like shopping; walks around shops are among its top attractions. The Central Market is notable, as there are more than five hundred trade stands at it. Here you can buy just about anything, including beautiful items made ​​of precious metals, high-quality textiles, Arabic perfumes, excellent gadgets, fashionable clothes and shoes. Note that market prices are very affordable; you won't find a better place to buy handmade carpets and souvenirs.
Sharjah is called 'the smiling emirate' for a reason; its main distinguishing feature is friendly and welcoming atmosphere, so every traveler will feel himself a welcome guest. …
Open
Arabian Wildlife Center would be a great place for families with children; it is a large and very beautiful site. The zoo is home to an incredible number of animals brought from different parts of the world. There are deer, wolves, cheetahs and baboons, as well as a rich collection of scorpions and snakes. Younger guests will have an opportunity to get acquainted with the friendly inhabitants of the zoo. There is also a vast area for walking.
Another attractive place for families is Al Qasba park. Singing fountains and one of the largest Ferris wheels in the Emirates can be found there; fans of the local cuisine are sure to be pleased with an abundance of restaurants located nearby. A trip to Sharjah Aquarium will be a memorable event. It features an incredibly beautiful design with huge swimming pools and glass tunnels; the represented collection of underwater world inhabitants is also quite impressive and diverse. Copyright www.orangesmile.com
Sharjah is sure to be the cultural capital of the Arab world, as an incredible number of unique attractions is concentrated in the emirate. The oldest area of ​​the emirate is Merijah; …
Open
Fans of thrilling rides would like Aljazeera Park. In addition to an abundance of rides, there is an attractive place to rest and a vast park area where you can relax in a hot day. Fans of sports entertainment would be able to find a suitable place to stay. Both professional athletes and beginners enjoy Golf and Shooting center. The usual tour around the city will certainly bring a lot of excitement, as you can find interesting shops, restaurants and attractions at every turn.
This guide on active recreation and leisure in Sharjah is protected by the copyright law. You can re-publish this content with mandatory attribution: direct and active hyperlink to
www.orangesmile.com
.
Reference information
Amusement parks near Sharjah
♥ Amusement park 'Antics Land' Sharjah, 2.1 km from the center.
On the map
Photo
♥ Amusement park 'Adventureland' Sharjah, 7.4 km from the center.
On the map
Photo
♥ Amusement park 'Wonderland' Dubai, 15.7 km from the center.
On the map
Photo
♥ Amusement park 'Leisureland' Dubai, 15.9 km from the center.
On the map
Photo
♥ Amusement park 'SEGA Republic' Dubai, 21.6 km from the center.
On the map
Photo
Water attractions around Sharjah
♥ Water park 'Al Montazah Water Park' Emirate of Sharjah, 2.5 km from the center.
On the map
Photo
♥ Water park 'Wild Wadi Water Park' Jumeirah, Emirate of Dubai, 32.1 km from the center.
On the map
Photo
♥ Water park 'Dreamland Aqua Park' Emirate of Umm al-Quwain, 36.9 km from the center.
On the map
Photo
♥ Water park 'Aquaventure Waterpark' Emirate of Dubai, 37.1 km from the center.
On the map
Photo
♥ Water park 'RAK Iceland Water Park' Emirate of Ras al-Khaimah, 58.3 km from the center.
On the map
Photo
City tours, excursions and tickets in Sharjah and surroundings
Sites around Sharjah from our surveys on extreme Earth places
Infinity Tower
From the series
"Twisted spiral buildings and towers that are real"
Check on the map:
Distance from Sharjah center - 39 km.
Experienced travellers are well aware that the best view of the skyscraper opens from the promenade of Dubai Marina. It is from here that you can make the most spectacular memorable photos. Luxurious skyscraper Infiniti Tower is the location of offices and studios, it has several fitness centers and swimming pools, as well as luxury apartments with panoramic views of Jumeirah Island. The erection of a luxurious skyscraper began in 2006 and was completely finished in 2012. According to some reports, more than 275 million dollars was spent on its construction. …
Read further
Flower House in Dubai Miracle Garden Park
From the series
"Unique living houses"
Check on the map:
Distance from Sharjah center - 36 km.
The park has a huge flower clock, old cars decorated with plants, incredibly amazing figures of birds and animals, spectacular tracks with floral arches, and many other unique decorations. One of the largest and most attractive structures in the park is a live house, whose facade is completely hidden behind a thick wall of plants and flowers. …
Read further
Wild Wadi Waterpark
From the series
"The greatest and fanciest water parks"
Check on the map:
Distance from Sharjah center - 32 km.
Wild Wadi Waterpark attracts fans of surfing, as it is equipped with several different pools with artificial waves, where you can hone your sports skills. Fans of extreme sports enjoy numerous rides, including one of the most extreme slides  in the world. Jumeirah Sceirah tubes was updated in 2013. Now, sliding on it has become even faster and more exciting. …
Read further
Car rental on OrangeSmile.com
Photogallery of picturesque Sharjah
Search for active leisure and attraction spots on Sharjah map
City break ideas for neighbours of Sharjah
Guide to your best city break in Sharjah - popular places for recreation and leisure. Things to do during the day in Sharjah - attractions, parks, beaches, aquaparks, racing tracks, biking trails or waterski. Recommendations (with addresses, phone numbers and links) where to spend your time in the evening (bars, discos, clubs, etc.). We share some good ideas and the question 'What to do in Sharjah?' disappears immediately.