Cuisine of Santiago for gourmets. Places for dinner - best restaurants
Plenty of seafood dishes, inimitable beef treats, various vegetables and fruits are the main distinctive features of ethnic cuisine in Santiago. According to true gourmands the city of Santiago is exactly the gastronomy destination to try and enjoy the most delicious dishes made of various sorts of fish. Local cooks are genuine experts of crab meat preparation and a special sort of shellfish named "locos" cooking. Local upscale restaurants as well as budgetary cafes offer their guests to try special treats made of seafood named by local residents the mariscos.
The main feature of Santiago lifestyle and culture is multinationality of the destination. Tourists will be surely much impressed with a unique fusion of various cultures and traditions. …
Open
Local ethnic restaurants offer a genuinely great choice of meat dishes. One of the most popular treats among foreign guests of the city is still the cazuela de pollo which is a rich thick soup with chicken, rice and potato, being richly added with various spices and flavoring herbs. Those tourists wishing to learn the peculiarities of ethnic cuisine better should pay a visit to one of the provincial restaurants. Tourists will find numerous eating establishments of the kind in the suburbs of the city.
A popular meat dish is the lomo a la pobre which is made of beef. A big slab of meat is roasted and before serving the meat is added with two eggs giving the dish an original and appetizing look. In addition to the meat treat a great sizing of fried potatoes is offered. Tourists used to traditional European dishes will find local cuisine rather original and piquant. Copyright www.orangesmile.com
Among the most remarkable and significant landmarks of the city the Basilica del Salvador is best worth mentioning and visiting by all tourists without exception. The Basilica is located in …
Open
The Curanto soup is one of those original ethnic treats which are preferred by locals and foreign guests. It can be stated beyond a shadow of a doubt that every chef has a special recipe of this ethnic treat. A thick chicken broth is in the heart of the dish which can be added with various sorts of meat, fish and shellfish. Tourists will discover numerous food stalls and summer cafes scattered all over the city and being its peculiar feature. A speciality treat of these small eating establishments is small pies named empanadas.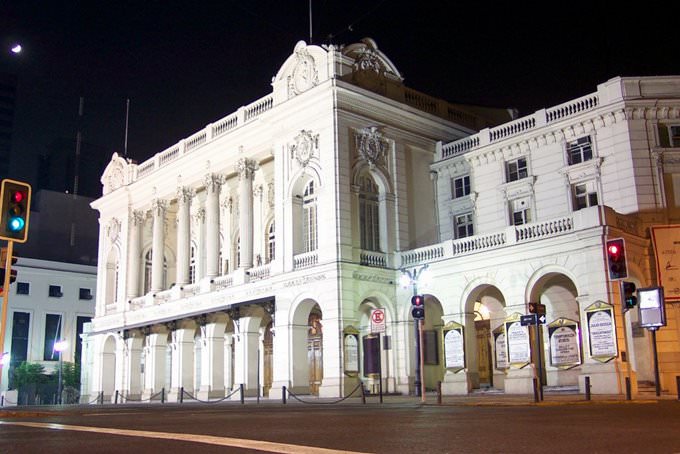 These pies are made with various stuffing. Rich pies with meat or tuna will make up for a good dinner meanwhile pies with olives stuffing will be good for a bite. Local restaurants have plenty of dishes to meet the most fastidious tastes and fancies of exotic treats gourmands. One of the most debated and original exotic treats served in local restaurants is soup made of sea urchins. Its main peculiarity is a rich nutrient composition. The treat contains a sufficient amount of iodine giving the soup a peculiar taste and flavor. Foreign guests will be much impressed with plenty of fresh vegetables and fruits which form a major part of the ethnic menu.
Next:
Traditions & lifestyle
This guide to cuisine and restauraunt in Santiago is protected by the copyright law. You can re-publish this content with mandatory attribution: direct and active hyperlink to
www.orangesmile.com
.
Where to go for dinner in Santiago: recommended cafe and restaurants
Taberna O Gato Negro
Where: Rúa Raíña, Santiago; Telephone: +34 981 583 105;
Libredón
Where: Praza do Obradoiro 1, Santiago; Telephone: +34 981 582 200 / 981 050 527;
Restaurante Casa Manolo
Where: Praza de Cervantes, Santiago; Telephone: +34 981 582 950;
O Dezaseis
Where: Rúa de San Pedro 16, Santiago; Telephone: +34 981 564 880;
Restaurante Vilas
Where: Rosalia de Castro 88, Santiago; Telephone: +34 981 591 000;
Pulperia Os Concheiros
Where: At the corner of Avenida de Lugo and Rúa Dos Concheiros, Santiago;
City tours, excursions and tickets in Santiago and surroundings
Unique sights around Santiago
Portillo Ski resort
From the series
"Stunning Beauty Places of the Earth, Unknown to Tourists"
Check on the map:
Distance from Santiago center - 85.5 km.
Today you can hardly imagine that there was almost no tourist infrastructure 20 years ago on the health resort. There were only the excellent slopes and ski lifts, which the athletes and the supporters of the winter sports. In just a few years Portillo has changed fundamentally. In 1996, the city became the location of the World Ski Championships. Today the infrastructure of the health resort is expected to be 500 people. The tourists, who want to spend a few days here, should book the rooms in advance, since the resort is accessible to visitors only 3.5 months per year. 20 ski slopes of different levels of complexity and 12 ski lifts are at the disposal of the skiers. …
Read further
San Alfonso del Mar Pool
From the series
"The Most Amazing Swimming Pools in the World"
Check on the map:
Distance from Santiago center - 93.8 km.
Hotel guests have an opportunity to swim in it or to go boating. Glittering sand beaches surround the large pool. The hotel spends about 4 million dollars on supporting the pool; it is a real world sight. The deepness is variable in the different parts of the pool and it will be 34,5 meters maximally. To fill such volume with water, it needs 250 000 cubic meter of it. One more important feature is a modern warming system, which allows keeping the water temperature on the level of 26 degrees Celsius. …
Read further
National cuisine of Chile
This colorful country is full of great restaurants. One of them is "99 Restaurante" in Santiago, which is considered one of the best in Chile. In the Interior, interesting comfortable furniture from recycled wood and open kitchen strike the eye. Here you can try a variety of dishes based on mushrooms, lamb tongue with cauliflower purée with dried plums and caramel, organic wines. Most dishes are signature. A vegetarian menu is available. "Bao Bar" in the capital offers Spanish and international cuisines at reasonable prices. A bar with interesting black and white design is known for its excellent service, nice atmosphere, and author's "Bao-Buns". …
Open
Santiago in photo set
Searching where to eat - restaurants and cafe on Santiago map
Travel notes on best cuisine and restaurants of Santiago (Chile) on OrangeSmile.com. Famous recipes and traditional dishes and courses in Santiago restaurants. Where to eat - our recommendations on popular places in Santiago, where you can taste delicious meal and also spend a good time with your friends.