Preparing your trip to Santiago: advices & hints - things to do and to obey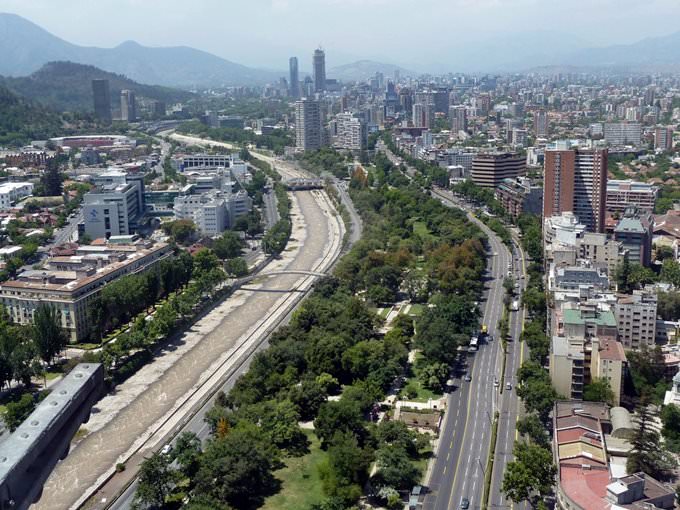 1.
Despite a low crime level tourists should be aware of cheaters and fraudsters in the streets of the city. One should not use services offered by strangers no matter how profitable these services may seem. Currency should be exchanged only in specialized establishments and financial institutions meanwhile jewelries should be bought only in stores. Tourists are strongly recommended to avoid buying jewelries and gems at the market places.
2. One should not touch upon politics and political life during communication with local folks. The Pinochet Regiment should not be touched under any condition otherwise the debate may last for hours and may grow into a true rally.
3. Drinking of alcohol is allowed only in specially designated establishments. Smoking is as well banned in public places. As a rule close to all the restaurants, bars, cafes as well as close to shopping and entertainment establishments tourists will find special smoking areas.
4. Tourists should keep in mind that a usual day off of every entertainment and public establishment is considered to be Sunday. Public institutions are commonly closed on great holidays. On holidays and weekends the city turns quiet. Checking in a hotel or buying flight tickets on Sundays is almost impossible.
5.
Local restaurants and cafes welcome tips for good service. Tips may equal up to 10% of a total sum of the bill. Large restaurants include service fee into total bill. Copyright www.orangesmile.com
6. A small cash reward should be given to a taxi driver. In this case a total sum according to the counter should be round up to any convenient amount. A hotel maid waits for 0.5 -1USD tips which will depend on a class of a hotel.
7. Local markets and private shops welcome bargaining as this helps to sufficiently reduce a price for desired goods. Bargaining will be inappropriate in large shopping centers and supermarkets. Shopping addicts are recommended to always be backed up with enough of small change and cash.
The main feature of Santiago lifestyle and culture is multinationality of the destination. Tourists will be surely much impressed with a unique fusion of various cultures and traditions. …
Open
8.
Utility supplied voltage is 220V. All the hotels and inns are equipped with various standards of sockets (three pin plugs and two pin plugs). Tourists are recommended to specify the type of sockets before checking in the hotel in advance and take care of necessary adapters and connectors for electrical appliances.
Next:
Guide intro
Preparing your trip to Santiago: advices & hints - things to do and to obey You can re-publish this content with mandatory attribution: direct and active hyperlink to
www.orangesmile.com
.
What to visit being in Santiago - unique sights
Valparaiso
From the series
"The Most Magical and Picturesque Cities in the World"
Check on the map:
Distance from Santiago center - 101.4 km.
Valparaiso is probably one of the most unusual cities not only in Chile, but also in the whole Latin America. The city is located on a hard-to-reach hill, so old cable cars are considered one of the landmarks of Valparaiso. Funicular rides are one of the favourite entertainments for tourists. Some parts of the city are reachable exclusively by air. Another landmark of the city are historic streets with majestic, colorful villas. It will be difficult to find a more fantastic and fabulous place in Chile. …
Read further
City tours, excursions and tickets in Santiago and surroundings
Chile: travelling advices
5. Politeness requires smokers lighting up a cigarette to offer one to each friend - except for minors, of course.
6. Chilean men often stare at women. Here it looks like an innocuous compliment, so you shouldn't focus on this, be frightened or insulted.
7. Pointing a finger at someone or something is bad manners; you should not call a person with a finger.
8. In Chile, some gestures normal for a European or an American may be perceived as vulgar and rude. Therefore, you should try to avoid active gesticulation during a conversation. …
Open
Photos of Santiago
Services search (pharmacy, police, parking, banks) on Santiago map
Travelling to Santiago - advices and tips. What should be provisioned in advance, the rules you might want to follow, and the things you better avoid doing in Santiago. We help you to make your trip smooth and easy, with no unexpected surprises.