Culture of San Carlos de Bariloche. Places to visit - old town, temples, theaters, museums and palaces
The main symbol of the city and its most famous landmark is the beautiful Nahuel Huapi
National Park. Founded in 1930 around the eponymous lake, it covers a green area of more than 785 thousand hectares. The large park accommodates charming settlements and natural attractions, but the main sight of these places is Nahuel Huapi Lake. It was formed as a result of glacier retreat and is distinguished by an impressive scale - the length of the lake is more than one hundred kilometers. The famous national reserve hosts exciting excursions for tourists. Nature enthusiasts will have the opportunity to stroll through the unique myrtle groves, admire the mountain scenery and see rare representatives of the local fauna.
Guests of Bariloche can choose from more than 300 accommodation options, the resort offers hotels and apartments of various levels. It also has some outstanding historic hotels, including …
Open
As for the city's sights, the Cathedral of Our Lady of Nahuel Huapi (La Catedral de Bariloche
) stands out among other places of interest. It has remained the main religious symbol of the city for many years. Nearby is another remarkable religious structure, which, among other things, is of great architectural interest - San Eduardo Chapel (Capilla de San Eduardo).
In one of the city squares, you can find a Monument to Julio Argentino Roca (Julio Roca Monument) - an outstanding politician who was President of Argentina from 1880 to 1886. He is famous not only as a prominent political figure but also as a competent military leader. For local residents, its monument has been one of the main national symbols for many years. As for the famous architectural monuments, the municipality building stands out. Its facade's main decoration is a tower clock; the building looks very harmonious and spectacular. Copyright www.orangesmile.com
The "Argentine Switzerland" is well known to fans of ski sports and winter entertainment. Due to a significant difference in altitude and the presence of high-altitude trails, the ski …
Open
The most visited cultural institutions include the Museum of Patagonia (Museo de la Patagonia
). Opened in 1940, it is housed in a very beautiful stone building - a typical monument of national architecture. The large-scale exposition of the museum occupies four separate large halls. Visitors have the opportunity to see unique paleontological and natural science exhibits: examples of rock carvings, Stone Age tools, skeletons of prehistoric animals and other artifacts related to later periods.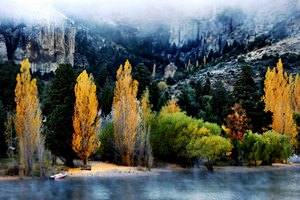 No less interesting cultural establishment is Sarmiento Library. It got its name in honor of the outstanding Argentine military leader, writer, and journalist - Domingo Faustino Sarmiento. The library displays collections of unique old books and archival materials, the value of which is comparable to the value of unique museum exhibits. Walking through the streets of San Carlos de Bariloche gives a lot of impressions as well - there are many beautiful structures here. One of the most noteworthy sites is the old post office building, which is currently converted into an exhibition hall and used for all kinds of cultural events. An incredibly interesting tourist attraction is the Museum of Chocolate (Havanna museo de chocolate) where you can both admire sweet exhibits and buy some great memorable gifts.
In the section below, you can get one of our excursion, activities or city discovery tours over San Carlos de Bariloche and surroundings. Our website offers 10-30% lower ticket prices, when compared to the offline purchase on the spot.
City tours, excursions and tickets in San Carlos de Bariloche and surroundings
This guide to cultural sights San Carlos de Bariloche is protected by the copyright law. You can re-publish this content with mandatory attribution: direct and active hyperlink to
www.orangesmile.com
.
Unique spots in San Carlos de Bariloche and near
Chaiten
From the series
"Abandoned Places of the Earth with Distinct Marks of Civilization"
Check on the map:
Distance from San Carlos de Bariloche center - 229.1 km.
Before the tragedy, Chaiten was a fairly major port city. It had a great strategic importance since its foundation. At the time of the tragedy, the population was about 10 000 people. All of them left their homes hoping that they will soon be able to return. However, no recovery can happen with the city. Moreover, it is very dangerous to stay there, because a new eruption could occur at any moment. However, to the delight of thousands of residents, Chilean authorities decided to build the city of Chaiten again, but in a new, more secure location. …
Read further
Iconic cultural sights of Argentina
At a glance, Argentina may look less "exotic" than the rest of South America, and the country's residents can proudly tell tourists how big the European influence on their country and nation was. Some people say that Argentina is the most American of all European colonies and the most European of all American countries. However, the country has its unique heritage and atmosphere that is reflected in the national character that is proud and passionate. Indeed, football and politics are dominating themes in modern Argentinian society. Not everyone dances tango or is crazy about Evita and equitation. However, it doesn't matter where tourists go, they will be surely impressed by Argentinian passionate approach to own culture and interest in the outer world. …
Open
Car rental on OrangeSmile.com
Photogallery of cultural heritage of San Carlos de Bariloche
Landmarks of culture on San Carlos de Bariloche map: art-galleries, monuments, palaces, etc
Excursions over cultural sights of neighbours of San Carlos de Bariloche
Culture guide to San Carlos de Bariloche. Which fascinating sights to visit once you are in San Carlos de Bariloche: temples, churches, museums, theaters and castles. Recommendations (with addresses, phone numbers and links) on the places 'must visit' in San Carlos de Bariloche. Plan your own city excursion by using this page info!