City break in Salzburg. Active leisure ideas for Salzburg - attractions, recreation and nightlife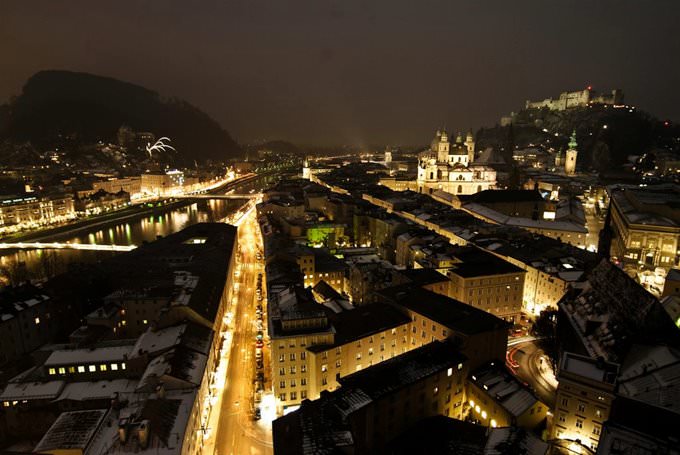 Salzburg is a real finding for fans of outdoor activities. The city features incredibly huge number of parks, gardens and pedestrian streets, so there's no wonder why walks and cycling remain the most favorite pastime of visitors of this city. During a walk through the ancient Getreidegasse Street you can see numerous attractions, as well as detect some very nice and cozy cafes and restaurants. Fans of shopping will be interested in making a walk through the central area of the city. Don't forget to visit the trading center named Europark. Here you will find various high quality shops selling all kinds of goods, jewelry pavilions, clothing boutiques, souvenir shops, and toy stores.
Before we start our brief description of Salzburg sights, it is worth mentioning that this city has been completely rebuilt by order of Archbishop Wolf Dietrich, who was by his nature a …
Open
Those travellers, who are lucky enough to visit the city on Christmas Eve, absolutely should not forget to visit be sure to visit Christmas market. You can hardly find such amount of sweets, handicrafts and decorations for home in any other fair trade. However, fans of nightlife will be a little disappointed – there are just a few night clubs in the city. But there's no need to be sad as local pubs can be an excellent alternative to nightclubs. Here you can drink amazing cold beer and enjoy various entertainment performances or live music.
Daimlers bar is one of the most popular night spots of the city. Here visitors can not only enjoy widest choice of drinks and snacks, but also listen to contemporary music, as well as to participate in an interesting entertainment program. The bar welcomes its guests till late evening. Every day this place is visited by not only numerous music fans, but also by fans of quality pizza and beer. Rockhouse Salzburg club is simply a perfect destination for rest of a large company. It has all amenities, to which are accustomed modern clubbers - a large bar, a spacious dance floor, contemporary music and cozy atmosphere. The club often hosts concerts of famous rock bands and musical groups that perform blues, so fans of these music styles should particularly like this place. Copyright www.orangesmile.com
There are many interesting places and landmarks in Salzburg that travelers with children should not forget to visit. House of Nature is one of these places. It's an incredibly …
Open
The Austrian city of Salzburg is located in picturesque places near the majestic mountains and blue lakes. As in every European city, local people prefer to move around Salzburg on the two-wheeled friend. By the way, the city is recognized as one of the best in Europe according to the degree of adaptation of streets for bicycling. In addition, there pass many interesting routes through Salzburg, including Mozart Radweg and Tauernradweg. In the outskirts of the city, you can try to conquer the mountains of Gaisberg and Untersberg by bike. The generous Alpine nature and skillful hands of the Austrians have done everything possible to provide all the facilities for a great vacation and active entertainment on the beaches of Salzburg. Oh yes, you have heard correctly: Salzburg is not only the best place to ski, but also has developed beaches. From May to September, in the city, you will be able to use three outdoor pools, with the sectors for children and adults, shower cabins, sports grounds, and cafes.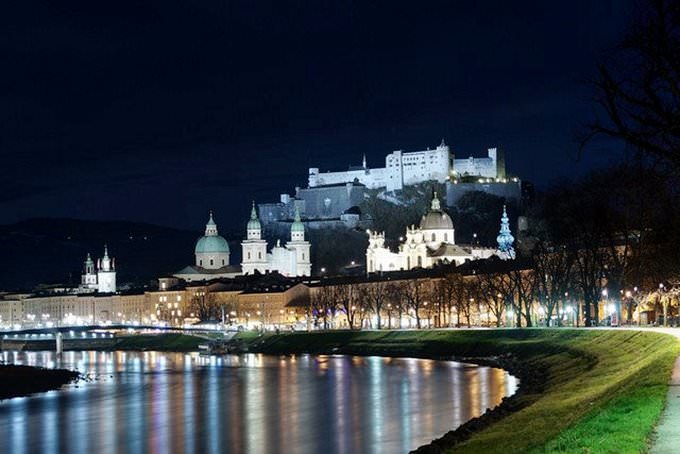 Nothing brings such a crazy adrenaline rush, as the air sports. If you are not scared of height, then paragliding in the tandem with the instructor will provide you a lot of fun. Do you want to check how strong you are and at the same time burn some calories? Then visit the Müllner Schanze climbing complex, which is suitable for both beginners and experienced athletes. If you came to Salzburg with children, bring them to the Waldbad Anif rope park. Here they can go crazy and feel as the conquerors of the jungles. And of course the Salzburger Zoo! The trip to it will brighten up your day, especially when 1200 animals inhabiting 14 hectares of the land here.
Besides restaurants devoted to national cuisine Salzburg will offer travelers widest choice of cafes, bars and pizzerias, which will surely become a great place of rest for a large company. …
Open
Salzburg attracts numerous tourists in winter due to its well-groomed ski slopes of different levels of complexity, ski schools and amazing landscapes of the Alps. Here, you will see the tourists not only from Europe but from all over the world. Not surprisingly that Salzburg is called the capital of skiing. The resorts of Salzburg are diverse and have various levels of difficulty, the length of which ranges from 75 to 200 kilometers. Salzburg is also known for descents with night lights and artificial snow tracks. If you are interested not in mountain skiing but snowboarding, Salzburg will delight you with well-groomed snow parks and special trails for snowboarders. The resorts of Salzburg are extremely popular. At the height of the ski season, all hotels are completely booked here, despite the fact that Salzburg is ready to accept 195,200 tourists at a time.
This guide on active recreation and leisure in Salzburg is protected by the copyright law. You can re-publish this content with mandatory attribution: direct and active hyperlink to
www.orangesmile.com
.
City tours, excursions and tickets in Salzburg and surroundings
Recommended places for active recreation and leisure in Salzburg
Republic
Where: Anton Neumair Platz 2, Salzburg;
Bazillus
Where: Imbergstrasse 2a, Salzburg;
Havana
Where: Priesterhausgasse 14, Salzburg;
Chez Roland
Where: Giselakai 15, Salzburg;
Vis À Vis
Where: Rudolfskai 24, Salzburg;
Reference information
National and city parks around Salzburg
♥ Nature Park 'Untersberg' , 11.7 km from the center.
On the map
Photo
♥ Nature Park 'Naturpark Buchberg' , 17.4 km from the center.
On the map
Photo
♥ National Park 'Berchtesgaden' , 28.7 km from the center.
On the map
Photo
♥ Nature Park 'Naturpark Weißbach' , 37.5 km from the center.
On the map
Photo
♥ Nature Park 'Naturpark Attersee Traunsee' , 57.3 km from the center.
On the map
Photo
Amusement parks near Salzburg
♥ Amusement park 'Erlebnispark Strasswalchen' Strasswalchen, 27.4 km from the center.
On the map
Photo
♥ Amusement park 'Familienland Erlebnispark' Sankt Jakob in Haus, 49.1 km from the center.
On the map
Photo
♥ Amusement park 'Freizeitzentrum Zahmer Kaiser' Walchsee, 58.7 km from the center.
On the map
Photo
♥ Amusement park 'Witches' Water' Söll, 71.9 km from the center.
On the map
Photo
♥ Amusement park 'Bayern Park' Reisbach, 86.4 km from the center.
On the map
Photo
Michelin-starred restaurants in Salzburg
♥ Restaurant 'Carpe Diem' Salzburg. Type - Creative|Country. 0.5 km from the center.
On the map
Photo
♥ Restaurant 'Blaue Gans' Salzburg. Type - Country. 0.6 km from the center.
On the map
Photo
♥ Restaurant 'Esszimmer' Salzburg. Type - Creative|Classic cuisine. 0.8 km from the center.
On the map
Photo
♥ Restaurant 'Zirbelzimmer' Salzburg. Type - International. 0.8 km from the center.
On the map
Photo
♥ Restaurant 'IMLAUER Sky Bar & Restaurant' Salzburg. Type - International|Country. 1.1 km from the center.
On the map
Photo
Car rental on OrangeSmile.com
Photogallery of picturesque Salzburg
Search for active leisure and attraction spots on Salzburg map
City break ideas for neighbours of Salzburg
Guide to your best city break in Salzburg - popular places for recreation and leisure. Things to do during the day in Salzburg - attractions, parks, beaches, aquaparks, racing tracks, biking trails or waterski. Recommendations (with addresses, phone numbers and links) where to spend your time in the evening (bars, discos, clubs, etc.). We share some good ideas and the question 'What to do in Salzburg?' disappears immediately.