City break in Rovinj. Active leisure ideas for Rovinj - attractions, recreation and nightlife
During a warm season the city of Rovinj turns into a favorite destination for eco tourism enthusiasts and beach leisure fans. The resort offers various beaches meeting every taste and fancy: pebbly, stony beach areas for wild nature rest and beaches offering the best modern comfort enhancing facilities for recreation and relaxation. During the tourist season the seaside areas turn into the most vivacious and buzzing destinations of the resort crowded till the late night. Numerous restaurants, boutiques and shops are located in the seaside area as well.
The St. Euphemia'a Basilica is the main religious symbol of Rovinj and the most remarkable religious landmark in Europe. Its construction was started in 1725 and lasted for 11 years. …
Open
Next to the city center travelers will find one of the most popular entertaining establishments being the Rovinj Aquarium. In spite of its small scale (in comparison to other known aquariums of Europe), it is noted for a great collection of sea habitants and its fantastic design. Bright fishes, starfish, octopuses and beautiful sea shells will turn a visit to this oasis of marine world into an unforgettable experience for a whole family. Each aquarium is equipped with a tablet, giving the information on the habitant of the aquarium in several languages which adds to the comfort of visitors.
Shopaholics will appreciate a number of shops, boutiques and great shopping centers in the area. The best place to hunt some memorable gifts is a historic center of the city. The most popular memorable souvenir is items with the images of city and city sites. One of the most in demand souvenirs among city guests is window shutters. Tourists tending to serene leisure and quiet nature nooks exploration will appreciate the Brijuni island. Its territory keeps several historical buildings, but the most peculiar feature of the island is a perfect weather. Copyright www.orangesmile.com
1. Street call boxes and telephones at post offices offer the most profitable rates for intercity and international calls. Street call boxes accept special plastic cards, which can be bought …
Open
During a tour travelers will have an opportunity to estimate a diversity of local flora and fauna and visit a local museum. Tours to the island are organized regularly in the port area. Getting to the island in a big beautiful ferryboat will charge tourists with brightest impressions. In the suburban districts of Rovinj travelers will discover a number of remarkable natural attractions. Scenic wild forests side with the historical district of the city.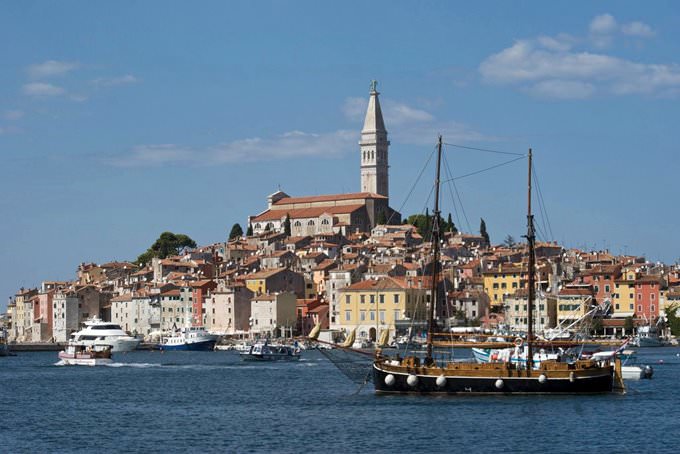 The destination offers a variety of good places to rest and entertain for party fans and exotic cocktails admirers. Several attractive night clubs and bars are located near the seaside and in the main streets. The Valentino Cocktail & Champagne bar regularly presents engaging entertainment program for its guests. Wide assortment of drinks, friendly atmosphere, well chosen music and original theme parties turn this bar into one of the most popular entertainment establishments of the city.
This guide on active recreation and leisure in Rovinj is protected by the copyright law. You can re-publish this content with mandatory attribution: direct and active hyperlink to
www.orangesmile.com
.
City tours, excursions and tickets in Rovinj and surroundings
Sites around Rovinj from our surveys on extreme Earth places
Pulska Arena
From the series
"Ancient amphitheaters and arenas, that are still operational"
Check on the map:
Distance from Rovinj center - 28.3 km.
In Croatia, the most famous and well-preserved amphitheater is to be found in Pula. The construction of the ancient monument had been lasting more than forty years and was completed in 68 AD. Nowadays, it is a permanent venue for theatrical performances, military ceremonies, public gatherings and enchanting concerts. The antique monument is perfectly preserved to this day. All three Roman orders and four towers have miraculously survived. In scale the largest amphitheater in Pula takes the sixth place in the world. …
Read further
Car rental on OrangeSmile.com
Photogallery of picturesque Rovinj
Search for active leisure and attraction spots on Rovinj map
City break ideas for neighbours of Rovinj
Guide to your best city break in Rovinj - popular places for recreation and leisure. Things to do during the day in Rovinj - attractions, parks, beaches, aquaparks, racing tracks, biking trails or waterski. Recommendations (with addresses, phone numbers and links) where to spend your time in the evening (bars, discos, clubs, etc.). We share some good ideas and the question 'What to do in Rovinj?' disappears immediately.