Sightseeing in Portoroz - what to see. Complete travel guide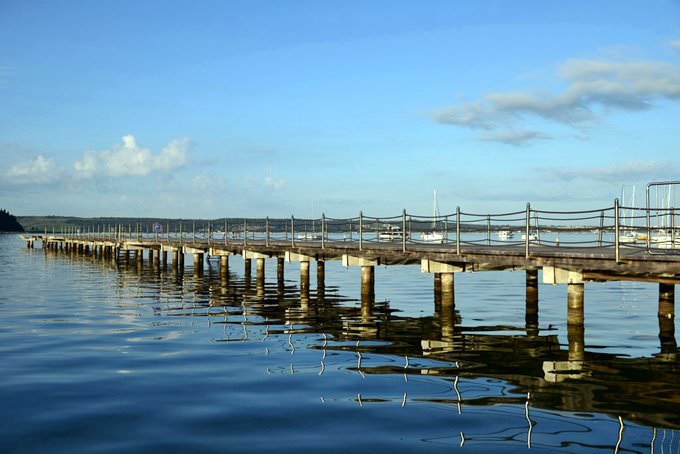 Portoroz is the most popular Slovenian resort town situated along the Adriatic coast. The chain of hills securely protects this place from cold northern winds, so the climate here is fairly mild. Many compare this resort with the French Riviera resort, because here you will also find a beautiful promenade stretching along the coast, modern hotels and white yachts. The city is especially popular among the tourists from European countries. Our people have paid attention to it not so long ago, but the resort immediately captivated them by wonderful nature and wide variety of entertainments for all tastes.
In 1994 healing mineral springs were discovered in Portoroz suburbs, around which rapidly grew a network of fitness centers and beauty facilities. Now guests can relax with benefit for their health. To the service of guests are available a large selection of therapeutic baths, massage and spa rooms, as well as physiotherapy and aromatherapy. Any hotel certainly has a fitness center and a gym, beauty salons and sauna. The best time for rest here is the period from mid-June to late August. There are always many visitors at this time of year.
The resort is popular among outdoor enthusiasts. Recently several new tennis courts, swimming pools and well-equipped gyms have been opened here. Besides this tourists are able to make excursions to the nearby town named Piran, where they can see many medieval buildings. Fans of romance should go to Venice, bus tours to which are organized every day. Those, who want to see most beautiful places of nature, are offered to visit excursions to Postojnska jama, the most beautiful and largest caves of the coast. Copyright www.orangesmile.com
Besides thermal complexes, the city is also famous for its rich cultural life and variety of interesting sites, including its main historical symbol - Hotel Kempinski Palace Portoroz. It has been hosting guests for more than a century. There was a time when only the wealthiest guests of the resort could stay at this fashionable hotel. Today it is accessible to everyone. The hotel has retained its luxurious appearance, as well as part of a rich historic decoration.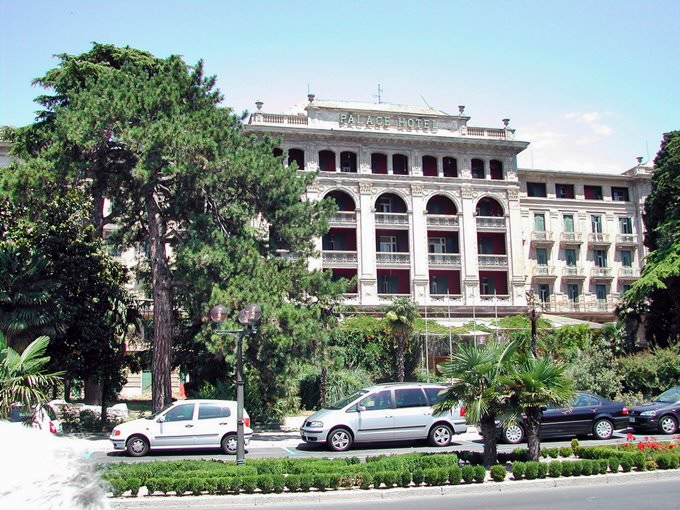 The resort is famous for its first-class casinos, many of which have also acquired the status of historical sites. The most popular casinos and other entertainment facilities can be found on the waterfront. Local gambling establishments are frequented by even those who have never been interested in gambling. Many casinos are remarkable for their rich design, they have a bar where you can relax with a glass of your favorite cocktail and watch gamblers.
A lot of interesting cultural events take place in Portoroz throughout the year. For more than 55 years, the resort has remained a permanent venue for holding Forma Viva Open Air Sculpture Collection. Sculptors from all over the world take part in this large-scale event. Many interesting open-air exhibitions, as well as thematic events, are held as part of the festival. According to one tradition, all the sculptures brought by masters from abroad remain in Slovenia after the end of the Collection. Subsequently, they are all used to decorate city parks, including numerous green areas of Portoroz. If you cannot visit the resort during the festival, just stroll through the local parks and admire wonderful sculptures from past exhibitions.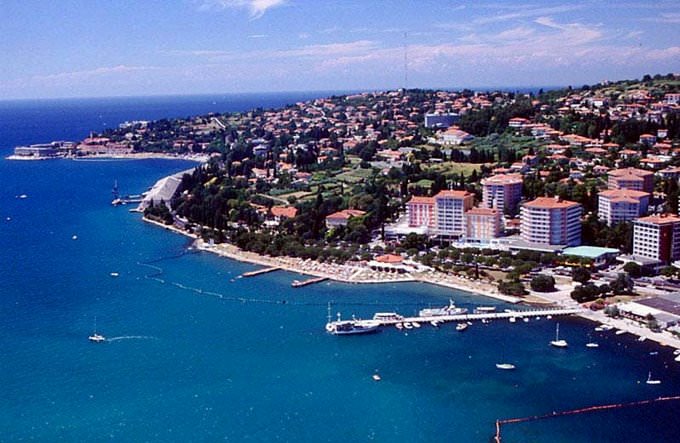 Portoroz has the Slovenia's largest water park, which is called "Laguna Bernardin". It offers visitors a lot of interesting rides and recreation areas; the water park is conditionally divided into two zones. One of them is the place accommodating numerous slides, including quite extreme ones, and the other is designed for those who prefer a relaxing stay. Of course, the pools are equipped with a water heating system, which allows Laguna Bernardin to welcome visitors all year round.
This guide to iconic landmarks and sights of Portoroz is protected by the copyright law. You can re-publish this content with mandatory attribution: direct and active hyperlink to
www.orangesmile.com
.
Reference information
Survived castles around Portoroz
♥ Castle 'Castello di Muggia' Muggia, 17 km from the center.
On the map
Photo
♥ Castle 'Castello di San Giusto' Trieste, 20.5 km from the center.
On the map
Photo
♥ Castle 'Castello di Miramare' Trieste, 22.9 km from the center.
On the map
Photo
♥ Castle 'Castello di Duino' Duino, 28.5 km from the center.
On the map
Photo
♥ Castle 'Rocca di Monfalcone' Monfalcone, 33.2 km from the center.
On the map
Photo
National and city parks around Portoroz
♥ Landscape Park 'Krajinski park Strunjan' , 1.8 km from the center.
On the map
Photo
♥ Regional Park 'Regijski park Škocjanske jame' , 35.5 km from the center.
On the map
Photo
♥ Landscape Park 'Štanjel' , 39.7 km from the center.
On the map
Photo
♥ Landscape Park 'Južni in zahodni obronki Nanosa' , 45.1 km from the center.
On the map
Photo
♥ Forest Park 'Zlatni rt - Škaraba' , 50.1 km from the center.
On the map
Photo
Sights around Portoroz from our guide 'Extreme places on Earth'
Predjamski Grad
From the series
"The Most Inaccessible Buildings in the World"
Check on the map:
Distance from Portoroz center - 53.4 km.
For many years, the castle has served as a place of introduction for many interesting historical holidays. The tournaments and banquets are held here. One of the main festivals is devoted to Erasim Yamsky, one of the Burgherren. The castle can only be visited in the period from May to September. All excursions are accompanied by speleologists. The upper course consists of a series of impenetrable groves and mountain caves, which serve as a habitat for colony of bats. Because of these small inhabitants, the castle remains closed for visitors in the winter. When it gets cold, the bats go into winter sleep and it is forbidden to walk in the caves and disturb them. …
Read further
Sightseeing in Slovenia: things to see
Slovenia has long become a favorite place of rest among fans of eco-tourism, alpine ski and interesting excursions. The country is so diverse that every vacation there will be unique and unforgettable. …
Open
Car rental on OrangeSmile.com
Search touristic sites on the map of Portoroz
Sightseeing in regions nearby Portoroz
All about Portoroz, Slovenia - sightseeings, attractions, touristic spots, architecture, history, culture and cuisine. Prepare your trip together with OrangeSmile.com - find out the 'must see' things in Portoroz, which places to visit, which excursions to take, where the breathtaking views are waiting for you. Planning your trip with this travel guide will help your to get the most out of Portoroz in few days.