Preparing your trip to Opatija: advices & hints - things to do and to obey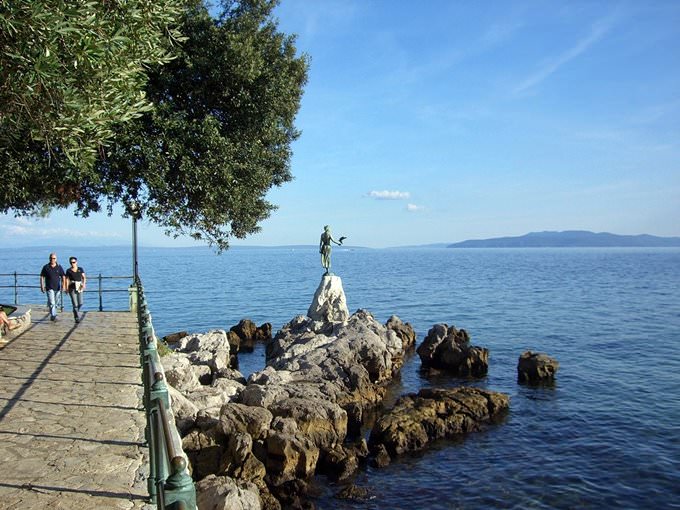 1.
Tourists should keep in mind that almost all the hotels and inns of the resort are equipped with swimming pools. Even small budgetary inns offer their guests a vast choice of additional services and prospects for comfortable leisure and rest.
2. Privacy and serene leisure fans should pay attention to the hotels located in the embankment and beach areas. The matter is that all the entertaining establishments including bars and dance floors are located inside the buildings that is why loud music will not break the atmosphere of serenity and peace.
3. The hottest months of the year are considered to be July and August. This period of the year will be favorable for beach leisure fans. Opatija features favorable climate as even in winter the average temperature does not go below 10C.
4. Ladies should avoid city exploration alone as in this case they should be ready to get into focus of attention of local men.
5.
Many restaurants and gambling houses require a dress code that is why before paying a visit to an upscale establishment one should specify local dress code requirements. Young people should keep a copy of passport by themselves as the documents of identification will help to avoid age misunderstanding. Copyright www.orangesmile.com
6. Bargaining is welcome on local markets and in private stores as this will help to reduce a price for desired goods by 20 – 30%. Jewelry and perfumes should better be bought in specialized stores as markets often challenge the customers with low quality imitations and cheap copies.
7. The area of embankment and central streets is safe and sound for late night promenades. However tourists should keep to simple safety rules. One should not keep by oneself original documents and substantial sums of money as well as leave begs and overcoats unwatched.
Culture of OPatija is a unique fusion of Slavonic, European and Oriental traditions. Local people are rather moderate, but as the same time amiable and friendly, they are trustful and …
Open
8.
The best way to attach local folks is to learn several phrases in Croatian. City residents are rather welcoming and sympathetic. Tourists may always feel free to address local folks for assistance and ask them for a way to a desired local sight or landmark.
9.
Most beaches of the resort are stony however all the popular coastal areas are equipped with paved passes to the sea. Opatija offers several sand beaches but these areas are rather crowded and buzzing.
Preparing your trip to Opatija: advices & hints - things to do and to obey You can re-publish this content with mandatory attribution: direct and active hyperlink to
www.orangesmile.com
.
What to visit being in Opatija - unique sights
Pulska Arena
From the series
"Ancient Amphitheaters and Arenas, That Are Still Operational"
Check on the map:
Distance from Opatija center - 63.1 km.
In Croatia, the most famous and well-preserved amphitheater is to be found in Pula. The construction of the ancient monument had been lasting more than forty years and was completed in 68 AD. Nowadays, it is a permanent venue for theatrical performances, military ceremonies, public gatherings and enchanting concerts. The antique monument is perfectly preserved to this day. All three Roman orders and four towers have miraculously survived. In scale the largest amphitheater in Pula takes the sixth place in the world. …
Read further
City tours, excursions and tickets in Opatija and surroundings
Photos of Opatija
Services search (pharmacy, police, parking, banks) on Opatija map
Tips for the cities around Opatija
Travelling to Opatija - advices and tips. What should be provisioned in advance, the rules you might want to follow, and the things you better avoid doing in Opatija. We help you to make your trip smooth and easy, with no unexpected surprises.