City break in Muscat. Active leisure ideas for Muscat - attractions, recreation and nightlife
Muscat boasts various entertainments to meet each taste and fancy of the visitors. Tourists should definitely visit one of the local beaches. Local folks do not feel enthused for beach recreation that is why these coast areas are mostly filled with city guests. All the city beaches are well equipped and feature all comfort enhancing facilities being the optimum way of open air leisure and recreation. Beach gears and equipment are available for rent absolutely free.
Local cuisine is rather unique but simple, but this does not make it less tempting. Unique taste and eating qualities of ethnic dishes will get the highest appreciation even from the most …
Open
Muscat amazes the visitors with its unique nature attractions. Hiking enthusiasts and open air recreation fans will love the Wadi Bani Khalid reservation. Its area serves as habitats for the rarest birds species. The reservation features a huge variety of exotic plants and flowers. Visitors of the Wadi Bani Khalid reservation are offered interesting and informative excursions. One may spend the whole day enjoying the magnificent beauty of the scenic nature.
The Majlis al Jinn Cave tours are of immense popularity among tourists and city guests. Walking through mystique rock shelters and embracing their unique beauty is the main attraction of hundreds of tourists visiting the spot every day. The embankment area will be a perfect place for hiking. The largest fish market of the city is placed near the district. Fresh sea foods, among which one will find rather exotic species, are always available for sale there. Copyright www.orangesmile.com
Local people are rather sociable and hospitable, they are respective and attentive towards foreign guests and are eagerly interested in traditions and culture of foreign visitors. City …
Open
Active leisure enthusiasts will love the local golf center Almouj. Excellent golf course, cozy rest area, large sport market on the premises of the center as well as an upscale restaurant - these are the main facilities necessary for comfortable leisure. The most popular park of the city is considered to be the Al-Riyam park. It will be an excellent place as for serene hiking so for recreation with kids. The park features amazing decoration and plenty of rare plants.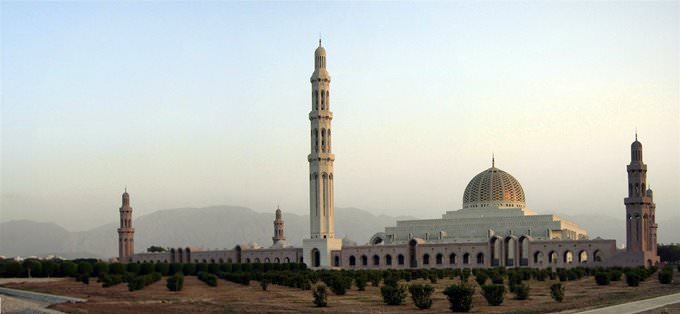 In close vicinity to the main square one will find the Aquarium, which is the best place to learn sea floor inhabitant species. One will discover exotic fish, dangerous predators as well as octopuses there. The Aquarium will be of greatest interest and pleasure for the youngest visitors. Night entertainment fans will discover several upscale night clubs and bars in Muscat. The most famous among them is the Plaza Lounge Seeb Airport night club which at nightfall attracts the fans of contemporary music and exotic drinks.
Muscat features numerous historical and cultural landmarks and sights which will turn the city exploration into an unforgettable experience full of impressions and feelings. The main symbol …
Open
One of the main features of the city is numerous bright markets and remarkable shopping centers. The heart of the city is beset with the large market named Old Muttrah Souk where one will find various souvenirs, high quality clothes and even jewelry. The best outfits and accessories one will find in the Omani Craftsman's House shopping center as it offers the goods of the highest quality.
This guide on active recreation and leisure in Muscat is protected by the copyright law. You can re-publish this content with mandatory attribution: direct and active hyperlink to
www.orangesmile.com
.
City tours, excursions and tickets in Muscat and surroundings
Reference information
Amusement parks near Muscat
♥ Amusement park 'Marah Land' , 1.4 km from the center.
On the map
Photo
Sites around Muscat from our surveys on extreme Earth places
Al-Hajjarah Village
From the series
"15 Sparsely Populated Places for Solitude with Wildlife"
Check on the map:
Distance from Muscat center - 111.9 km.
In Yemen, you can visit an isolated Al-Hajjarah Village. Earlier this village was a prosperous town where people mostly worked in a trade industry. The main peculiarity of it is the saved old stone houses that were built on the rocks at the edge of the gulf. Stones for the building were taken from the nearby stone pits. The houses stay close to each other and remind a united inaccessible bastion. …
Read further
Attractions and entertainment in Oman
Nightlife in Oman is centered in Muscat. When darkness falls to the city, youth and older people head to numerous nighttime entertainments that the capital can offer. Safari, a popular local nightclub, is always full of guests, both locals and foreigners. During important football games, fans of this game always gather in Safari. On other evenings, there are always many people who dance to endless music. Copacabana, the oldest nightclub in the city, accepts female visitors only together with men unless ladies stay at the adjacent hotel. Copacabana offers modern music and performances of famous DJs. it is a fantastic place to have fun and dance all night long. …
Open
Car rental on OrangeSmile.com
Photogallery of picturesque Muscat
Search for active leisure and attraction spots on Muscat map
City break ideas for neighbours of Muscat
Guide to your best city break in Muscat - popular places for recreation and leisure. Things to do during the day in Muscat - attractions, parks, beaches, aquaparks, racing tracks, biking trails or waterski. Recommendations (with addresses, phone numbers and links) where to spend your time in the evening (bars, discos, clubs, etc.). We share some good ideas and the question 'What to do in Muscat?' disappears immediately.