Cuisine of Massachusetts for gourmets. Places for dinner - best restaurants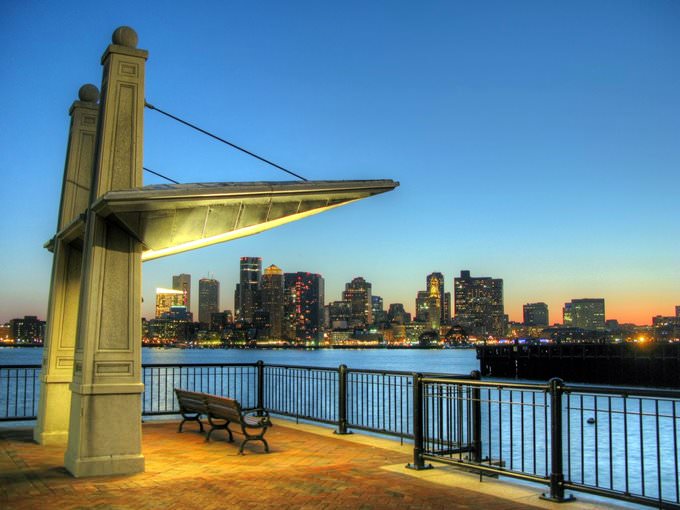 Travelers can find restaurants of different traditions in each city of the state. Massachusetts is home to many legendary restaurants that are known far beyond the country. The state is home to several famous dishes that are now popular in many different countries. Sandy is among these national desserts; not everyone knows that it was invented in Massachusetts. Dessert is a soft drink made on the basis of yogurt or ice cream. You can add a variety of syrups and jams to the teat, as well as nuts and fresh fruit.
Literally, the name of Massachusetts can be translated as 'the large hill' that fully reflects the inherent distinctiveness of the local landscape. There are 50 major cities and over …
Open
The story of dessert is quite interesting. Once in Massachusetts a law to ban drinking alcoholic and non-alcoholic beverages in public places was adopted; drinking was strictly prohibited on Sundays only. Skilled cooks quickly found a way to brighten the day off; they have made an incredibly delicious refreshing dessert that is now popular throughout the world.
The leader of the state by the number of dining places is Boston; the city has about 2,500 restaurants and cafes of different categories. Tourists have to pay special attention to some eating places; Island Creek Oyster Bar is worth noting. In addition to its delicious oysters, guests are offered a decent selection of fresh seafood; there are also excellent meat dishes and delicious desserts in it. Fans of Italian cuisine would like the Regina pizzeria; one of the main distinguishing features of this place is its attractive price policy. Copyright www.orangesmile.com
The history of state and the background of some national holidays are very interesting. In the early 17th century, the British have landed Massachusetts shores; they came to America at the …
Open
In Cambridge, you have to pay attention to the Life Alive restaurant; it specializes in vegetarian dishes. Excellent meat treats are served at Oleana. In Springfield one of the most popular restaurants is Theodore's, where visitors can try the most popular national food. Chefs cook great meat and fish dishes on an open fire; visitors are offered to complete a meal with one of the highly artistic desserts. Travelers who visit Brooklyn should definitely look into the Washington Square tavern. Here, for a modest fee you can enjoy the most popular dishes and relax in very pleasant ambience.
This guide to cuisine and restauraunt in Massachusetts is protected by the copyright law. You can re-publish this content with mandatory attribution: direct and active hyperlink to
www.orangesmile.com
.
City tours, excursions and tickets in Massachusetts and surroundings
Unique sights around Massachusetts
Museum of Bad Art
From the series
"Strange, Weird and Unusual Museums Amusing its Visitors"
Check on the map:
Distance from Massachusetts center - 24.7 km.
The paintings presented in the museum, which were once found in the flea markets, aroused the attention of the art collectors. In 1996 the image 'Aileen' was stolen from the museum, and in 2004 the self-portrait of Rebecca Harris was stolen. The first picture was not found, and the second picture the thief personally returned to the museum. Thousands of painters worldwide dream of seeing their own works in the museum of Skott Wilson. It is not so easy to gain a place in the collection of the well-known art dealer. The picture has to be 'so bad, that you simply could not ignore it'. …
Read further
Car rental on OrangeSmile.com
Massachusetts in photo set
Searching where to eat - restaurants and cafe on Massachusetts map
Cuisine and restaurants in the neighbours of Massachusetts
Travel notes on best cuisine and restaurants of Massachusetts (USA) on OrangeSmile.com. Famous recipes and traditional dishes and courses in Massachusetts restaurants. Where to eat - our recommendations on popular places in Massachusetts, where you can taste delicious meal and also spend a good time with your friends.