Culture of Lodz. Places to visit - old town, temples, theaters, museums and palaces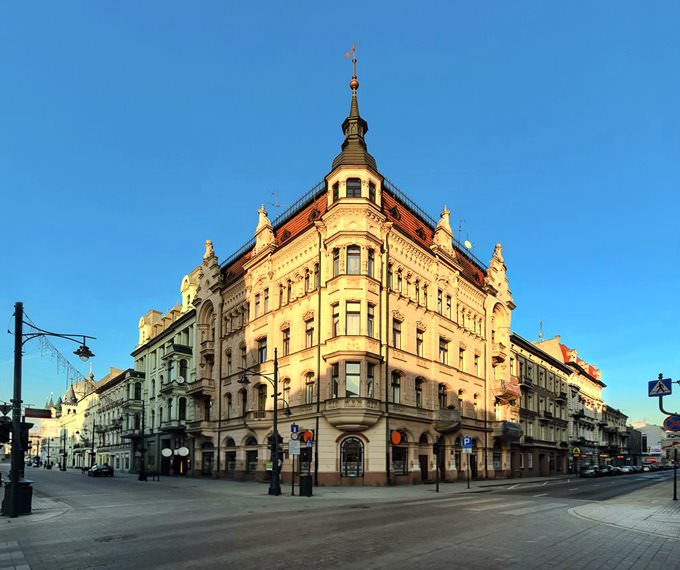 Łódź is a scale ancient city of centuries-old history and traditions with many of interesting sights still preserved. A large number of architectural and historical monuments were destroyed during the World War II. Many of the destroyed monuments were restored and renovated and today they are among the most important tourist places to visit. One of the most interesting ancient records is the building of Lodz Politechnic university administration. A nice building of audacious architectural form is well preserved till present days. The high turrets with skyward jutting spires add to massive building some tones of elegance. The ancient building is sinking in the greenery of a large garden which is by itself an important sight of the city.
Lodz is a very beautiful ancient city with many unique sights and entertainment. It is often chosen for travelers with children. The city has a beautiful indoor water park – Aquapark Fala …
Open
The most interesting place in the city still remains Piotrkowska Street. It is totally deprived of city transport that makes it a fine place for hiking. During the stroll the guests of the city can not only visit the most popular shops and restaurants but also enjoy numerous landmark sights. At each turn the visitors will meet historical buildings and monuments each of which possesses its own unique history.
One of the most beautiful monuments is Petersi House built in 19th century in Art Nouveau style. Izrael Poznanski Palace is one of the most popular excursion destinations in Lodz being an interesting architectural construction. All the visitors can walk through the halls of the palace and enjoy the collections of priceless antique items. The halls are decorated with exquisite vintage furniture made of valuable woods and elegant chandeliers, big clocks, ancient statues and sculptures and paintings of staggering beauty. The design and decoration of the palace is well elaborated. Its interior is stunning and luxurious. In the nighttime the palace is decorated with a special illumination system. That is why many visitors come to see and enjoy the palace only in the evening. Copyright www.orangesmile.com
Łódź will meet the travelers not only with interesting sights but also with numerous restaurants and cafes. Each gastronomic establishment treats the guests with interesting dishes and …
Open
The Izrael Poznanski factory is placed nearby. This is a scale complex named a city within a city. The buildings of the factory are executed in a single architectural style and are built of red brick. The complex looks balanced and impressive. Lodz has preserved numerous private residences and palaces. Leopold Kindermann's Villa is situated in the picturesque scenic street. The ancient building is surrounded with a high stone fence. Visitors are invited to walk through the territory of the villa and look into the apartments with the vintage atmosphere totally preserved.
In the section below, you can get one of our excursion, activities or city discovery tours over Lodz and surroundings. Our website offers 10-30% lower ticket prices, when compared to the offline purchase on the spot.
City tours, excursions and tickets in Lodz and surroundings
This guide to cultural sights Lodz is protected by the copyright law. You can re-publish this content with mandatory attribution: direct and active hyperlink to
www.orangesmile.com
.
What to visit during two-day excursion in Lodz
Museum Of Art
Where: ul. Wieckowskiego 36, Lodz; Telephone: +48 (0) 42 633 97 90;
Historical Museum Of Lodz
Where: ul. Ogrodowa 15, Lodz; Telephone: +48 (0) 42 654 00 82;
Museum Of Cinematography
Where: plac Zwyciestwa 1, Lodz; Telephone: +48 (0) 42 674 09 57;
Jewish Cemetery
Where: ul. Bracka 40, Lodz; Telephone: +48 (0) 42 656 70 19; Metro: Take Tram 1 or 6;
Central Textile Museum
Where: ul. Piotrkowska 282, Lodz; Telephone: +48 (0) 42 683 26 83;
Museum Of Ethnography And Archaeology
Where: plac Wolnosci 14, Lodz; Telephone: +48 (0) 42 632 84 40;
Reference information
Public palaces near Lodz
♥ Palace 'Nieborów Palace' , 54.3 km from the center.
On the map
Photo
Art galleries in Lodz and around
♥ Art museum 'Muzeum Sztuki' Łódź, 2.7 km from the center.
On the map
Photo
Iconic cultural sights of Poland
Wilanow Palace, built in the Baroque style, is in the southeast of the city. The palace has been founded in the 17th century. It was a royal residence. The place features spectacular facades. One of the country's first museums was opened there in the 19th century. There is a huge number of museums in Warsaw telling visitors about the country's struggle for independence and the history of Polish Jews. The National Museum represents collections dedicated to antiquity, early Christian and medieval art, Polish painting, decorative art, and numismatics. One of the largest museums in Warsaw is the Archaeological Museum that houses a collection of items dating back to prehistoric Poland. The Museum of Independence consists of three sections, among which the mausoleum of struggle and martyrdom will be especially interesting. It recreates the conditions in times of fascist occupation. …
Open
Photogallery of cultural heritage of Lodz
Landmarks of culture on Lodz map: art-galleries, monuments, palaces, etc
Excursions over cultural sights of neighbours of Lodz
Culture guide to Lodz. Which fascinating sights to visit once you are in Lodz: temples, churches, museums, theaters and castles. Recommendations (with addresses, phone numbers and links) on the places 'must visit' in Lodz. Plan your own city excursion by using this page info!