Cuisine of Lodz for gourmets. Places for dinner - best restaurants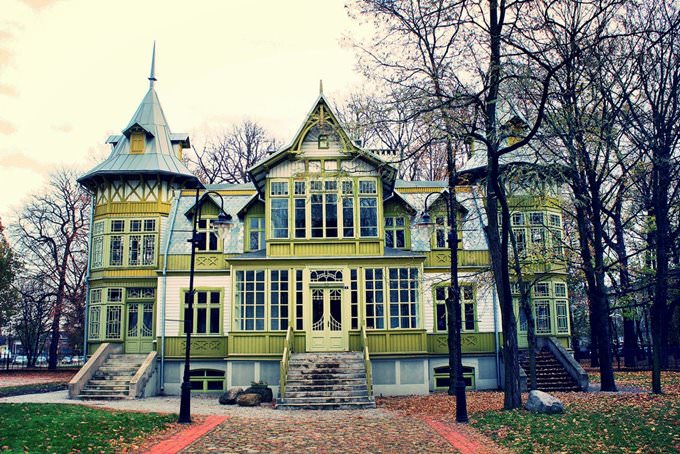 Łódź will meet the travelers not only with interesting sights but also with numerous restaurants and cafes. Each gastronomic establishment treats the guests with interesting dishes and house specialities. Tourists who are passionately devoted to Italian cuisine will love the pizza restaurant Da Grasso. Pizza there is marvelous. The treat features not only perfect taste but stuns the guests with its size. The cost of the huge pizza is about 6 Euro. In addition to the favorite course the visitors can order soft drinks and Italian wines.
Lodz is a very beautiful ancient city with many unique sights and entertainment. It is often chosen for travelers with children. The city has a beautiful indoor water park – Aquapark Fala …
Open
Devote fans of Irish beer will find a proper place to restore and enjoy the favorite drink. A cozy pub Irish Pub offers to its guests the most popular beer sorts and a good selection of snacks and specialities. The evenings in the pub are always accompanied with live music and cozy and home like atmosphere. The special attention should be given to the Soplicowo Restaurant among all other restaurants of Polish cuisine. This is exactly the place to try the most popular ethnic treats cooked after the traditional recipes. A full fledged supper will cost to a visitor about 20 Euro. The Soplicowo restaurant also offers a rich wine list.
The rich menu of the Chlopskie Jadlo restaurant also offers to the guests a wide choice of popular ethnic dishes and true gourmands will try house specialities with great pleasure. The Chlopskie Jadlo restaurant features unique decoration of the hall. It will be a perfect place for festive events. One of the most upscale restaurants of the city is the restaurant of French cuisine Revelo. The perfect quality of treats and impeccable service, good selection of haute cuisine dishes and excellent collection of French wines will meet the fancies of the most sophisticated gourmands. Antica Roma is a perfect dining place for those who want to enjoy exquisite delicacies and to partake unique chef's specialities. Each course is a genuine meal masterpiece as the treats feature not only exquisite taste but also fine art design. Copyright www.orangesmile.com
Łódź is a scale ancient city of centuries-old history and traditions with many of interesting sights still preserved. A large number of architectural and historical monuments were …
Open
The true lovers of sweets should certainly visit the popular café Pijalnie Czekolady E.Wedel 185. In addition to fancy cakes and other sweets the visitors are offered to order house speciality being hot chocolate. The place is always crowded. Among the restaurants of Indian cuisine one will surely love «Ganesh» Restauracja. In a spacious well decorated hall even a big party will feel comfortable there. Visitors will find rich selection of dishes on the menu offering traditional Indian dishes and chef's specialities as well as exotic treats.
This guide to cuisine and restauraunt in Lodz is protected by the copyright law. You can re-publish this content with mandatory attribution: direct and active hyperlink to
www.orangesmile.com
.
City tours, excursions and tickets in Lodz and surroundings
Where to go for dinner in Lodz: recommended cafe and restaurants
Restauracja Polska
Where: ul. Piotrkowska 12, Lodz; Telephone: +48 (0) 42 633 83 45;
U Chochola
Where: ul. Traugutta 3, Lodz; Telephone: +48 (0) 42 632 51 38;
Dworek
Where: ul. Rogowska 24, Lodz; Telephone: +48 (0) 42 659 76 40;
Krokodyl
Where: ul. Piotrkowska 88,, Lodz; Telephone: +48 (0) 42 632 20 14;
Sphinx
Where: ul. Piotrkowska 56, 93 and 250, Lodz; Telephone: +48 (0) 42 632 23 68;
Anatewka
Where: ul. 6 Sierpnia 2/4,, Lodz; Telephone: +48 (0) 42 630 36 35;
Ciagoty I Tesknoty
Where: ul. Wojska Polskiego 144a, Lodz; Telephone: +48 (0) 42 650 87 94; Metro: Tram #1 or # 6 to "Sporna";
National cuisine of Poland
You can find a wide variety of soups in Polish cuisine. Quite unexpected products, including nettles, sorrel, and dandelions are used in cooking. One of the most unusual soups is czernina. Its taste may seem too extravagant if you are not prepared in advance. The soup is cooked with goose giblets and blood, vegetables and spices. Another unique soup is chlodnik. Its basis is beet kvass, to which eggs, cucumbers, greens and sour cream are added. It is customary to add dumplings in classic beetroot soup in Poland. Due to this, the dish gets a fundamentally new taste. There is also white borsch. It is cooked on basis of green vegetables, with sausage and eggs. Be sure to taste the mushroom soup, which is served in a bread pot. …
Open
Lodz in photo set
Searching where to eat - restaurants and cafe on Lodz map
Cuisine and restaurants in the neighbours of Lodz
Travel notes on best cuisine and restaurants of Lodz (Poland) on OrangeSmile.com. Famous recipes and traditional dishes and courses in Lodz restaurants. Where to eat - our recommendations on popular places in Lodz, where you can taste delicious meal and also spend a good time with your friends.