City break in Krabi. Active leisure ideas for Krabi - attractions, recreation and nightlife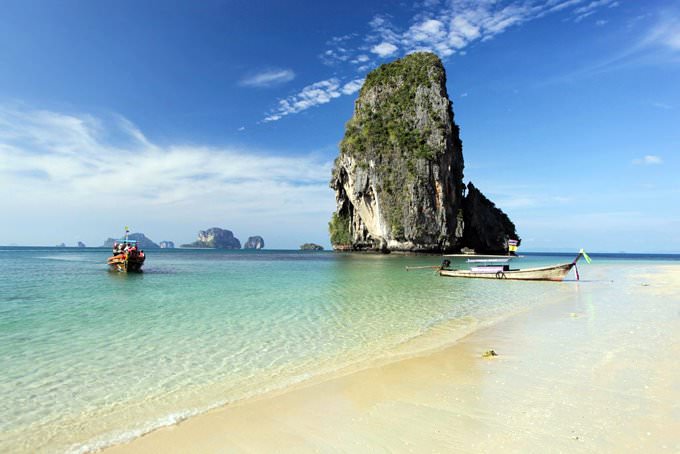 Krabi is a resort attractive for those who prefer to spend vacation on a beach. There is absolutely everything you need for fun and exciting pastime: clean white beaches, beautiful places for scuba diving, colorful nightlife and beach bars, as well as magnificent nature which will help to escape city life. The most attractive destination for divers is Ao Nang bay. The beauty of the underwater world here is mesmerizing; the bay is a perfect place for beginners in diving. Several rental centers of sports equipment are located on the beach, so travelers don't have to take the whole stuff with them. Experienced divers can explore the nearby islands of Po Dha, Hat Rai Le and Tup, as the coastal zone there also has a rich underwater world.
In the province of Krabi, interesting shops can be found literally at every step. The city of Ao Nang has many shops aimed at fans of chic outfits. For example, the famous fashion shop Andy …
Open
The most beautiful and popular beach resort is Phra Nang, whose only drawback is a huge number of tourists. The beach is perfectly equipped for your comfort. Fans of active holidays would also like it, as the beach area is equipped with a variety of sports facilities, including those for children. Tourists, who want to be away from crowds on the coast, are recommended to go to the nearby Tup island. The beach there is no less spectacular, however, in comparison with the crowded beaches of Krabi, it has a quiet and relaxing atmosphere.
Several hot springs are located near Hat Noppharat beach, so the water is very warm all year round. The beach is perfect for a family vacation, it is located next to several attractive restaurants and cafes. Those who travel with family would be interested in visiting Tree Top Adventure park that is located right in the middle of the rainforest. You can just walk around and appreciate scenic natural attractions or try to force the most incredible rides. Both young visitors and their parents will be able to choose the right place for entertainment. Copyright www.orangesmile.com
Krabi is one of the most beautiful provinces of the Southern Thailand, which is located near the border with Malasia on the coast of Indian Ocean. This is the youngest tourist destination of …
Open
Fans of spa treatments are recommended to visit the Kantawan center, which will please with plenty of massage and cosmetician's rooms. Be sure to try the diversity of Krabi's nightlife. The most popular clubs and discos are located near the coast. The Mermaids invites guests to participate in a colorful party. Fans of exotic cocktails and music would like the Traveller bar. Tourists searching for souvenirs are recommended to visit the National Park that hosts a huge number of interesting stalls and craft shops.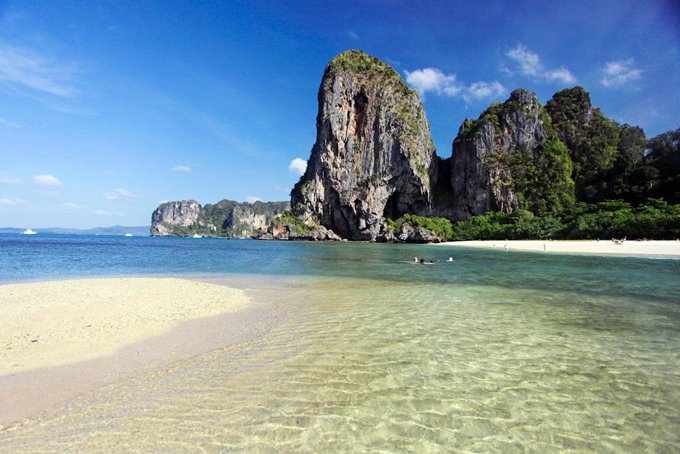 Safaris are quite popular in Krabi, and besides diving, sunbathing and swimming in the Andaman Sea, other water activities such as kayaking, fishing, boating, and yachting are equally enjoyable. Travelers will certainly appreciate hiking in the mountains. Beginners will be able to learn climbing under the clear guidance of an instructor, and more experienced climbers can find that this is one of the best places on the planet for their favorite pastime. Mother nature has created all the conditions for that. You can take tours from Tex Rock Climbing or visit Hollow Mountain Extreme Adventure Park to have a good time. Bungee jumping is available here as well.
OrangeSmile.com recommends best hotels in Krabi
Family holidays on the Krabi Island should not be limited to beach activities alone. You should definitely visit the entertainment center, Poppy's Minigolf & Kebab Café with children. …
Open
Another great place to spend time actively is Zipline Adventure by Aonang Fiore Resort, where you can climb a rope course. However, the same can be found in Krabi Fun Park, which promises an equally exciting experience. Karting is another popular entertainment in Krabi, and you can try it out in Krabi Kart Speedway. Those who wish to improve their accuracy should go to Krabi Shooting Range - especially if you're traveling with friends, as this is one of the best activities for a noisy company.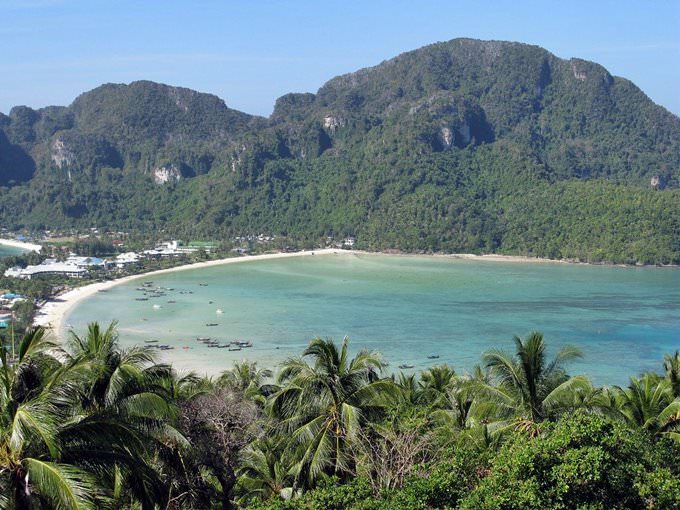 Those who've loved Thai cuisine so much that now want to learn to cook like they do in Thailand are welcome in Thai Charm Cooking School. This is an amazing and exciting experience, which leaves only pleasant memories. Rick's Bar is a great place for those who want to play billiards, darts, as well as have a glass or two of some strong drink. Be sure to visit Aonang Snake House and watch amazing snake shows that are organized here for visitors. Participants not only show what their snakes are capable of but also tell interesting facts about the inhabitants. Another mini-zoo is worth visiting - namely, Catfish Farm, where visitors can see parrots, monkeys, crocodiles, as well as lots of fish, including catfish, small aquarium fish, carps.
Local cuisine has an abundance of original dishes. Those who prefer hot and spicy food would enjoy a vacation in restaurants of Krabi. The abundance of spices and herbs is one of the main …
Open
Of great interest in Krabi are bars where one can spend free time after dusk. Thus, for those who want to dance all night long, the best option would be Chang Bar, those wishing to share a nice atmosphere with friends while listening to local musicians should consider Roots Rock Reggae Bar, and fans of noisy places should never ignore Chang Bar. By the way, here you can not only drink but also smoke a hookah. Old West Bar is attractive for its special cozy atmosphere, quality music plays and excellent drinks are served here for guests. Tew Lay Bar can be called the most original bar in Krabi. You can find it on a tree right on the beach. Well, those who want to try the best cocktails in town should be recommended to visit Get Rad's.
This guide on active recreation and leisure in Krabi is protected by the copyright law. You can re-publish this content with mandatory attribution: direct and active hyperlink to
www.orangesmile.com
.
City tours, excursions and tickets in Krabi and surroundings
Reference information
National and city parks around Krabi
♥ National Park 'Khao Phanom Bencha' , 19.3 km from the center.
On the map
Photo
♥ National Park 'Khao Phra Thaeo' , 61.4 km from the center.
On the map
Photo
♥ Marine National Park 'Khao Lam Pi - Had Thai Muang' , 82.8 km from the center.
On the map
Photo
♥ National Park 'Klong Phanom' , 84.4 km from the center.
On the map
Photo
♥ Marine National Park 'Khao Lak-Lam Ru' , 86.9 km from the center.
On the map
Photo
Amusement parks near Krabi
♥ Amusement park 'Baan Teelanka' Bypass Road, 60.8 km from the center.
On the map
Photo
♥ Amusement park 'Phuket Aquapark' Kathu, 66.6 km from the center.
On the map
Photo
♥ Amusement park 'Splash Jungle Water Park' Mai Khao, 67.3 km from the center.
On the map
Photo
♥ Amusement park 'Phuket FantaSea' Kamala Beach, 70.4 km from the center.
On the map
Photo
♥ Amusement park 'The Pirates Park' Surat Thani, 124.1 km from the center.
On the map
Photo
Water attractions around Krabi
♥ Water park 'Phuket Aquapark' Phuket, 66.6 km from the center.
On the map
Photo
♥ Water park 'Splash Jungle Water Park' Phuket, 67.3 km from the center.
On the map
Photo
♥ Water park 'The Pirates Park' Surat Thani, 124.1 km from the center.
On the map
Photo
Car rental on OrangeSmile.com
Photogallery of picturesque Krabi
Search for active leisure and attraction spots on Krabi map
City break ideas for neighbours of Krabi
Guide to your best city break in Krabi - popular places for recreation and leisure. Things to do during the day in Krabi - attractions, parks, beaches, aquaparks, racing tracks, biking trails or waterski. Recommendations (with addresses, phone numbers and links) where to spend your time in the evening (bars, discos, clubs, etc.). We share some good ideas and the question 'What to do in Krabi?' disappears immediately.