Sightseeing in Killarney - what to see. Complete travel guide
This town is located on the territory of the National Park. The air here is fresh and clean, while the nature is picturesque and peaceful. While walking on the streets of Killarney you can see rare types of trees, bright flower beds and bushes of amazing shapes. The main peculiarity of this town is the choice of excursions on horses. In order to maintain the state of the nature and maintain the microclimate of the region, only environment-friendly transport is used. Besides horses you can rent a bicycle or simply use your feet.
Without a doubt, a favorite place of tourists and locals is Killarney National Park. The park will be a great place for walking, cycling, for families with children and picnics. There is a …
Open
Just like the majority of cities of Ireland, Killarney is rich in architectural and historical sights. You will find out more about this place if you visit its numerous museums. Among architectural sights of the region we should definitely mention St. Maria Cathedral that is decorated with mosaics and frescos. The monument of four poets is one of the most unusual sights of the town. The monument is installed on one of the streets of Killarney and is devoted to great masters - Jeffrey O'Donoghue, Pierce Ferriter, Eogan Ruadh O'Sullivan, and Ardahan O'Reilly. Near the monument you can find another ancient building – Protestant Parochial Church.
However, the main sight of this region remains the national park that has the same name as the town. It was founded yet in 1932. Today visitors of the park are able to participate in exciting excursions that will show them with life of the animals in the park. Here you can also see various rare plants, unique animals and birds that have been brought to Ireland from different parts of the world. The center of Killarney is the main place of walks among locals and tourists. Here are located three amazing clean lakes that are surrounded by old huge trees. You can have some rest after the active day in the shadows of these trees. This is a truly beautiful place simply created for rest and joy. Copyright www.orangesmile.com
1. It is recommended to exchange currency in banks, as private exchange offices offer a less favorable rate. Next to banks there are always ATMs working around the clock, where you can …
Open
On the territory of the national park is the beautiful Ross Castle - the most famous historical landmark of the city. This wonderful 15th-century castle is located on the shore of Loch Lane. It is a typical example of medieval architecture. After more than 500 years, the castle was perfectly preserved. Now it hides a lot of interesting historical artifacts within its walls. Its visitors will be able to see pieces of furniture from the 17th and 18th centuries, as well as other antique utensils.
A very interesting historical symbol of Killarney is the Manor House. It was built in the 19th century for the wealthy Herbert family. There is a farmstead in the nearby neighborhood of Killarney. The luxurious building in Victorian style is impressive in scale; it has 45 rooms. Today, almost all of them are available for tourists to visit. In the manor there is a rich collection of antique furniture, art objects and personal belongings of former owners.
Killarney is popular with tourists who like to relax far away from big noisy cities. Travelers with children like this picturesque city. There are many beautiful parks and nature reserves, …
Open
Nearby is another interesting landmark – Muckross Farm. This farm always welcomes guests. Visitors can stroll through its entire territory and get acquainted with friendly inhabitants. All visitors to the farm can learn how to take care of animals, and also watch how the owners work. The farm is located in an incredibly beautiful natural area, which is largely oriented to tourists and is equipped for a comfortable stay.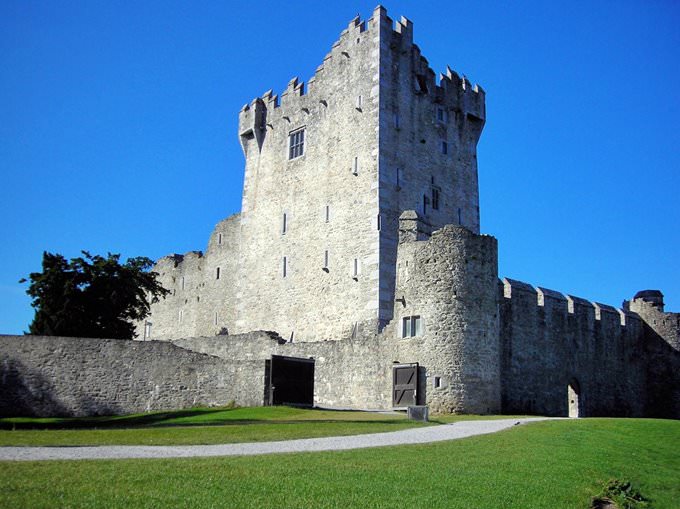 Climbing the summit of Mount Carrauntoohil is very popular among nature lovers. Special training and equipments are required. The height of this mountain is only 1038 meters. On its slopes there are several paths suitable for climbing, having different level of complexity. If the appropriate equipment and climbing skills are not available, you can just walk around the foothills.
Travelers associate Killarney with numerous cozy pubs and bars, but town's gastronomic points of interest are more diverse. One of the most popular restaurants in the town is Pay As …
Open
Guests of Killarney are offered to make an exciting excursion to the nearby Islands of Skellig-Michael. They are also known for their natural beauty, and for the fact that in the 7th century a monastery was founded here. It lasted almost 500 years and eventually came to desolation. The dilapidated building of the monastery is the main historical attraction of these places.
This guide to iconic landmarks and sights of Killarney is protected by the copyright law. You can re-publish this content with mandatory attribution: direct and active hyperlink to
www.orangesmile.com
.
City tours, excursions and tickets in Killarney and surroundings
Reference information
Survived castles around Killarney
♥ Castle 'Parkavonear Castle' , 2.3 km from the center.
On the map
Photo
♥ Castle 'Carriganass Castle' , 35 km from the center.
On the map
Photo
♥ Castle 'Carrigaphooca Castle' , 37 km from the center.
On the map
Photo
♥ Castle 'Moorstown Castle' , 38.1 km from the center.
On the map
Photo
♥ Castle 'Minard Castle' , 41.6 km from the center.
On the map
Photo
Sights around Killarney from our guide 'Extreme places on Earth'
Inch Beach
From the series
"Most fabulous and magic beaches"
Check on the map:
Distance from Killarney center - 33.8 km.
Unfortunately, it's quite impossible to enjoy beach activities at the exotic coast. Even in the summer, rains are frequent in this area, and a pretty strong cold wind blows from the seaside. However, Inch beach is ideal for hiking, commemorative photo shoots, and new discoveries, which are typical for Ireland. Another advantage of the holiday on the Dingle Peninsula is a decent selection of comfortable hotels with nice prices. For a modest fee, you can rent a cozy room and then go to one of the most beautiful beaches in the world to greet a dawn. …
Read further
Sightseeing in Ireland: things to see
Bunratty is the youngest, but no less popular castle in Ireland. It was built just a couple of centuries ago, but was made in elegant style of early medieval. One of the castle's halls is used for theatre performances. Various banquets and entertaining performances are also not rare in the castle. Castlerock is one more interesting historic place. Long time ago there was a castle on the rock. That castle was used for crowning ceremonies, most important meetings and events. In the beginning of the 17th century the castle was destroyed by a fire and now only ruins remind of the beautiful building. …
Open
Car rental on OrangeSmile.com
Search touristic sites on the map of Killarney
Sightseeing in regions nearby Killarney
All about Killarney, Ireland - sightseeings, attractions, touristic spots, architecture, history, culture and cuisine. Prepare your trip together with OrangeSmile.com - find out the 'must see' things in Killarney, which places to visit, which excursions to take, where the breathtaking views are waiting for you. Planning your trip with this travel guide will help your to get the most out of Killarney in few days.