Culture of Carinthia. Places to visit - old town, temples, theaters, museums and palaces
Each city of Carinthia has its own unique historical monuments giving travelers a lot of impressions. Klagenfurt is the capital of the region; it has lots of historical objects, as well as popular tourist cities of the country do. The picturesque Neuer Platz is considered the center of the city; there are several important city symbols next to it. These include unusual Lindwurm fountain and the building of Landhaus. Fans of excursions should definitely look into the Hall of heraldry and visit the Civic Museum, as well as to see one of the main symbols of the capital, the Cathedral.
1. Going for a trip, you should definitely learn a few phrases in Austrian and take a phrasebook with you. Almost all the locals speak foreign languages, but prefer to communicate in their …
Open
There are numerous religious monuments in Carinthia; the age of some local abbeys and monasteries is more than a thousand years. There is a beautiful Dominican Monastery in Friesach; it was founded in the early 13th century. Nearby there is the picturesque basil housing priceless works of art and religious artifacts.
St. Paul im Lavanttal is famous due to its Benedictine Abbey; it was founded in the 11th century and is considered one of the oldest in the region. Its main decoration is the incomparable Basilica made in a unique architectural style. It represents an original combination of Romanesque and Gothic style. This religious monument has a rich collection of old paintings and frescoes. Copyright www.orangesmile.com
Carinthia is the southernmost province of Austria. These places attract mainly fans of ecotourism, as well as connoisseurs of art and history eager to explore priceless monuments of history …
Open
Among other religious monuments Gurk Cathedral located in the town of the same name is notable. This is an incredibly beautiful architectural structure that holds the oldest tapestry in Carinthia. Lavish frescos represent main decorations of the cathedral.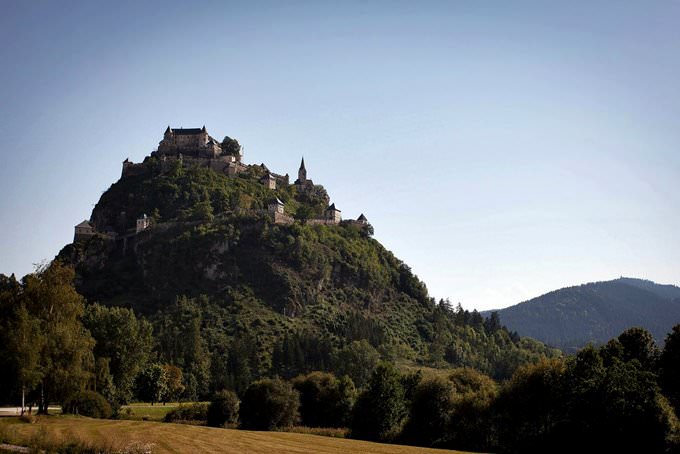 There are numerous fortifications in Carinthia; some of them have managed to survive to the present day only partially. Among them is the scenic castle of Petersbeg in Freez; it has remained a permanent venue for summer theater festivals for many years. Strasbourg can boast an amazing 12th century fortress that is home to the interesting museum. This amazing historical building has retained many primeval elements; guests can admire incomparable vaulted ceilings of the fortress and appreciate the rich collection of artifacts.
This guide to cultural sights Carinthia is protected by the copyright law. You can re-publish this content with mandatory attribution: direct and active hyperlink to
www.orangesmile.com
.
Reference information
Art galleries in Carinthia and around
♥ Art museum 'Museum Moderner Kunst Kaernten' Klagenfurt, 14.7 km from the center.
On the map
Photo
Cathedrals and basilicas near Carinthia
♥ Dom Maria Himmelfahrt, Gurk, 18.9 km from the center.
On the map
Photo
♥ Bazilika Marije Pomagaj, Brezje, 43.9 km from the center.
On the map
Photo
♥ Dom Sankt Andrä, Sankt Andrä im Lavanttal, 49 km from the center.
On the map
Photo
♥ Basilika Maria Loreto, Sankt Andrä im Lavanttal, 49.2 km from the center.
On the map
Photo
♥ Stolna cerkev sv. Nikolaja, Ljubljana, 78.8 km from the center.
On the map
Photo
Unique spots in Carinthia and near
Minimundus
From the series
"Famous miniature museums of architectural objects and cities"
Check on the map:
Distance from Carinthia center - 12 km.
Here you can see a lot of unique layouts. Just at the entrance a huge mock globe meets visitors. Nearby, is an artificial pond, along which ships sail. If you look closely, you can see real live fish in the pond. Among other models, it is worth noting a copy of the Statue of Liberty, the Greek temple Parthenon, as well as a copy of the Church of the Holy Family, which is located in Barcelona. …
Read further
Car rental on OrangeSmile.com
Photogallery of cultural heritage of Carinthia
Landmarks of culture on Carinthia map: art-galleries, monuments, palaces, etc
Excursions over cultural sights of neighbours of Carinthia
Culture guide to Carinthia. Which fascinating sights to visit once you are in Carinthia: temples, museums, churches, museums, theaters and castles. Recommendations (with addresses, phone numbers and links) on the places 'must visit' in Carinthia. Plan your own city excursion by using this page info!