Sightseeing in Jumeirah - what to see. Complete travel guide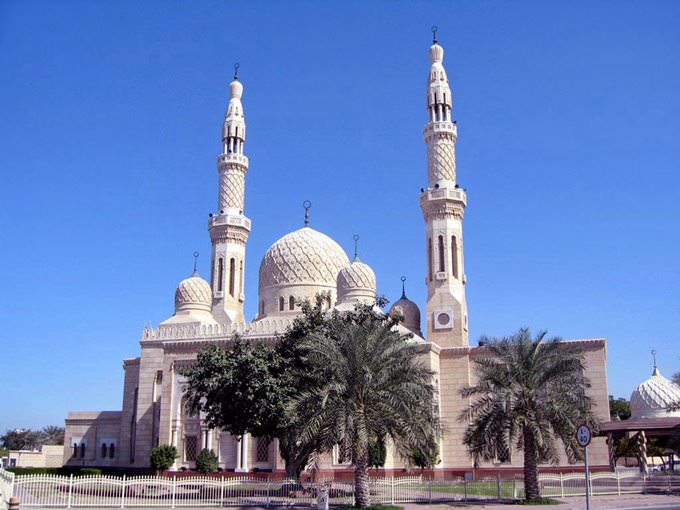 Jumeirah archipelago, which is located in Dubai region, consists of three islands – the Palm Jebel Ali, the Palm Jumeirah and the Palm Deira. These are artificial islands, the building of which started in 2001. The building process continues even nowadays. The name of the archipelago is defined by its unusual shape that resembles a palm tree. The total square of all three islands estimates 52 kilometers. Here are planned to be built around 100 hotels and the coastal line will be occupied by villas and residences, restaurants and entertainment parks, trading centers and sports facilities.
The archipelago is shaped like a palm, branches of which are 5x5 kilometers large. The length of the coastal line estimates 78 kilometers. Port Rashid is considered the beginning of Jumeirah region. This is also a home to hotels of extra class. Until 1960 this region was mostly inhabited by local fishermen and traders. Then Europeans, who came to Dubai to find jobs, started occupying the coast. The true building boom starts in Dubai in 1995, when Jumeirah Beach becomes a marine resort of the international level, offering exclusive rest and residences of extra class.
«7-star» hotel Burj Al Arab is considered the most expensive one in the world. We should also mention Royal Mirage and Madinat Jumeirah hotels. A beautiful boulevard called "Golden Mile" is built on the Palm Jumeirah. It is a home to multiple restaurants, shops and residences. The building of the monorail road that starts near Atlantis Bay hotel and ends in Gateway Towers Stations ended in 2009. A visit to Wild Wadi Water Park, which occupies the area of 5 hectares, will become one of the most fascinating entertainments as you will find there over twenty magnificent attractions, swimming pools, and cafes. Copyright www.orangesmile.com
This guide to iconic landmarks and sights of Jumeirah is protected by the copyright law. You can re-publish this content with mandatory attribution: direct and active hyperlink to
www.orangesmile.com
.
Reference information
Art galleries in Jumeirah and around
♥ Art museum 'Salsali Private Museum' Dubai, 7.9 km from the center.
On the map
Photo
♥ Art museum 'Tashkeel Art Hub' Dubai, 9.7 km from the center.
On the map
Photo
♥ Art museum 'Sharjah Art Museum' Sharjah, 21.9 km from the center.
On the map
Photo
Sights around Jumeirah from our guide 'Extreme places on Earth'
Starbucks Coffee Shop
From the series
"The most unusual restaurants of fast food chains"
Check on the map:
Distance from Jumeirah center - 18 km.
The first cafes of the chain were opened in the 1970s. For a few years the Starbacks brand coffee has become incredibly popular. Cafes have been opened in the largest European cities. The first cafeteria in the Middle East was opened in 1991. In Kuwait, nowadays, the network of cafes has more than 16000 establishments in 48 countries. In Dubai, a luxury cafeteria is a favourite vacation spot for both locals and tourists. It is not necessary to choose one of the fashionable restaurants to enjoy refined coffee in a no less refined atmosphere, just look into Starbucks. …
Read further
Infinity Tower
From the series
"Twisted spiral buildings and towers that are real"
Check on the map:
Distance from Jumeirah center - 17 km.
It is important to note that the skyscraper differs not only in spectacular appearance, but also in its original interior decoration. In some of its rooms there are inclined and curved walls. The cost of one-bedroom apartments located in the Infiniti Tower is about 2 million dirhams, and for an apartment with two bedrooms one must pay about 3.5 million dirhams. At present, the skyscraper is one of the highest residential buildings on the planet. …
Read further
Flower House in Dubai Miracle Garden Park
From the series
"Unique living houses"
Check on the map:
Distance from Jumeirah center - 16 km.
The bulk of the flowers that adorn the facade are petunias. They are known for impressive appearance. In addition, these popular flowers need less care than exotic plants. In total, more than 45 million flowers are planted in the vast park every year. The best landscape designers of the world are working on the design of the green zone. Travellers who come to see a beautiful green house in the Miracle Garden have to note that it is open for visits during the period from October to May. …
Read further
Sightseeing in United Arab Emirates: things to see
In Sharjah you will see the beautiful Cultural Square and unforgettable Pearl Monument. There are also several large bazaars, restaurants and entertainment centers in this Emirate. The Al Ain Emirate is famous for its natural landmarks. Besides nature reserves and national parks, there are several beautiful botanic gardens in Al Ain, as well as a large zoo. Actually, ordinary city streets look like a big blooming garden thanks to numerous flowerbeds and many exotic flowers. …
Open
Car rental on OrangeSmile.com
Search touristic sites on the map of Jumeirah
Sightseeing in regions nearby Jumeirah
All about Jumeirah, United Arab Emirates - sightseeings, attractions, touristic spots, architecture, history, culture and cuisine. Prepare your trip together with OrangeSmile.com - find out the 'must see' things in Jumeirah, which places to visit, which excursions to take, where the breathtaking views are waiting for you. Planning your trip with this travel guide will help your to get the most out of Jumeirah in few days.