Cuisine of Interlaken for gourmets. Places for dinner - best restaurants
This beautiful city features eating places to suit all tastes and budgets. Tourists will find attractive restaurants and cafes in almost every area of the city. Tourists who prefer healthy food are recommended to visit Blueberrys Juice Bar restaurant, which is one of the most attractive budget dining facilities of the city. Rich choice of vegetable and fish dishes, and numerous tasty fruit desserts and drinks will delight simply every visitor, and welcoming and attentive staff will help to make your stay even more enjoyable.
Interlaken is a city that easily fits the title of a "gem of the Swiss Alps". Indeed, this city has a truly mesmerizing beauty. That is the reason why so many famous people have always …
Open
Goldener Anker restaurant is a great family friendly place. Visitors with children will be provided with a special menu. During lunch time visitors will be offered a special menu with lunch dishes at most attractive prices. El Azteca restaurant specializes in cooking Mexican cuisine dishes. This dining facility has the full right to be called one of the most romantic dining facilities of Interlaken. In the evening the restaurant is distinguished by quiet and relaxed atmosphere. Nice music always plays here and visitors are served with most incredible food.
Fans of Thai cuisine are fond of the restaurant called Little Thai. Simply everything is at very high level here - attentive staff, quality of food, and attractive prices. Little Thai offers delicious food for fans of classic dishes and for visitors who want to enjoy delicious delicacies. Travelers who want to explore local culinary traditions are recommended to visit The 3 Tells Irish Pub. This is the place where visitors will be provided with best dishes from Irish, Swiss and English cuisines. The restaurant welcomes guests from early morning to late evening. The dining facility is very popular, so visitors are recommended to book a table in advance. Copyright www.orangesmile.com
Interlaken is simply made for relaxation. This wonderful city attracts tourists all year round. The best way to get acquainted with its sights is to make a walk along its streets. You can …
Open
The menu of Schuh restaurant includes only the most popular international dishes. The rich choice of meat and fish dishes, interesting vegetable side dishes, desserts and rich wine list are the main advantages of Schuh. Even fans of Indian cuisine will find a great place to eat in Interlaken. The most popular restaurant in this culinary direction is Taj Mahal Indian. The hall of the restaurant is decorated in accordance with best national traditions. In the evening Taj Mahal Indian often organizes interesting entertainment programs for its visitors. La Tarantella is among the most popular Italian restaurants of the city. It will also please visitors with a huge variety of dishes, high level of service, and reasonable prices.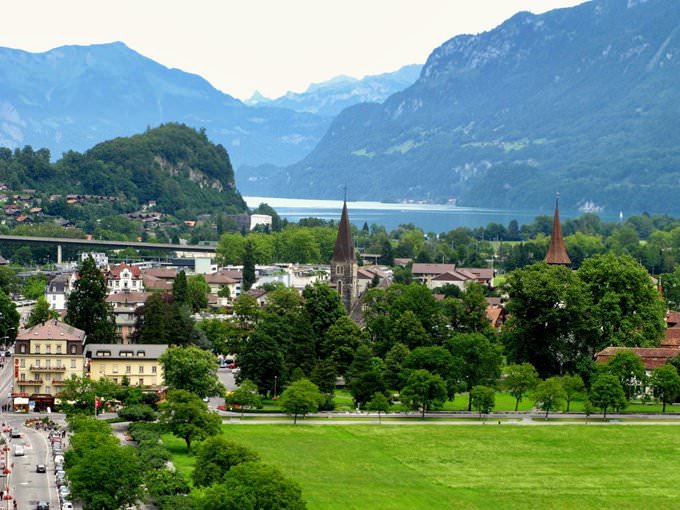 Restaurants specializing in the national cuisine are among the most attractive in Interlaken. Many of them have a beautiful country-side design. These restaurants usually offer the most popular regional dishes, including Raclette and different types of Fondue. The latter dish has become a synonym of delicious Swiss cheese for many travelers. Indeed, local restaurants usually offer the traditional cheese fondue that consists of only two simple components – cheese and fresh wheat bread.
OrangeSmile.com recommends best hotels in Interlaken
Even recently Interlaken was considered an exclusively summer resort. The main entertainment it offered were walks in beautiful natural places. Today travelers visit the city all year round. …
Open
Interlaken restaurants also offer such a delicious dessert as chocolate fondue. Switzerland is famous for its outstanding chocolate making traditions. Some chocolate types are made specifically for this dessert. Chocolate for fondue melts easily and perfectly complements the taste of various fruit and other ingredients.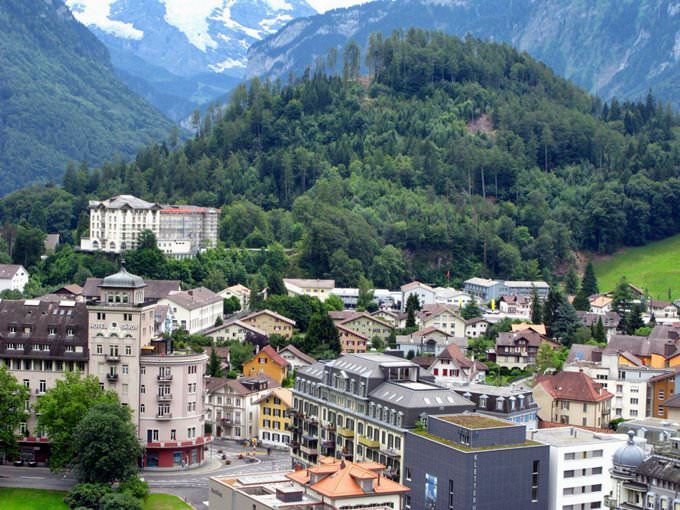 In Interlaken, tourists shouldn't forget to explore local markets and grocery stores as they also offer many interesting local products and delicacies. Local vendors also sell the most popular types of cheese and chocolate. Tourists also like to buy different fondue sets as a souvenir.
1. Travelers should definitely not forget to take hotel card when they go outside. It entitles you to free travel on all types of public transport, as well as to discounts on some …
Open
Local shops also sell interesting cookies called Meitschibei. Many tourists also buy them as a souvenir for friends and family. The name of the cookie can be translated as "girl's legs". The cookies are called this way because of an unusual look. Ready Meitschibei have a horseshoe shape. The delicious dessert has been cooked in accordance with an unchanged recipe for more than a century. A special type of wheat dough is used to cook it. Meitschibei have a hazelnut filling, so the cookies are very nutritious.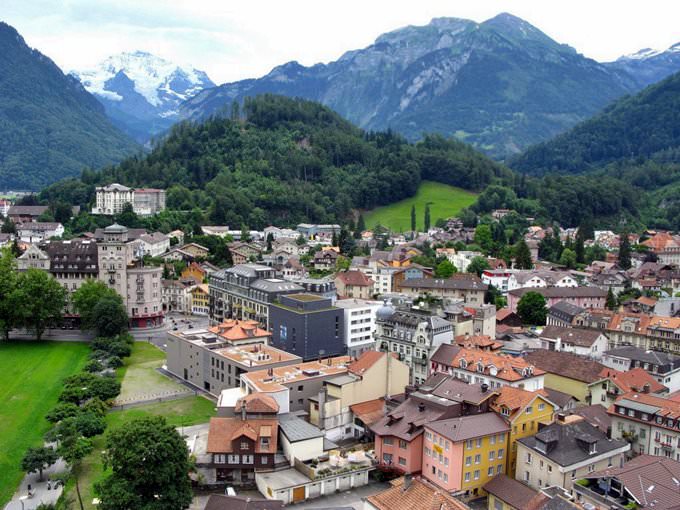 When taking a stroll to Interlaken markets, vacationers can see and try rare types of cheese and meat delicacies made by local farmers in accordance with family recipes. Local restaurants also offer a special type of a popular Swiss dish called Rösti - Emmental Apple Rösti. This type of Rösti contains small apple slices and special cheese. The dish has become incredibly popular in the region due to its simple ingredients. The food that tourists can try in Interlaken restaurants specializing in the national cuisine is very simple and cooked from typical and widespread locally produced ingredients.
This guide to cuisine and restauraunt in Interlaken is protected by the copyright law. You can re-publish this content with mandatory attribution: direct and active hyperlink to
www.orangesmile.com
.
City tours, excursions and tickets in Interlaken and surroundings
Reference information
Michelin-starred restaurants in Interlaken
♥ Restaurant 'Spice India' Interlaken. Type - Indian. 0.5 km from the center.
On the map
Photo
♥ Restaurant 'Quaranta Uno' Interlaken. Type - Italian. 0.5 km from the center.
On the map
Photo
♥ Restaurant 'benacus' UNTERSEEN. Type - Modern cuisine|Swiss. 1 km from the center.
On the map
Photo
♥ Restaurant 'L'Ambiance / La Bonne Fourchette' Interlaken. Type - Classic cuisine|Creative. 1.3 km from the center.
On the map
Photo
♥ Restaurant 'Dorfstube' Wilderswil . Type - Country|Swiss. 2.3 km from the center.
On the map
Photo
♥ Restaurant 'Bel Air' Merligen. Type - Classic cuisine. 8.7 km from the center.
On the map
Photo
♥ Restaurant 'Jungfrau' Wengen . Type - Traditional cuisine. 9.8 km from the center.
On the map
Photo
♥ Restaurant 'Restaurant 1903' Wengen. Type - International. 10.1 km from the center.
On the map
Photo
♥ Restaurant 'Jack's Brasserie' Wengen. Type - Traditional cuisine|Classic cuisine. 10.3 km from the center.
On the map
Photo
♥ Restaurant 'Caprice' Wengen. Type - Modern cuisine. 10.4 km from the center.
On the map
Photo
Car rental on OrangeSmile.com
Interlaken in photo set
Searching where to eat - restaurants and cafe on Interlaken map
Cuisine and restaurants in the neighbours of Interlaken
Travel notes on best cuisine and restaurants of Interlaken (Switzerland) on OrangeSmile.com. Famous recipes and traditional dishes and courses in Interlaken restaurants. Where to eat - our recommendations on popular places in Interlaken, where you can taste delicious meal and also spend a good time with your friends.