City break in Innsbruck. Active leisure ideas for Innsbruck - attractions, recreation and nightlife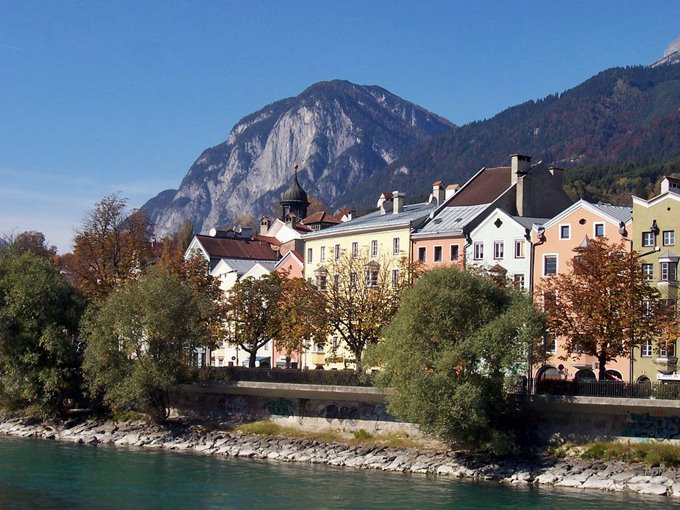 Innsbruck is a beautiful resort for fans of active pastime. Skiing is the main sports entertainment that the city can offer to its guests. On the territory of the resort are located ski slopes of various difficulty levels. You will also find special schools and rentals of sport equipment here. Fans of less extreme entertainments can make a walk along the picturesque foothills.
Some hotels in Innsbruck have been greeting their guests for more than a hundred years, and so they've got a status of city's landmarks. The prestigious BEST WESTERN Hotel Neue …
Open
Of course, there are also nightclubs in Innsbruck. The most popular ones are Tag Platt and Utopia. Innsbruck is also a city of excellent casinos. Mausefalle remains the most popular disco and a favorite place for rest among both townspeople and visitors. Here you will find absolutely everything you need for your comfort - great music, a cozy bar with a large selection of drinks and funny theme parties, during which guests will not be bored. Fans of dancing will fall in love with the night club named Couch. Huge dance floor with colorful lighting, well-selected music program and excellent equipment help guests to enjoy a pleasant atmosphere and forget about everyday stress. Among the nightlife facilities of the city we should also mention Cafe Prestige. A half of the club is occupied by a huge dance floor and the second half is a nice bar where you can relax in intimate atmosphere and taste exotic cocktails.
The resort has an outdoor skating rink, where everyone can polish his/her skills of figure skating, but this entertainment is available only to travellers who come in winter. Walking and hiking are among most popular pastimes for summer. Fans of more exotic activities can attend lessons in a parachute school or enjoy paraglide. On evenings here are often organized colorful discos and musical performances. Innsbruck will truly become a real treasure for outdoor enthusiasts. Copyright www.orangesmile.com
Without a doubt, Grand Hotel Europa is the most famous and high-class hotel in Innsbruck. For many years, this hotel has been chosen by various celebrities, politicians, and other prominent …
Open
Innsbruck is a world famous ski resort, due to the fact that it served as the capital of the Winter Olympic Games twice. After that, Innsbruck has become even more attractive and prestigious, sophisticated tourists call it the perfect place for winter outdoor activities. If you are the real fan of active winter activities - Innsbruck must be your paradise, as far as here you will find the whole complex of various resorts: Akzamer Litsum, Glungezer, Patcherkofel, Rangger Kopfl, Mutterer Alm and Nordpark-Seegrub. Let's see each and one resort more closely.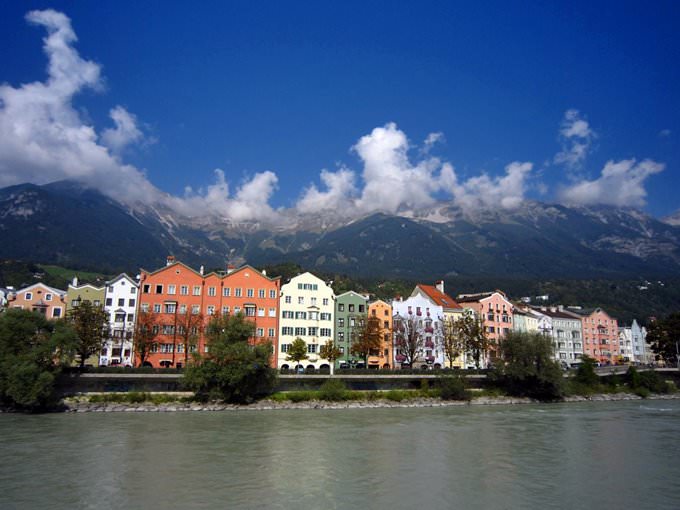 Akzamer Litsum is the largest ski resort here, its trails compose forty kilometers in total. In addition, here you will find a wonderful snow park and five freeride zones. Nordpark-Seegrube is located almost close to Innsbruck and is known for the largest snowpark. There are several comfortable trails and the controlled freeride area. Require more adrenaline while performing winter sports? Then visit the Patcherkofel and have a shot at the Olympic sled-bobsleigh track. Together they make up the so-called the "Olympic Innsbruck".
OrangeSmile.com recommends best hotels in Innsbruck
There is no problem to find a suitable hotel for a romantic vacation in Innsbruck. Couples of different ages prefer to make bookings at Gasthof Ölberg. This beautiful guesthouse is open in …
Open
But, in addition to the famous ski, toboggan, and bobsleigh trails, Innsbruck is worth visiting in order to get acquainted with the unique history and culture of the Tyrolese. After all, the city has a glorious history, with a long life of 1000 years! This is indicated by a large number of historical monuments, ancient monasteries, and beautiful churches. Be sure to go on an excursion to the medieval castles of Hofburg and Ambras. Here the spirit of chivalry of the Middle Ages, unique collections of ancient knightly weapons and clothing are preserved. It is equally interesting to see the life of the European nobility and learn about the turbulent history of Austria-Hungary on the examples of the fate of the castle owners.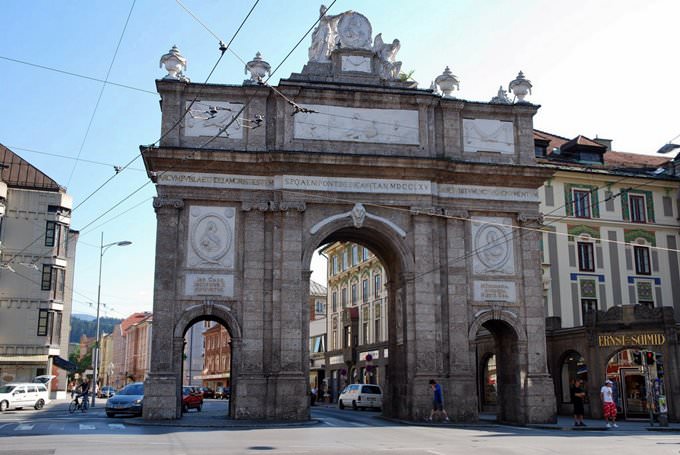 Came to Innsbruck in summer and does not know what to do? Do not worry. Even if Innsbruck is famous for winter sports, it has what to offer the summer tourists as well. Hiking and climbing, swimming and cycling, running, walking, riding and golf: the possibilities for summer sports in Innsbruck and its regions are almost limitless. Go on a hike through the alpine mountainous terrain or do a climbing tour on steep cliffs. While riding a bicycle through the Inntal valley you will have a view of the delightful countryside. Going on a mountain bike tour on Nordketta or to one of the many mountain huts on the nearby peaks in the vicinity of the resort villages, you will experience a magnificent panorama.
In Innsbruck there are enough places for fascinating shopping, many interesting shops are concentrated on the pedestrian street of Duke Friedrich. This is an incredibly beautiful historic …
Open
Have you ever heard about the Alpine Zoo? If not, then you must visit this amazing place in Innsbruck, where many rare animal species live their comfortable and wild life: huge brown bear, river otters, bearded vulture, wolves, eagles and wild cats. Animals in the Alps are threatened with extinction no less than rare species of savannah, jungle and desert animals. Alpine Zoo makes a significant contribution to the conservation of the diversity of species. Here, in the mountain world, you can stay close to such typical animals of the region, like birds of prey, chamois, and marmots. This will be an interesting event for children, and even adults will like this tour! The Alpine Zoo is adjacent to the Nordketta Ridge and offers a walk along cozy winding paths passing by animal enclosures. Tracks, for the most part, have an asphalt covering and, thus, are also partially suitable for prams. In some places, steep, and you can walk on them only.
This guide on active recreation and leisure in Innsbruck is protected by the copyright law. You can re-publish this content with mandatory attribution: direct and active hyperlink to
www.orangesmile.com
.
City tours, excursions and tickets in Innsbruck and surroundings
Recommended places for active recreation and leisure in Innsbruck
Treibhaus
Where: Angerzellgaße 8, Innsbruck;
Dom Café-bar
Where: Pfarrgaße 3, Innsbruck;
Babalon
Where: Viaduktbogen 22, Innsbruck;
Theresienbräu
Where: Maria-Theresien-Straße 51-53, Innsbruck;
Elferhaus
Where: Herzog-Friedrich Straße 11, Innsbruck;
Toscana
Where: Adolf-Pichler-Platz 10, Innsbruck;
5th Floor, The Penz Hotel
Where: Adolf-Pichler-Platz 3, Innsbruck;
Kir Royal
Where: Sillgaße 11, Innsbruck;
Bacchus
Where: Salurner Straße 18, Innsbruck;
Blue Chip
Where: Wilhelm-Greil Straße 17, Innsbruck;
Stadtcafé
Where: Universitätsstraße 1, Innsbruck;
Photogallery of picturesque Innsbruck
Search for active leisure and attraction spots on Innsbruck map
City break ideas for neighbours of Innsbruck
Guide to your best city break in Innsbruck - popular places for recreation and leisure. Things to do during the day in Innsbruck - attractions, parks, beaches, aquaparks, racing tracks, biking trails or waterski. Recommendations (with addresses, phone numbers and links) where to spend your time in the evening (bars, discos, clubs, etc.). We share some good ideas and the question 'What to do in Innsbruck?' disappears immediately.