Family trip to Geneva with children. Ideas on where to go with your child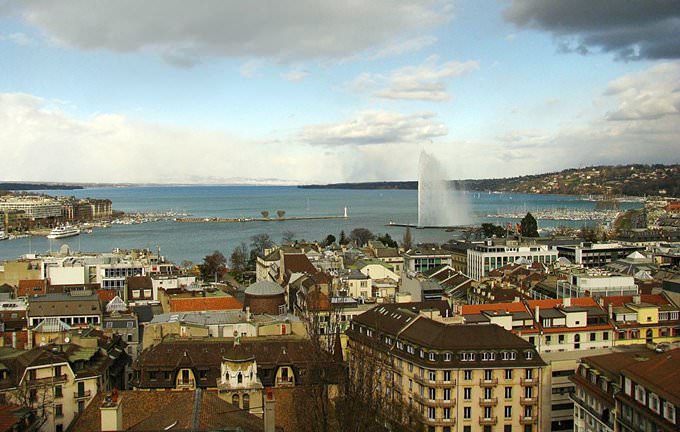 In Geneva, travelers with children of any age will have a wonderful vacation as the choice of entertainment in this city is absolutely amazing. When the weather permits, Bains des Paquis is very popular with vacationers. This is an artificial peninsula with a comfortable beach that is suitable for travelers even with small children. In autumn and spring, many come there to relax in the open air, make a picnic or enjoy a barbecue.
1. Local hotels, as well as the majority of restaurants and nightlife facilities are distinguished by rather high rates. Those, who wish to save, are recommended to pick a hotel near the …
Open
Bois gela Batie Amusement Park is a very unusual entertainment center. This park is open in a picturesque nature reserve, where, among lush greenery, children will find interesting playgrounds and attractions. In summer, several swimming pools work in the park, including a shallow one for small children. Kids will also like exploring local caves and caverns. There are many various playgrounds for children of all ages in the park, and adults will be pleased with comfortable relaxation areas.
In summer, Geneva Beach remains one of the most crowded places in the city. Besides the beach itself, there is a wonderful recreation area with swimming pools that includes both small pools for preschool children and a large Olympic swimming pool. The beach is a sand one, so it's perfect for visitors with small kids. Copyright www.orangesmile.com
Unusual excursions and entertainments will help to make your stay in Geneva even more interesting and exciting. If you crave romantics and want to be closer to nature, make a walk to Lake …
Open
A visit to Vivarium Lausanne promises to be an unforgettable adventure. Here visitors will have an opportunity to see crocodiles and turtles, different types of snakes and lizards. Lausanne Vivarium is considered one of the best in whole Europe. Don't forget to attend unbelievably interesting excursions, during which children are allowed to touch some friendly inhabitants of the vivarium. Reptiles and creepers live in nearly excellent conditions that precisely copy natural habitat of the animals, so it's very interesting to watch them.
A visit to Servion Zoo will be a logic continuation of the excursion. This zoo is located in the immediate vicinity of Geneva. The zoo is open in the territory of a beautiful forest and is distinguished by unbelievably beautiful design and a variety of animals. In Servion Zoo, visitors will see exotic tropical animals, from tiny to incredibly big ones. The zoo is not big in size, but it's truly beautiful, so tourists with children shouldn't deprive it of their attention.
Mövenpick Hotel & Casino Geneva can be safely called one of the most creative hotels in Geneva. The hotel makes up a complex with a popular casino and offers a range of exclusive services …
Open
Yatouland is a roofed amusement park that is open at any time of the year and in any weather. The park will pleasantly surprise visitors with a variety of attractions. There are special trampolines, ball pits and playgrounds for preschool children, while older children will be amazed at extreme rides and slides that are really thrilling.
Located in a picturesque forest, Forestland is a popular open air play center. This is a family-friendly park where all family members will find interesting sports activities and entertainments. Guests of the park are welcome to try a rock-climbing wall, walk on rope ladders among tree crowns, find a way out of complicated labyrinths, and test their physical strength and endurance in dozens of other ways. There is a great café in Forestland, so one can easily spend a whole day there, enjoying the beauty of nature.
Among numerous designer hotels in Geneva, travelers are often particularly interested in Starling Hotel Geneva. This hotel is located close to the Palexpo business center, and besides …
Open
There are many other attractions in Geneva that may be interesting for children, such as Puppet Theater. Every week the theater hosts interesting performances that will be liked even by smallest children. The only thing that visitors should keep in mind is that all performances at Puppet Theater are either in English or in Italian.
This guide to family holidays in Geneva is protected by the copyright law. You can re-publish this content with mandatory attribution: direct and active hyperlink to
www.orangesmile.com
.
City tours, excursions and tickets in Geneva and surroundings
Reference information
Amusement parks near Geneva
♥ Amusement park 'Swiss Vapeur Parc' Le Bouveret, 58.6 km from the center.
On the map
Photo
♥ Amusement park 'Walibi Rhône-Alpes' Les Avenières, 78.5 km from the center.
On the map
Photo
♥ Amusement park 'Florida Parc' Brochon, 144.8 km from the center.
On the map
Photo
♥ Amusement park 'Parc Récréatif de la Toison d'or' Dijon, 152.4 km from the center.
On the map
Photo
Aquariums in Geneva and nearby
♥ Aquarium 'Citadel of Besançon' , 114.4 km from the center.
On the map
Photo
Zoos and gardens in/near Geneva
♥ Zoo 'Parc des Oiseaux' Villars-les-Dombes, 88.8 km from the center.
On the map
Photo
♥ Zoo 'Parc Animalier d Introd' Introd, Aosta, 98.3 km from the center.
On the map
Photo
♥ Zoo 'Jardin Zoologique de la Tête d Or' Parc de la Tête d'Or, Lyon, 110.1 km from the center.
On the map
Photo
♥ Zoo 'Le Bois du Petit Chateau' La Chaux-de-Fonds, 113 km from the center.
On the map
Photo
♥ Zoo 'Citadel of Besançon' Besançon, 114.4 km from the center.
On the map
Photo
Car rental on OrangeSmile.com
Photogallery of best places of Geneva
Children attractions (aquaparks, zoos, amusement parks) on the map of Geneva
Interesting places to visit with children around Geneva
Guide to sightseeing and entertainment for children in Geneva - parks, attractions, museums, zoos, water-parks. All fascinating and educational sites of Geneva, which are must visit and see for your child. Find out the best discovery routes and places for kids (local theaters, exhibitions and museums), where you can spend quality time together. Geneva for families with children.