Preparing your trip to Fethiye: advices & hints - things to do and to obey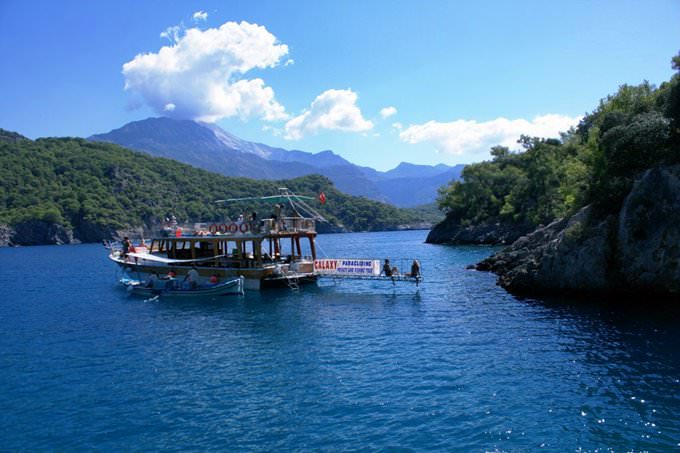 1. Before you take a picture of local residents, be sure to ask them for permission. You shouldn't take pictures or shoot video of women dressed in long-sleeved national costumes.
2. Tourists who expect to visit holy places and religious sites should carefully select their outfit. It is unacceptable to go on an excursion in short skirts, shorts and dresses of bright color. Before entering a mosque it's necessary to take off your shoes.
3. Alcoholic beverages can be consumed only in designated areas. City walk with a bottle of spirits in hand will certainly cause disapproval and a heavy fine. The appearance in public in an intoxicated state is also considered a serious offense.
4. You can leave a tip for good service in restaurants and cafes; 10% of the order would be sufficient. You can leave a tip of $1-$1.5 dollars for a maid at the hotel, but it's not customary to leave a tip for taxi drivers.
5. Buying things at the open market you should be very careful, as goods aren't always of high quality. It's necessary to bargain at open markets and in private stores, as it often reduces the price of the item for several times. Copyright www.orangesmile.com
6. Despite the fact that tap water is considered safe, it isn't recommended for drinking. It has a very unpleasant taste and affects the process of acclimatization badly. Purified bottled water can be purchased at any grocery store.
7. Travelers who plan to use a taxi have to consider that there are two types of rates, day-time and night-time. Latter is used from midnight to 6:00 am. At the daytime, many important sightseeing sites and beaches can be easily reached by bus.
Fethiye is perfect for those who like to spend time outdoors, relax on a beach and walk around the beautiful surroundings. Among the main entertainment options are walking around the …
Open
8. Shoppers should pay attention to leather and handmade carpets represented at local markets and in shopping pavilions. These products of very good quality have attractive prices, which are considered the lowest in Turkey.
9. In public places one should be extremely cautious and monitor personal belongings closely. There are pickpockets at markets, on beaches and in other busy places. You shouldn't use services of individuals, no matter how favorable the conditions may seem.
Preparing your trip to Fethiye: advices & hints - things to do and to obey You can re-publish this content with mandatory attribution: direct and active hyperlink to
www.orangesmile.com
.
What to visit being in Fethiye - unique sights
Butterfly Valley
From the series
"The Hidden and Hard-To-Reach Beautiful Beaches"
Check on the map:
Distance from Fethiye center - 8.9 km.
In Turkey, there is also a picturesque and unified beach for lovers of recreation in the tranquil atmosphere. In the surroundings of Oludeniz is the valley of the butterflies - the incredibly beautiful sand bay surrounded by the 350 meter high Babadag rocks. The tourists, who want to get to the isolated beach by land, must be on the way for almost a day. It is much easier to get to the coasts by boat. …
Read further
City tours, excursions and tickets in Fethiye and surroundings
Photos of Fethiye
Services search (pharmacy, police, parking, banks) on Fethiye map
Tips for the cities around Fethiye
Travelling to Fethiye - advices and tips. What should be provisioned in advance, the rules you might want to follow, and the things you better avoid doing in Fethiye. We help you to make your trip smooth and easy, with no unexpected surprises.