Sightseeing in Faro - what to see. Complete travel guide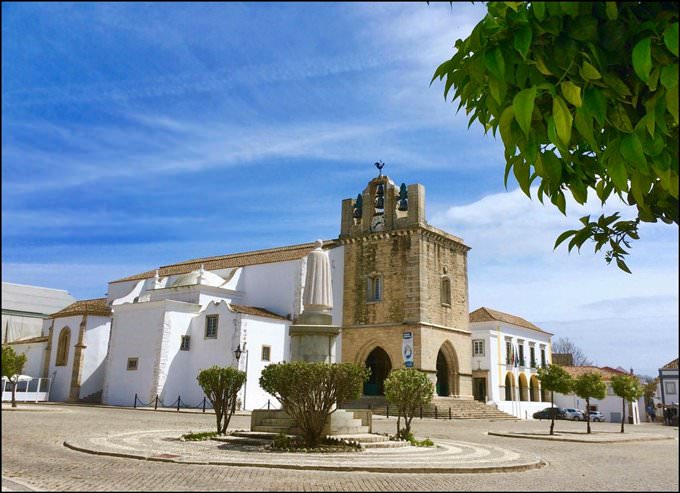 The largest city in the Algarve province, this is a well-developed economic and cultural center. The production of common salt has played a huge role in the economic development of this place. Rich deposits of sault were discovered in Faro yet in the previous century. This fact has given rise to the appearance of numerous factories. The city remains a major industrial center even nowadays, but in recent years it has started attracting more tourists thanks to its unique nature and rich historical heritage.
The resort won't disappoint fans of beach holidays and shopping, sporting activities and colorful parties. A perfect holiday destination will be the beautiful beach of Praia de Faro …
Open
Speaking of places of interest in Faro, we simply can't fail to mention the amazing nature reserve named Ria Formosa. Here you can see the representatives of local flora and fauna; several large aquariums will demonstrate rich variety of underwater creatures to visitors. The park has areas devoted to birds and wild animals, while aquariums are full of different mussels and fish.
Among the architectural sights of the city we should definitely mention Estoi Palace and Ruins of Miller. The palace was built in the beginning of the 17th century. It is surrounded by a spacious park and is decorated with exquisite sculptures, columns and pools. In the halls of the palace you will see a collection of antique furniture, paintings and other interior items. Many years ago a beautiful castle stood on the place of Ruins of Miller. This house belonged to the Roman nobles. Nowadays only mosaics that had adorned the bottom of one of the pools survived. Copyright www.orangesmile.com
Faro is famous for abundance of attractive unique restaurants; among them travelers point out the national restaurant Tasca. The main feature of this place is a huge selection of local …
Open
Dormition of the Virgin Monastery built in 1543 is another important monument that cannot be neglected. St. Francis Church, Church of Peter and Roman-Gothic Cathedral are no less beautiful religious buildings. There are also several museums in the city. The local Museum of Natural History exhibits a collection of wonderful paintings, while the museum dedicated to Henry the Navigator is devoted to important geographical discoveries. Don't forget to visit St. Antonio di Alto gallery that features an exhibition of photos, paintings and sculptures.
This guide to iconic landmarks and sights of Faro is protected by the copyright law. You can re-publish this content with mandatory attribution: direct and active hyperlink to
www.orangesmile.com
.
City tours, excursions and tickets in Faro and surroundings
Reference information
Survived castles around Faro
♥ Castle 'Paderne Castle' , 28.5 km from the center.
On the map
Photo
♥ Castle 'Castle of Ayamonte' Huelva, 49.2 km from the center.
On the map
Photo
♥ Castle 'Tower de Isla Canela' Huelva, 52.1 km from the center.
On the map
Photo
♥ Castle 'Castle of Sanlúcar de Guadiana' Huelva, 66.1 km from the center.
On the map
Photo
National and city parks around Faro
♥ Nature Park 'Ria Formosa' , 12.2 km from the center.
On the map
Photo
♥ Nature Park 'Vale do Guadiana' , 78.9 km from the center.
On the map
Photo
♥ Nature Park 'Sudoeste Alentejano e Costa Vicentina' , 90.3 km from the center.
On the map
Photo
Sights around Faro from our guide 'Extreme places on Earth'
Benagil Beach
From the series
"10 Natural Wonders of the World"
Check on the map:
Distance from Faro center - 43 km.
The hidden beach located under an arch of a large natural cave is especially popular among romantic natures. It's possible to get to this amazing part of the coast only by sea. It's also worth noting that this place is popular not only among couples, but also among photographers from around the world. Everyone visiting Algarve will be able to see one of the natural wonders of the world. It'll take less than 10 minutes by car to get to Benagil from there. …
Read further
Car rental on OrangeSmile.com
Search touristic sites on the map of Faro
Sightseeing in regions nearby Faro
All about Faro, Portugal - sightseeings, attractions, touristic spots, architecture, history, culture and cuisine. Prepare your trip together with OrangeSmile.com - find out the 'must see' things in Faro, which places to visit, which excursions to take, where the breathtaking views are waiting for you. Planning your trip with this travel guide will help your to get the most out of Faro in few days.