Preparing your trip to Duisburg: advices & hints - things to do and to obey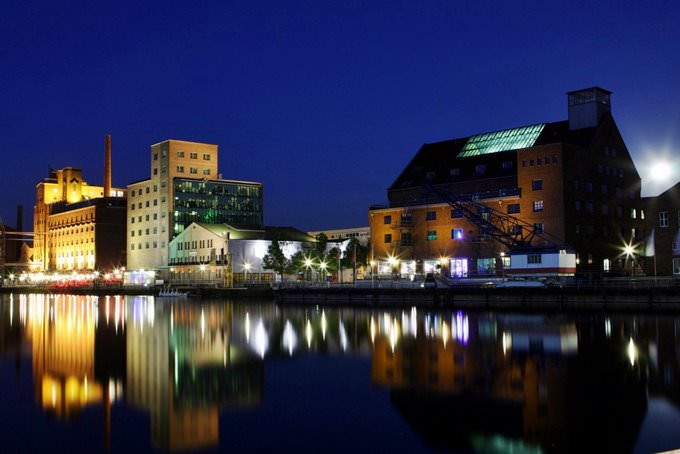 1.
Do not forget to leave tips in restaurants and cafes of the city. As a rule, the size of tips depends on the total amount of your order. If your order is 5 euros or more, the size of tips should be 7 - 10% of it. In case your order is less than 5 euros, the final due sum should be rounded up to full euro.
2. The city is distinguished by a well-developed public transport system. Buses can easily get you to any part of the city. Tourists, who expect to use public transport a lot, are recommended to buy a special ticket pass or tourist pass as they will help to save.
3. Taxis can be got at special parking or ordered by phone. Visitors can try to catch a free car right on a street of the city, but it can be quite difficult during the "rush hour". The fare for taxi services is dependent on the time and distance of travel.
4. Both drivers and pedestrians should remember that any violation of traffic rules can cause large fines. While inside a car both a driver and passengers should fasten their belts. Do not forget to choose a place to park carefully.
5.
The majority of shops and shopping centers work from Monday to Saturday. Sunday is usually a day off. As a rule, stores start serving visitors at 9:00 am - 10:00 am and are open until 19:00 - 20:00. Fans of shopping should not forget to visit the city during Christmas holidays, as the range of goods sold at this time of year is simply amazing. Copyright www.orangesmile.com
6. In addition to a huge choice of restaurants and cafes you will find many fast food facilities in the city. Small colorful kiosks that can be seen in all major streets offer visitors to buy hot sandwiches, hot dogs and soft drinks.
7. Bicycle remains a popular form of public transport. It is traditionally enjoyed by people of all ages. Travellers can also hire the two-wheeled transport in one of numerous rental centers that can be usually found close to all major hotel complexes.
Duisburg is rich in restaurants of different culinary directions, but travelers are traditionally most interested in dining facilities that specialize in cooking national dishes. Interesting …
Open
8.
Staff of local restaurants and cafes is very attentive to regular visitors. By the way, one can get the status of "regular visitor" after eating in the same place for two or three times. Guests can be welcomed by a signature dessert or welcome drink that will become a welcome addition to an order.
9.
The best to exchange currency is to use the services of banks as private exchange offices usually charge a large fee. Cash will be useful to those who hope to visit small shops and cafes, and in large restaurants, shopping and entertainment complexes bank transfer payments are accepted.
Preparing your trip to Duisburg: advices & hints - things to do and to obey You can re-publish this content with mandatory attribution: direct and active hyperlink to
www.orangesmile.com
.
What to visit being in Duisburg - unique sights
Kolner Dom
From the series
"The most iconic temples in the world"
Check on the map:
Distance from Duisburg center - 56.6 km.
Cologne Cathedral, which has many myths and legends, is popular among tourists from all over the world. The main attraction of Cologne has been preserved only through a miracle during the war. In the immediate vicinity of the cathedral, the numerous explosions, which completely destroyed the surrounding buildings, popped. The construction of the cathedral on the site of the older Romanesque cathedral began in 1248. Remarkable that the new cathedral was built in Gothic style, although the Romanesque style was much more widespread during this period. …
Read further
City tours, excursions and tickets in Duisburg and surroundings
Photos of Duisburg
Services search (pharmacy, police, parking, banks) on Duisburg map
Tips for the cities around Duisburg
Travelling to Duisburg - advices and tips. What should be provisioned in advance, the rules you might want to follow, and the things you better avoid doing in Duisburg. We help you to make your trip smooth and easy, with no unexpected surprises.