Preparing your trip to Dubai: advices & hints - things to do and to obey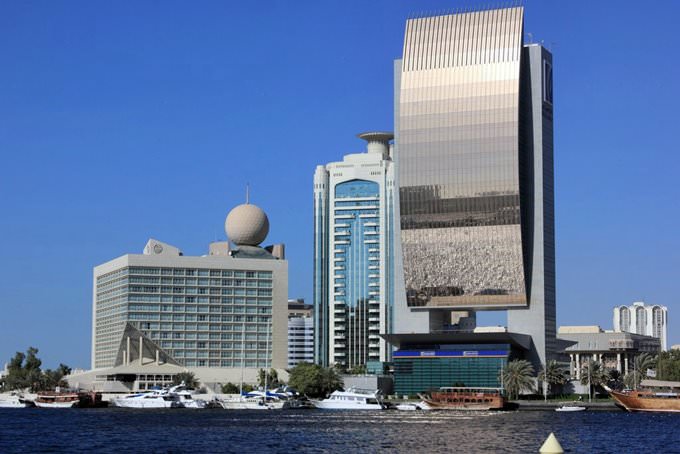 1.
The best way to exchange currency is to use the services of private exchange offices. No additional documents are needed to make an exchange. Before you give the money you want to exchange to an office worker, make sure to check them for authenticity. If exchange office finds fake currency, it can lead to severe punishment, such as a large fine or even imprisonment.
2. Almost all major shopping centers and restaurants accept payments with credit cards of international standard. However, travellers who hope to get a discount when purchasing a product are recommended to get a sufficient amount of cash. Some markets and shops may accept U.S. dollars, but the exchange rate will be significantly undervalued.
3. Tips are not officially accepted in restaurants. They can be included in the total score only in elite institutions. However, if you want to thank an obliging waiter, you can add a small monetary reward in the amount of 10% of your order. It will be gladly accepted.
4. The attitude to drinking in Dubai is quite ambiguous. Despite the fact that every restaurant and bar serves a wide selection of beverages, their use is allowed in specially designated places only. Appearance on a street of the city in a drunken state is a violation of public order, and so in some cases such behavior can lead visitors to large fines.
5.
Travelers should take into account a number of local rules of etiquette. When you enter a house or mosque do not forget to take your shoes off. Sending and receiving money, food and other items must be done with your right hand only. Copyright www.orangesmile.com
6. Tourists are not allowed to photograph local people without their permission as this will be considered a sign of bad manners and disrespect. Women dressed in long black robes cannot be photographed due to religious reasons. Also, tourists are prohibited to take pictures of strategically important facilities (police stations, the city's airport area or sea berths).
7. Do not forget to choose your clothes carefully when going for a walk. Extravagant and colorful apparel as well as too revealing clothes can cause confusion among other people. Visitors wearing too open or revealing clothes may be prohibited to enter the territory of religious sites and other attractions.
Travelers can diversify their rest by visiting wonderful entertainment venues, nightclubs, numerous markets and shopping centers. It is worth noting that in addition to nightclubs various …
Open
8.
The best way to make phone calls to other cities and countries is to use special public phones that can be found close to all major shopping and entertainment centers. These pay phones are operated by plastic cards, which can be purchased at newsstands or in grocery stores. Calls from hotels are usually the most expensive ones.
9. The most suitable time for rest is the period from October to May. At this time of year Dubai is distinguished by most favorable weather. In summer the average temperature is around 40 degrees. This weather is perfect for beach rest, but it can ruin you excursion program.
10.
Power supply voltage ranges from 220 to 240V. The majority of hotels are equipped with the standard English type sockets. Tourists can easily purchase electrical adapters in any supermarket or ask them in their hotel.
Preparing your trip to Dubai: advices & hints - things to do and to obey You can re-publish this content with mandatory attribution: direct and active hyperlink to
www.orangesmile.com
.
What to visit being in Dubai - unique sights
Al Qasr Pool
From the series
"The Most Amazing Swimming Pools in the World"
Check on the map:
Distance from Dubai center - 16.6 km.
It is no accident that Al Qasr Hotel is popular with newlyweds, some of the terraces at the pool are specially equipped for solemn ceremonies, including wedding. The pool is so big that vacationists are offered to ride it on a boat. With the onset of the darkness the pool and the water channels look especially inimitable as they are decorated with spectacular artistic illumination. …
Read further
Sharjah Museum of Islamic Civilization
From the series
"Top Surviving Artifacts of Muslim Civilization"
Check on the map:
Distance from Dubai center - 16.5 km.
There is a mini-cinema in the museum, where you can watch interesting theme-based movies. Gourmands will like the cozy cafe, where they can try the most popular national specialty. The museum is built in stone. Thanks to that it is comfortable to be here not only on the cold winter day but also on a hot summer day. The museum was opened for public in 2008 and differentiates from others by its beautiful modern design and things of the technological progress. This museum will be interesting even for people, who have never interested in Islam traditions. …
Read further
Wild Wadi Waterpark
From the series
"The Greatest and Fanciest Water Parks"
Check on the map:
Distance from Dubai center - 15.8 km.
Dubai waterpark has another amazing feature; it is thematic. Its design is largely devoted to stories about the famous Sinbad the Sailor. You will notice numerous unique sculptures and installations there. In total, there are more than 20 incredible rides, including the world-famous Master Blaster slides, Lazy River and Juha Journey, Burj Surj and Tantrum Alley rides, as well as extreme Tunnel of Doom that requires the special courage to try. …
Read further
City tours, excursions and tickets in Dubai and surroundings
Photos of Dubai
Services search (pharmacy, police, parking, banks) on Dubai map
Tips for the cities around Dubai
Travelling to Dubai - advices and tips. What should be provisioned in advance, the rules you might want to follow, and the things you better avoid doing in Dubai. We help you to make your trip smooth and easy, with no unexpected surprises.