Sightseeing in Detroit - what to see. Complete travel guide
Detroit city is located on the south-east of Michigan State. The city was founded by the Frenchman Antoine Laumet de La Mothe, sieur de Cadillac in the beginning of XVIII century. The population of the city with its suburbs exceeds 4.4 million of people, but in Detroit itself lives no more than 900 thousand of people. Approximately 10% of them are Caucasian and they are mostly concentrated in the southern part of the city. The rest of population is Afro-Americans, who are referred to middle class and below.
Starting from the end of XIX – the beginning of XX century Detroit plays a significant role in automobile industry of the United States. The city develops and wonderful architectural sites and places of interest appear there. Among them is the main square of the city – Washington Boulevard that was light with Edison lamps. At that time Detroit was called "the second Paris" or "Paris of West". However, during the times of World War II race discrimination was slackening and it became easier for Afro-Americans to get job in the city. This fact caused many Afro-Americans to move to Detroit, and later caused a chain of riots with white population of the city involved. In the end the whites started living in the suburbs of Detroit. Steadily the capital of auto industry slowly turned into a city of devastation, raising criminal and disorders.
In the beginning of the 80s of previous century the country suffered from the oil crisis, and American factories started a competition with Japanese car manufacturers and their economic cars. This made a huge impact of many automobile companies including Detroit-based ones. Some companies simply went bankrupt and this was very hard for the city. Large number of luxurious buildings remained without their owners. Add here frequent riots and fires caused by the Afro-American part of the Detroit's population and you will understand why the city has been damaged severely. Nowadays you can see in Detroit only remaining large companies like General Motors, Daimler Chrysler, and Ford Motor Company. Copyright www.orangesmile.com
A landmark for the city is the Henry Ford Museum, which houses one of the world's largest collections of cars. This museum differs in its very beautiful design. There are old photographs and posters on its walls. In this museum you can see not only cars, but also trucks, airplanes, agricultural machinery and even trains. Henry Ford started assembling his collection in 1906. Today, the museum which is named after him is one of the largest of its kind in the world.
A unique site is the Fox Theater. It will be interesting to visit, not only for fans of theatrical art. This magnificent cinema was built in 1928. At the time of construction, it was one of the most luxurious and largest movie theaters in the country. Even now, it strikes not only with its unique architectural style, but also its exquisite interior decoration. The old cinema will enchant with its setting which includes - luxury woodcarving, a variety of fine fabrics, exquisite antique furniture and a variety of works of art. Now, theater performances and concerts are often held in it.
The city has a very interesting East Market, which is also considered a peculiar sight. In this colorful market, you can take a walk in search of interesting souvenirs and clothes, and also try traditional dishes of national cuisine. This market is also attractive because individuals can buy excellent home-made products in it, including wine.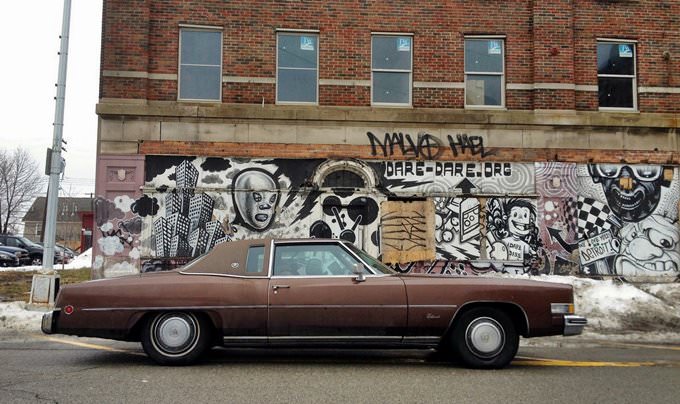 One of the main symbols of modern Detroit is luxurious skyscrapers. In the heart of the city is a beautiful complex of high-rise buildings of the Renaissance Center. On the upper floors of these skyscrapers, there are several popular restaurants and cafes, from the hall of which, opens an attractive panoramic view of the Great Lakes. In clear weather, you can even see nearby Canada.
If the sights in the city are not enough, you can go to the neighborhood, to the Museum of the Great Lakes. This is a very interesting family museum, whose exposition is entirely devoted to lakes. A large part of the museum is occupied by an aquarium, in which the most complete collection of inhabitants of local reservoirs is collected. This museum is located on the Belle Isle Island. The trip to this museum itself, promises to be an unforgettable adventure.
This guide to iconic landmarks and sights of Detroit is protected by the copyright law. You can re-publish this content with mandatory attribution: direct and active hyperlink to
www.orangesmile.com
.
City tours, excursions and tickets in Detroit and surroundings
Search touristic sites on the map of Detroit
Sightseeing in regions nearby Detroit
All about Detroit, USA - sightseeings, attractions, touristic spots, architecture, history, culture and cuisine. Prepare your trip together with OrangeSmile.com - find out the 'must see' things in Detroit, which places to visit, which excursions to take, where the breathtaking views are waiting for you. Planning your trip with this travel guide will help your to get the most out of Detroit in few days.