Sightseeing in Debrecen - what to see. Complete travel guide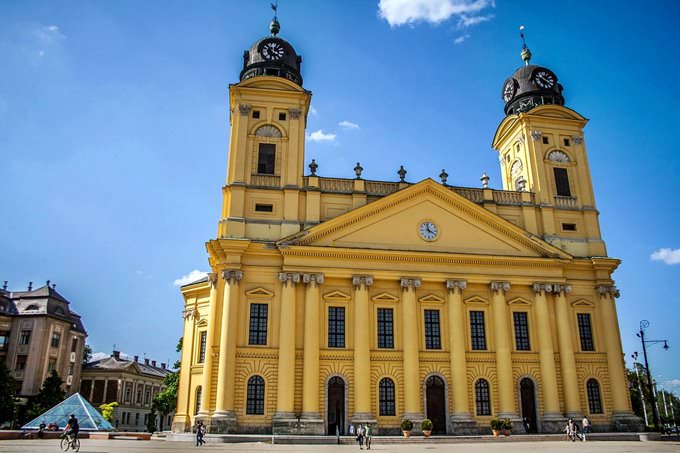 Debrecen is the second largest city of Hungary in terms of population. This place has been always famous for its rebellious spirit and craving for freedom. The inhabitants of Debrecen did not accept kings and emperors and the majority of them decided to change the faith from Catholic to Calvinism. Kossuth Lajos was the main Hungarian revolutionary, who proclaimed the independence of Hungary in famous until our days Calvinist cathedral. The architecture of the city is different from other cities of Hungary as here you will not find many details and decorations, but the grandiosity of buildings is really impressive. Calvinist Square that is also the beginning of Piac Street, is known by its amazing houses and street lights decorated with baskets of flowers.
Among the multiple local sights and place of interest we should mention the largest Reformed Church in Hungary and the reformed college organized nearby, Deri Museum (exhibits large collection of ethnographic and archeological items and pictures), the Calvinist Library with stock exceeding 300 thousand books including rare incunabula, and much more.
There is a magnificent Alfold Park in the northern part of the city. The park is also named "big wood", and its heart hides a spring of thermal water and a health complex, where visitors can have rest, visit revitalizing baths (there are approximately 18 of them) with temperature of water ranging from 20 to 40 degrees by C. Copyright www.orangesmile.com
This guide to iconic landmarks and sights of Debrecen is protected by the copyright law. You can re-publish this content with mandatory attribution: direct and active hyperlink to
www.orangesmile.com
.
Reference information
Survived castles around Debrecen
♥ Castle 'Episcopal palace' Oradea, 56.4 km from the center.
On the map
Photo
♥ Castle 'Sárospatak Castle' , 87.1 km from the center.
On the map
Photo
♥ Castle 'Boldogkuváralja Castle' , 95 km from the center.
On the map
Photo
♥ Castle 'Castle in Gyula' , 102.2 km from the center.
On the map
Photo
National and city parks around Debrecen
♥ National Park 'Hortobágyi' , 40.7 km from the center.
On the map
Photo
♥ Natural park 'Parcul Natural Cefa' , 70.9 km from the center.
On the map
Photo
♥ National Park 'Bükki' , 99.9 km from the center.
On the map
Photo
♥ World Heritage Site 'Caves of Aggtelek Karst and Slovak Karst' , 135.5 km from the center.
On the map
Photo
Sightseeing in Hungary: things to see
The village of Vijoi is an interesting historic and religious destination in Hungary. One of churches in the village exhibits a priceless artefact. This is the first printed Bible that was published by one of local typographies. When it comes to describing nature landmarks of the country, we ought to start from Bugac Nature Park, which total square exceeds 11 thousand hectares. Every day interesting shows and performances take place in the park to entertain numerous visitors. There are also several rides and taverns decorated in retro style. …
Open
Search touristic sites on the map of Debrecen
Sightseeing in regions nearby Debrecen
All about Debrecen, Hungary - sightseeings, attractions, touristic spots, architecture, history, culture and cuisine. Prepare your trip together with OrangeSmile.com - find out the 'must see' things in Debrecen, which places to visit, which excursions to take, where the breathtaking views are waiting for you. Planning your trip with this travel guide will help your to get the most out of Debrecen in few days.