Culture of Como. Places to visit - old town, temples, theaters, museums and palaces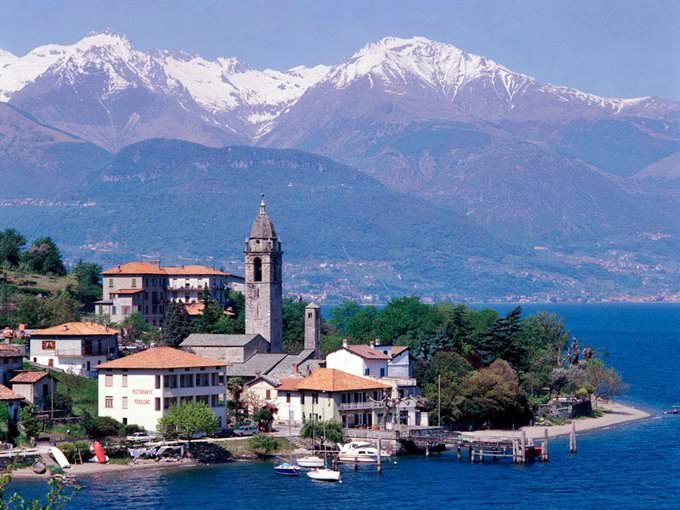 City central square, Cavour Square, has witnessed the most important events in city history. Nowadays it hosts events and fairs and the majority of tours start there. Church of Santa Maria Maggiore is one of the most impressive city landmarks. It has being built for almost 350 years - construction began in 1396 and finished only in 1740. Because of that extended construction period, church is a mix of late Gothic and Renaissance architecture and one of the most impressive city landmarks.
First settlers appeared on the territory of the modern city in 196 BC. During several centuries in medieval the unique lands of Como were the reason of fighting between Spain, France and …
Open
Old City Hall is located not too far away from the Church of Santa Maria Maggiore. Initially built in early 13th century, it was rebuilt number of times including massive reconstruction in 1435. Porta Vitoria tower built in the late 12th century is the part of survived city defensive constructions; it looks very severe. Viewpoint on top of it offers everyone all-round view over Como.
San Carpoforo is the oldest building of Como. It was built on top of ancient Roman temple of Mercury. Church was rebuilt and expanded many times later on. San Carpoforo is not the only ancient church of Como though. Basilica of Sant'Abbondio dating 11th century and 12th century San Fedele church are very interesting buildings. Copyright www.orangesmile.com
City of Como restaurants range from exclusive ones from Michelin's list to tiny bistro. Amongst them is Il Solito Posto restaurant situated in 19th century historical building. Il Solito …
Open
There are landmarks of later ages as well that are worth attention of curious travelers. Originally looking People's House was built in 1932; it represents the true Italian Rationalism architecture. Some palaces that were property of noble families survived in the city. Villa Olmo that was built in 1797 in neoclassicist style by dukes' family welcomed Napoleon. Villa Carlotta that was built by 1690 is now open for excursions; it houses exhibitions of arts and antique furniture.
In the section below, you can get one of our excursion tickets or city discovery tours over Como and surroundings. Our website offers 10-30% lower ticket prices, when compared to the offline purchase on the spot.
City tours, excursions and tickets in Como and surroundings
This guide to cultural sights Como is protected by the copyright law. You can re-publish this content with mandatory attribution: direct and active hyperlink to
www.orangesmile.com
.
Reference information
Public palaces near Como
♥ Palace 'Royal Villa of Monza' Monza, 28.3 km from the center.
On the map
Photo
♥ Palace 'Castello Sforzesco' Milan, 38.4 km from the center.
On the map
Photo
♥ Palace 'Palazzo Litta' Milan, 38.9 km from the center.
On the map
Photo
Cathedrals and basilicas near Como
♥ Santuario-Basilica di Santa Maria dei Miracoli, Morbio Inferiore, 7.3 km from the center.
On the map
Photo
♥ Basilica di S. Paolo, Cantù, 8.5 km from the center.
On the map
Photo
♥ Monastero di Santa Maria di Torba, Torba, 19.3 km from the center.
On the map
Photo
♥ Chiesa di Santa Maria Foris Portas, Castelseprio, 19.8 km from the center.
On the map
Photo
♥ Basilica di S. Vittore Martire, Varese, 19.9 km from the center.
On the map
Photo
♥ Basilica di S. Giuseppe, Seregno, 20.2 km from the center.
On the map
Photo
♥ Basilica della Beata Vergine dei Miracoli, Saronno, 20.9 km from the center.
On the map
Photo
Unique spots in Como and near
Sauna-Tram
From the series
"Most extraordinary thermaes, baths and saunas in the world"
Check on the map:
Distance from Como center - 38.8 km.
It has been invented by local designers and has a deep psychological meaning. For many townspeople, public transport rides during peak hours is a great stress. So by opening a comfortable modern sauna in a tramcar, designers decided to help to get rid of such negative emotions of citizens. A tram is one of the main symbols for Milan. In the city there is one of the most ramified networks of tram tracks in Europe with a length of more than 160 km. Not surprisingly, the most original sauna in Milan has been opened in a vintage tram car. …
Read further
Church of Santa Maria delle Grazie
From the series
"Top 15 UNESCO sites In Europe"
Check on the map:
Distance from Como center - 38.8 km.
The Church was called a World Heritage Site in 1980. Today, it is of great interest for all those fond of the ancient architecture and paintings. The church features the luxurious interior. It is decorated with priceless frescoes by Serrano and Ferrari dating back to the 17th century. They were created during the regular large-scale reconstruction. One of the most beautiful design elements in Santa Maria delle Grazie is its dome. It impresses with its exquisite fine painting. …
Read further
Contra Dam
From the series
"The greatest dams in the world"
Check on the map:
Distance from Como center - 46.7 km.
'The role' of the dam in the film was quite impressive. The agent 007 jumped from Contra Dam, when hundreds of thousands of fans came to this area. Since then, thousands of people strive to repeat the leap of the agent. The dam serves as a place for Bunjee Jumping. Contra Dam is also known among the fans of the other film - Dhoom 3. This was one of the most exciting moments of culminating. The tourists, who are not ready for such breathtaking entertainments, have a wide range of excursions. During the hike through the most beautiful places, you can learn about the history of the dam building and its peculiarities. …
Read further
Car rental on OrangeSmile.com
Photogallery of cultural heritage of Como
Landmarks of culture on Como map: art-galleries, monuments, palaces, etc
Excursions over cultural sights of neighbours of Como
Culture guide to Como. Which fascinating sights to visit once you are in Como: temples, museums, churches, museums, theaters and castles. Recommendations (with addresses, phone numbers and links) on the places 'must visit' in Como. Plan your own city excursion by using this page info!