City break in Como. Active leisure ideas for Como - attractions, recreation and nightlife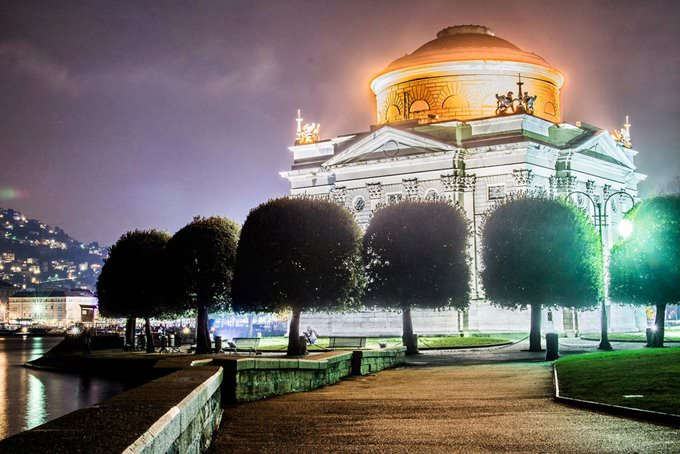 Como suits not only for those who love to visit cultural attractions, but also for those who can't imagine their rest without visiting entertainment places. There are some beautiful parks for both active sport types and those preferring just to walk around. Villa Meltzi and Villa Serbelloni parks are probably the most beautiful ones. Later one features total of 18 kilometers walkways and alleys for cycling and walking. Villa Serbelloni park is popular amongst local citizen and foreigners; the territory is good for camping and picnic holidays.
First settlers appeared on the territory of the modern city in 196 BC. During several centuries in medieval the unique lands of Como were the reason of fighting between Spain, France and …
Open
The funicular connecting Como to antique village of Brunate located at nearby mountain is very popular among tourists. The walk around picturesque natural landscapes will please you. The view point built on top of the mountain provides an excellent all-round view over city and Lake of Como situated on the other side of mountain ridge. There is also a suitable place for rest that fans of water recreation would enjoy. If you like to rest by the sea there's excellent beach next to Villa Olmo. Open entire warm season it provides excellent opportunity for family holidays and sun baths.
City of Como features unique seaplanes club open for public. You can book flight tour over picturesque suburbs or try yourself as a pilot under experienced coach advice. For those preferring night life Como offers a number of clubs and bars open until late at night and providing entertainment shows. The most popular night clubs are located at the downtown along with best restaurants and shopping malls. Copyright www.orangesmile.com
City of Como restaurants range from exclusive ones from Michelin's list to tiny bistro. Amongst them is Il Solito Posto restaurant situated in 19th century historical building. Il Solito …
Open
If you need some fresh fruits and vegetables or delicacies, you have to visit Olivetum shop. It offers a huge variety of food, moderate prices and its own bakery. Great choice of souvenirs and local handcraft are being sold all around the city street markets. Most of them are only open on weekend morning hours, but there are always souvenir shops at shopping malls that serve tourists till late in the evening.
Next:
Tips for tourists
This guide on active recreation and leisure in Como is protected by the copyright law. You can re-publish this content with mandatory attribution: direct and active hyperlink to
www.orangesmile.com
.
Sites around Como from our surveys on extreme Earth places
Verzasca Dam
From the series
"Thrilling Points for Bungee Jumping"
Check on the map:
Distance from Como center - 46.7 km.
According to the script, James Bond has jumped during the pursuit of this dam. Thousands of people from all over the world wanted to repeat his heroic deed. The attraction is not only accessible during the day, but also at night. At dawn the jump becomes a bit more expensive. In order to enjoy the unforgettable entertainment, you have to go through the medical examination, book the time of the jump and pay the jump price to one of the organizing companies. …
Read further
Borromeo Palace
From the series
"The Most Wonderful Castles and Palaces"
Check on the map:
Distance from Como center - 44.3 km.
The design of the surrounding territory was done just as carefully as building the palace. In addition to the building, there were some excellent views and terraces from which you can enjoy the panorama of Lake Magiore. The adjoining territory is adorned with the exotic plants that were made for the garden of England. Among the luxuriant undergrowths of the rare trees and flowers you can see many beautiful sculptures and fountains. One of the most important modern peculiarities of the castle park complex are the rare white peacocks. …
Read further
Crespi d Adda
From the series
"16 Most Fascinating Objects of Unesco in Italy"
Check on the map:
Distance from Como center - 42.3 km.
Later the entrepreneur has founded a large cotton factory. In 1878 near the factory have appeared houses for workers, hospital, school, nice church and theatre. Until 1929 Crespi family was the owner of the factory. Unfortunately, within the time, their family business stopped bring large profit. For several years the factory was plagued by huge debts, that's why the family decided to pass through to the government. …
Read further
Car rental on OrangeSmile.com
Photogallery of picturesque Como
Search for active leisure and attraction spots on Como map
City break ideas for neighbours of Como
Guide to your best city break in Como - popular places for recreation and leisure. Things to do during the day in Como - attractions, parks, beaches, aquaparks, racing tracks, biking trails or waterski. Recommendations (with addresses, phone numbers and links) where to spend your time in the evening (bars, discos, clubs, etc.). We share some good ideas and the question 'What to do in Como?' disappears immediately.